The FriendZone®

Welcome to the new on-line activities Web page for our group. We've just added on-line RSVP for events and on-line posting of suggestions for future events.

Note: All Winter 2003 activities have been put on hold indefinitely.

If you have an event that you want listed or a great suggestion, please send e-mail (see address in Contact Information) or post on our Message Board.
Suggestions & Ideas
More movie nights
More late night happy hour fun
More beach days
More outdoor activities
More cultural events
Send in your suggestions now.
Current & Pending Events
Ocean Kayaking
No information yet.

Jet Ski and Water Sports Day
No information yet.

Intro Dive and Scuba Certification
Need at least six people. No other information yet.

Sunset on the Beach - Almost Every Saturday & Sunday
Live entertainment, movies, food and more in Waikiki. 4pm to 9pm. Free.
Beach Bungalow Bash
All-night party at the Turtle Bay Resort. Day activities available. No information yet.
Miniature Golf Night
Livin' large in a small way with the Booyah T.R.I.B.E. No information yet.
Copa Cabana Weekend Party
No tickey, no laundry!
On-Line Services
Please do not list any personal information when you post to our on-line RSVP and suggestion board. The board is world-readable and indexed, and thus we ask that you only use your first name.
Contact Information
You may also contact us directly by calling (808) 256-7322.

How We Got Started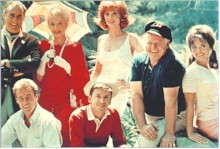 After being launched by the quintessential Evil Handmaiden, Uncle T took an hiatus from life and became a monk. For over four years, he made numerous sacrifices to achieve his five-year financial plan. However, less than three months before the completion of the plan, he went berserk. He will still meet his goal, but he realized that money means absolutely nothing. It's life that means everything. After reading Viktor Frankl's Man's Search for Meaning, he knew what time it was. The original core group included Shirley, Shagha, and Uncle T. The first outing was a hike up Diamond Head on June 11, 2003. The rest is history. By the way, Uncle T's foolish story is on the Web, if you can find it.