The Year of Living Dangerously
The Saga Continues — Fighting to the End


Note: This volume has been edited beyond recognition.
Sunday February 1, 2004
I am still worried about moms. However, there are many things that I won't miss. Aside from being treated like a kid, I won't have to deal with the mixing of chemicals and many of the other quirks like the myriad styrofoam trays lying around. Moms has yet to understand that the roaches are attracted to those trays. This is also not my home. I just rent a room. Shirley was concerned that moms would be lonely. Moms spends most of her time reading religious literature. Moms would rather do that than socialize with her own friends.
My main concern in purchasing the townhouse is my current employment situation. It is quite precarious, with little or no security. That's going to always be looming over my head, especially since I am a family of one with only one income. There is no safety net for me. I've thought about renting the place out immediately. Then, I'd have to continue living at home or find a small room to rent elsewhere. I suppose that I really have no choice about buying a place. This is probably my last chance to get in on the ground floor before interest rates go up and housing inventories in Hawai'i drop further. The townhouse is in one of the last nice areas on the island. Kailua and Kane'ohe are a lot nicer (albeit subjective) than Waikele, Mililani, Waipio, Ewa, and Kapolei. I am sure that property values will increase over time. Townhouses in Hawai'i Kai are selling for over $400,000 right now. Those units are much larger than the one I'm looking at, but they are still townhouses.
I left around noon for town. It takes about an hour to get to Ala Moana Center. I had a to wait a few minutes for the next bus to Pearlridge. So, that took another hour. I managed to find the Inspiration furniture store. It's a nice place with some nice stuff. However, the prices are well beyond my reach. I caught the bus back to Ala Moana, then I caught yet another bus to take me to the Ward Center. I checked out the furniture at Pier 1 Imports. Now we're talking my price range! I am not really keen on the rattan furniture, but I like it better than conventional padded furniture. With the cushions, it looks rather nice. I am probably going to buy a large futon and basic frame for my bed. A nice comforter will make it look decent. If baby gives me her futon, then I'll put it in the second bedroom for guests. Later, I'll check K-Mart for a nice hardwood dining table and chairs. I also perused the classifieds and noted that similar townhouses in Kailua and Kane'ohe are renting for $1,500 to $1,700 per month. In a worst-case scenario, I could rent out the townhouse. I finally returned home at 6pm. I was able to get around fairly well because everyone was at Superbowl parties. I was not invited to any. I don't particularly care, since I am not partial to either team.
Well, I've got to make a final decision on the type of mortgage that I am going to secure. Then, I'll have to write out a $500 check for the property appraisal. All of this has to be done soon since my target date to take possession of the townhouse is March 19th. I really still can't believe how fast and smoothly this has gone. Well, with certain things, I am a man of action. Not so with the babes. That's okay, I may have a new monastery to live in.
Monday February 2
An uneventful day. The Asylum continues to be dismal. Shirley came by early to see Erin. I spent the time talking with Glen in the Asylum's library. Glen has been hired on as temporary help for a few months. Later, Shirley and I ate lunch at Taco Bell. I went to the gym. Then, I did a few miscellaneous tasks before my evening class. The ride home on the street bus was quite enjoyable. Lots of losers. I felt right at home. When I arrived at home, moms wanted to cook something. I became irritated. This is exactly the reason why I need to move on. I have no sense of independence.
This morning, I put the rent check on the counter. I could tell that moms was looking to see if I had written out a check. I am sure that moms is running short on cash. I don't really know what's going to happen when I move out. I will not be able to subsidize any of my family if the need arises. Sad to say, I am certain that the Ninja Turds will have to move back before the year is out. I pay the same rent as the Turds did when they were here. And, there were three of them. I cannot worry about what will happen. It's beyond my control.
Tuesday February 3
Yesterday, I told Shirley that Robert and I are essentially losers. Our parallel lives are diverging slightly, but the end result is the same. Buying the townhouse is a gamble for me. I cannot guarantee that I will still be employed by the end of the year. Even Caroll told me that it's just something that must be done. If I lose my shirt, it's just another phase of life. That's about right. It just doesn't really matter. I can't very well enjoy life when I am old and decrepit. The babe situation is a done deal. Robert knows this as well. Not to worry. Nothing will happen in the eleventh hour. Well, not with the ol' lavahead. Like Robert, I have other things to worry about now. I, too, have pushed myself down Maslow's Hierarchy of Needs. Now, the only game left is survival.
An uneventful day, although I kept pretty busy. I managed to complete my tax worksheet. I also did some grading in addition to facilitating my classes. Pseudo-professor Ralph and Dorothy provided the needed comic relief for the day. I did my usual workout at the gym. Glen stopped by the faculty computer room at the Diploma Mill to drop off some Portuguese Sausage for me. When I returned home, I completed my Federal tax returns. I will get only $300 back. I will mail that off tomorrow. I owe the State about $100 as usual, so I won't file until mid-April. I looked at all of the taxes I've paid in the last few years. It's sickening. Next year, I plan to get most of it back.
Lori called. She wanted to do lunch tomorrow, but I won't be able to fit it in. Tonight, I've got to finish my loan application and decide which mortgage option I want. This has been quite an experience. I am excited about this, but I am also apprehensive at the same time. I also saw a rental listing for a unit in the Haiku Point complex. The rent was $1,500 per month. There is no doubt that I will be able to rent the place, if necessary. Even Pseudo-professor Ralph commented that Haiku Point is one of the newer and nicer townhouse complexes. He lives a few minutes away in Kahalu'u.
Wednesday February 4
I have not mentioned anything about the townhouse to moms. I have decided to not disclose that I am purchasing the place. Moms would immediately tell Mrs. Turd. Then, the evil machinations will commence. It's best for everyone if I maintain the ruse. Debbie, my realtor, sent e-mail to say that the walk-through inspection will probably be on Saturday morning. So far, everything is moving along.
This morning at the Asylum, I discovered that Juan, the Job Placement director, has filed a complaint against me and Kevin. He alleged that we are conspiring against him. This clown is a Roach loyalist. I am a little stressed out about this because he is trying to get me fired. Here I am, trying to buy my own place and this idiot is getting in my way. He may have an "accident" real soon. Shirley came by the Asylum to visit Erin. I did some work while I waited for her. On the way out, she made a phone call. I found out later that she was chatting with baby. Shirley and I ate lunch at Taco Bell. She asked me if everything was okay. She must have sensed that I was a little stressed out. In fact, I have not slept well in days. I told her about putz, and I also mentioned that I had a feeling Robert had lost it. We lead parallel lives. Then, I went to the gym. After the gym, I compiled my paperwork for the loan. I then called Brenda to tell her that I was ready to submit the documents. I must also draft a $500 check for the appraisal. I mailed my Federal tax return as well.
I called Robert later in the afternoon. He told me that he had an incident at work with another employee. It ended up in a shouting match. However, the clown called the cops and filed a report. Robert hasn't been to work since. His supervisor is supposed to schedule him on a different shift. This does not look good. Robert did not seem very lucid, so I know he's close to the edge. It's spooky because I had an altercation with some clown on the bus last Saturday. Parallel lives.
I also chatted with Lori on the express bus this morning. I told her about the townhouse. She said that she is having lunch with Brenda on Friday. Lori had also called last night. She wanted to do lunch today, but I did not want to disrupt my routine. I just had too many things to do. She was happy that I am finally getting my own place. I am still very apprehensive, yet I have no choice. I will need a place sooner or later. I might as well purchase one now.
Thursday February 5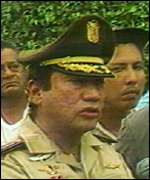 Let's ponder a hypothetical situation now, shall we? Could the ol' lavahead indeed give a babe a reason to hook up with him? He has two jobs, both of which are unstable. He earns chump change. He's almost a senior citizen. He looks like General Noriega. He's just about ready to buy a small shoebox townhouse. Need we say more? How can any babe be attracted to a guy like that? He has nothing to offer.
I told Shirley that she should stop by and visit when I am finally in my new place. She reacted quite oddly. Then, it dawned upon me. All of the guys whom she knows are still living at home with their parents. Call this the "Hawai'i phenomenon." In any case, it would be very awkward for her to go to a guy's place alone. Yet, who could have respect for a guy living at home with his mommy?
The situation with Robert is giving me the willies. I am even more distraught because I could sense that he lost it. He has a place to stay until Sunday. Then, he will have to find another place to camp out. I did not suggest that he move home. at least not while he's in a fragile mental state. He is going to be in dire straits in March, coincidentally when I take possession of the townhouse. I expect that he will call me then, looking for a place to stay. What am I going to do?
Brenda, the loan officer, came by to pick up the documents last night. She is quite a babe, but I am not concerned about that. I had a fun time this morning in my math class at the Hawai'i Loa campus. Then, when I returned, I was able to chat with Pseudo-professors Ralph and Dorothy. Then, I had to go to the Asylum. I had a meeting with the President of the Asylum to answer charges lodged against me by Juan, the Job Placement prick. Lori sent me e-mail advising me to go with the 30-year fixed mortgage. I called Brenda to let her know my decision and that I compiled the account histories she requested. I will give them to Lori tomorrow to pass to Brenda. Everything is in motion for the purchase of the townhouse.
I was in a bad way for most of the day. The stress is really getting to me. I also believe that I have some kind of symbiotic connection to Robert, primarily because we lead parallel lives. The purchase of the townhouse is another issue. I have mixed feeling about it, even though it must be done. The thought of having to buy everything from furniture to to towels just drives me berserk. The thought of living alone seems fine until I realize how lonely I will be. I see money flowing like water as pay all the new bills that accompany a home purchase. Finally, the weekend is coming up and I will be killing time again. Is there no end to this? The sands of my hourglass are dwindling down to nothing, and I will be locked into wage slavery forever just to pay for my new place. What is even more depressing is that the life of the mortgage will most likely go beyond my own existence. That's how little time I have left. Yes, it sounds like I am whining. However, I am not. I am just losing my mind, and I need to find a way to cope.
I managed to call Robert this evening. Just as I thought, he was losing his mind, too. He's working at Legal Aid again, but his hours were shortened in order to avoid the putz he had an altercation with. He is going out clubbing tomorrow, though. That's more than I will be doing. He's not sure where he will be staying after Sunday. He has also realized that he will have to return home and live with his mom. He thinks that he can negotiate the house rules. He should know better. Parallel lives. Sheesh!
Friday February 6
Last night, I sent an e-mail to Pseudo-professor John, telling him that Lisa, the Asylum Student Services director, will soon be at Heald with him. I gave him the 4-1-1 on her. She's single and she's a babe. Maybe he'll snap into action. I also sent out a bunch of articles to the ListServ, most having to do with the babe situation. Many of our favorite cast members are on the list. In reading the articles, I came to some amazing discoveries. For one thing, all of the advice given on Speak! III by LoserNet was sound. Many of the articles repeated the advice especially about the dreaded FriendZonetm crap. What was really interesting was the strategy to break out of the zone, which amounted to disassociation. One has to destroy the friendship first. It was amazing reading.
A a last ditch attempt, you need to sit her down and tell her that you are a MAN, and you know you'd rock her world, but you can no longer have her as a friend if it means that you two can't explore the possibility of the romance you'd have together. (And, God help you, don't have one bit of begging in your voice. Be convincingly FIRM and CONFIDENT.) Tell her you're willing to risk losing her to see what the future holds, but you've got goals and a destiny to pursue, and if she can't see that you'd be the greatest thing since Reality TV in her life, then you've got to get on with your hunt. Then get up, kiss her on the forehead and leave. She'll call you soon enough. (Carlos Xuma)
Lori was on the express bus this morning. I passed the documents over to her so she could give them to Brenda. We had an interesting discussion. Lori said that the townhouse will help the babe situation. I responded that I am not some babe's meal ticket. "Well, that's what happens when you want firm tits," she added, alluding to my preference for young hotties. An uneventful day at the Asylum. Shirley and I ate lunch at Zippy's on Nu'uanu. I was in a bad way. My anxieties were ramping up again, no doubt because of the upcoming weekend. Debbie, my realtor, called. She confirmed that we will be inspecting the property tomorrow morning. I will meet her in Aina Haina and catch a ride with her. I sent e-mail to Pseudo-professor John to find out what he's been up to. He replied, "Not much going on here. I pretty much just go to work M-F and then play chess when I go home. On the weekends, I visit my grandmother's on Saturdays and play basketball on Sunday." I also mentioned that Lisa, the Asylum Student Services director, will be defecting to Heald. I suggested that he check her out. I doubt that he will because Shirley is still his dream babe.
After I returned home, I ate dinner and took the bus to Kahala Mall. I meandered around the housewares department at Macy's. Then, I bought a Jamba Juice smoothie to placate myself, and I ended up at Barnes & Noble. I felt much better afterward. I am deeply agitated by a number of issues. Purchasing the townhouse has become the top issue. I am having a hard time dealing with the amount I must spend to furnish my new place. I am starting from scratch. The babe situation never seems to go away. I want to fly to Cali during Spring break, but I don't know if I should spend so much dough just to save my sanity. Aside from babes, the real issue is money. I just don't have enough. Everything I saved will be gone in no time. Sometimes I wonder if I should just stop worrying about the future. If I end up broke, who cares? It's not like I'll be able to enjoy anything when I am old and decrepit. I have to remain in wage slavery for quite a few years, so I might as well start spending some of the dough now.
Saturday February 7
I left before 9am and took the bus to Aina Haina. Debbie, my realtor, picked me up at the shopping center. We drove up Likelike Highway to Kane'ohe. It's such a pretty drive. We inspected the the property. The dishwasher was a little decrepit. That's about it. It's really a nice townhouse. There's some wear and tear, but it's not bad. It took us about an hour to check everything. Then, Debbie gave me a ride to town. I stopped in at the Diploma Mill to do a little work. I checked my faculty e-mail. The math department head requested a meeting with me next week. So, there's trouble brewing. I suspect that some student complained, even though I've urged all of them to discuss any problems with me. This put me in a bad way because it reminded me about the precarious nature of my employment. I left for the Ward Center right afterward. I did a little more furniture shopping. Then, I walked back to Ala Moana.
I called Robert while I was there. We chatted briefly. He then decided to meet me there. We ended up at the Mai Tai Bar. The waitresses were hotties. I had a few glasses of the "Hammer." I also paid for the drinks and pupus. We had an interesting discussion. Homeboy once had a townhouse on Mau'i when he was doing good. He lost everything and had to file for bankruptcy, mainly because he had lapsed into chronic depression. Am I now repeating the same mistake? We also discussed our similar situations. He has come to realize that he must return home soon. It's going to be tough for him because the same crap with his mom will happen again. I discussed my own pathetic situation. Right now, I am worried about what I should put for a down payment. Maybe I should put more down now so my payments will be lower. In case I lose one job, I will still be able to make payments. The money isn't making anything anyway. It's sitting in a money market fund. The townhouse is, after all, an investment. I spent the rest of the day devising some kind of strategy to circumvent any foolishness that may come up. I do not plan to lose the townhouse because of a few fucking pricks.
I chatted with Caroll briefly on the phone while I was still at Ala Moana. She was on her way to Santa Cruz. She has a court appearance on Monday. I said that I would call her later. After I returned home, I ate dinner and left for Kahala Mall. This routine has left me extremely fatigued. However, I cannot sit at home. It's impossible. I go through extreme anxiety attacks. That's why I keep on the move all day. I had a headache from the wine, but that didn't stop me either.
Moms turns 83 years old this month. It was Lori who reminded me of this. Thus, I am still a little worried about moms. I am not sure what I will do when I move out. The Ninja Turds must have stopped by today. Mrs. Turd gave moms a small pine tree for a gift. Obviously, the little patronizing games continue. I am certain that the Turds want to move back in soon. The real problem is that I do not know the status of moms' living trust. I have no idea whether she changed it to only include the Turds. That's why I do not want to tell anyone in the family about the townhouse. Mrs. Turd will use that to persuade moms that I am too self-sufficient, and insure that they alone get moms' house. This is exactly what will happen. Thus, I am in a quandary.
Sunday February 8
I chatted with Caroll last night after I returned from Kahala. She is stressed out over the court hearing on Monday. I told her about my dilemma with the townhouse. She said that I should take the risk anyway, even if I do end up losing my shirt. "It's all part of life," she said. So far, both Robert and Caroll have owned townhouses. Both lost the townhouses, and both filed bankruptcy as well. Now, both of them are in even more dire straits. It turns out that Robert did not go clubbing on Friday night. The plans apparently fell through. So far, moms has been pretty good about leaving me alone. However, I know better. The same crap will happen again soon enough. I have to worry about moms, but I have to worry about my sanity.
With each passing day, I feel as though a small portion of my sanity depletes. I am inching closer to the Big Five-O with no resolution to any of my so-called issues. I am trapped as a helpless wage slave. I have no financial safety net. And, I have no babe. My mental state is about as fragile as homeboy's. I am no longer relaxed. My stress level has increased significantly, which has further exacerbated my mid-life crisis. I feel older. I am accepting more responsibilities just so I can raise my standard of living. Why? I am still a family of one. I still prefer the simple life. Economics and the fear of ending up poor in old age is what drives us to do what we do. Only Anonder has gone against the grain. Yet, his method of survival would not work in Hawai'i. Nothing is making any sense any more. I am taking large risks with my life savings.
I did my tanning hike up Koko Head early this morning. Then, I left for Ala Moana on the bus. I did my usual circuit through the beach park. Then, I went furniture shopping. I became a little irritated with this benign activity. I am just not that interested in furniture. Caroll called and left a message. I tried to call her back several times but her phone was off. I called a few other people but nobody called back. I took the bus to Kahala Mall and rewarded myself with a Jamba Juice smoothie. My mind was ready to snap, so I had to placate myself. I chatted with Kevin (in Washington). for a bit. I asked him specifically about how much he got back in taxes after deducting his mortgage interest. I really needed to know this information. We chatted about a number of other topics, many of which have been weighing heavily on my mind. Brenda, the loan officer, called and left a message. I called her back. She's ready to lock in the loan. I have a couple more questions for her tomorrow. Then, I will lock it in. So far, everything is moving smoothly. I reviewed the condo documents last night. Everything looks in order. I finally was able to chat with Caroll. She was in Salinas visiting a friend.
I am still up in the air about telling my family that I am purchasing my own place. It will be too easy for the Ninja Turds to cash in on this. It is obvious that they are waiting for that moment. I cannot understand why they are wasting $800 per month to rent a small shoebox. My bro knows that he will be taken to the cleaners once they own some property. Moms has been fooled into believing that everything is just fine. She ignores the trouble signs like when the nephew told her that the Turds are always fighting. Mrs. Turd will end up with moms' house. I don't know where my bro will end up, but he's not staying with me.
Monday February 9
Shirley also called last night. I told her about my boring weekend. She went surfing on both days. We also talked about the dreaded V-day coming up.
An uneventful day. At the Asylum, I asked Ernie if he knew that the Dean has been trying to hire another coordinator. The Dean has got one of the other faculty in mind. Apparently, the faculty member is trying to negotiate for a salary over $60,000 per annum. Ernie lost it. Shirley and I ate lunch at Taco Bell. She discussed her friend Seth, and how he wants Shirley and another babe to move into a place with him. The place is out by Campbell Industrial Park. I alluded to how she may hook up with him. "No way," she said. I told her, "Never say never. You never really know what will happen. She agreed. After we walked to the Diploma Mill, I tried to see the math department head, but he was busy. I will have to wait another day to hear about the crap. Caroll called early this morning. She said that the hearing turned out in her favor. She was happy. EL John finally called. I have been trying to get in touch with him. I need to coordinate my trip to Cali with him.
I also called Brenda this morning to lock in the loan. She called later in the afternoon to tell me that my loan need a 45-day lock so it will cost me an additional fractional point (about $450). I am tempted to wait the nine days before locking in the rate since the loan will then only require a 30-day lock. She was supposed to drop the paperwork off this evening, but she had a printer problem. I will get the documents tomorrow.
Tuesday February 10
Last night, I returned home late because I have a night class. "How come you have to work so late?' asked moms. This is the kind of nonsense that is really grating on my nerves. Robert is supposed to living on someone's boat, according to what he last told me. I sure hope he knows what he's doing. He never returned my call yesterday. I also called Pseudo-professor John, but he did not return my call either. No doubt, people do not think much of the ol' lavahead's friendship. Well, that's okay. We're all going to end up in the same place anyway. With V-day coming up, my mind is starting to play tricks on me.
An uneventful day. I had fun with my math class. I once again urged them to not run to the administration with problems that can be worked out easily. It is hard to identify who the culprit was. Most of the students enjoy my class. I chatted with Pseudo-professors Ralph and Dorothy when I returned to the downtown campus of the Diploma Mill. The Asylum was boring, which was a welcome relief. Shirley called while I wandering around the hallway. She wasn't feeling well. She was walking to Jamba Juice to get a smoothie. I tried to see the math department head again. He was in another meeting. So, I went to the gym. I went back to see him again. He was in a meeting. I don't feel sorry for these losers. They are all wrapped up with their pathetic jobs. Most of them are so out of shape that they could collapse at any moment. That's the ultimate karma.
Debbie, my realtor, sent e-mail saying that the tenants (the owner's daughters) of the townhouse are moving out this weekend. The owner has agreed to give me a $250 credit for the dishwasher. I could actually move the closing date up. I sent e-mail to Debbie stating that I will keep the date set at March 19th, but I may change my mind. Brenda, the loan officer, is dropping the loan papers off this evening.
Wednesday February 11
I tried to see the math department head again today, but he was on his way to a meeting. I did find out that there was a complaint filed against me by a student. I have to recreate my tax returns for the last three years. I had to look up the account number of the mutual fund that I had cashed out last year. I lost $1,800 or so. I wrote it off on my taxes. I discovered that the fund share price went from $1.26 to over $21 in a year. I could have made over $8,000 in that time. I was ready to lose my mind.
Thursday February 12
An interesting day. I went to see the math department head about the complaint lodged against me. In addition to a couple of bogus accusations, the two students had apparently complained about my jokes. Can you even believe this stupidity? I went to the gym and only did my weight workout. I skipped the cardio because I had a faculty meeting to attend later this evening. The meeting at the Asylum was boring. I finally got home around 9:30pm.
Sinister Kahuna Day
Now I see why things have been so weird. It's Sinister Kahuna Day. More crap at the Asylum, not even worthy of mention. I met Lori for lunch today. I bored her with my usual stories. I also asked her to deliver the loan papers to Brenda for me. We ate at the Laniakea at the YWCA. It's a really good place. After lunch, I dropped off a check for $3,000 at the escrow joint. More dough flowing out. Then, I went to the gym. Afterward, I went back to the Asylum and hung out with Glen and Mike in the library. When I returned home, I took a shower and ate dinner. Then, I caught the next bus to Ala Moana. I ended up at Pier 1 Imports and Border's. I caught the bus to Kahala Mall. I meandered around Barnes & Noble before returning home.
By the way, Shirley called last night. We chatted for a few minutes. I also called her before I left for Ala Moana this evening. I made tentative plans for us to celebrate V-day on Sunday night. She also mentioned the outing on Saturday. I am also not sure of where we are going since almost every place is booked for V-day.
I should also mention that I received the approval for my home loan today. I found it odd that Brenda had not even received the application yet. The escrow paperwork also came by mail. I did not realize that I was going to receive documents by mail. Now, moms may have an idea that something is up. I also chatted with Robert yesterday. He's back at home with moms. He moved back in on Monday. He is also being forced to have a psychological evaluation for work. He did not sound very lucid. I believe that he's close to edge. Join the club.
Insanity
This really can't go on much longer. I am very close to the edge of sanity, much like Robert. It is not coincidental that I am making a major move in my own life. I must see some kind of advancement in my stagnant life, or I'm really going to lose it. As I have already mentioned, the drastic changes in my life last year came about indirectly. I was jolted awake from the monk-like stupor I had been in for five years. The monk-like stupor was the result of Lori. It is amazing how babes have such a tremendous influence in my life, yet I spend years without one. Here, on V-day, I am made aware of this fact, albeit painfully.
I've also had to contend with my precarious employment situation, just as I approach the eleventh hour of closing the deal on the townhouse. Sometimes I wonder why I am buying the place. I am the only single person that I personally know here who has been able to buy a place, with the exception of Shirley's good friend Ramona. From what I can tell, Ramona has resigned to the single life. Yes, it's hard to believe that 15 days can cause so much stress.
As I watch Robert degenerate to a lower form of life, I have to wonder. Will he be joining the ranks of Pseudo-lifeforms Jim and Paul? I recently learned from Pseudo-professor Dorothy that the latter was also living with his mom just a few years ago, although the circumstances are vague. What has really bothered me is that the teaching profession has brought me in contact with some of the biggest losers. This is not coincidence. I am one of them.
To be continued ... Go to D.26
| | |
| --- | --- |
| LoserNet | © Copyright 2004. All rights reserved. |