The Exodus Files
Trapped in Paradise


Sunday August 29, 2004
These are the Viagra Years! I said that to Shirley yesterday. I really don't think that she knows anyone quite like the ol' lavahead. I drank the whole four-pack of Guiness last night. I was hammered, to say the least. I was listening to House Music on my beloved Bose Acoustic Wave. I also sent her e-mail to thank her for lunch and for keeping our friendship alive. Well, these are confusing times, to say the least. I read an article in this morning's paper about the negative side of real estate. When one does the math, it becomes quite obvious that there is no way to benefit from home ownership unless it is investment property. Home ownership itself does not reap any real financial rewards even with the tax break and the possible capital gains from appreciation. In this case, Anonder was absolutely correct. It only stands to reason, however, that home ownership makes sense when one needs a place to live and rents are sky high.
I did my houseboy chores this morning. Then, I left for town on the bus. I had enough time to buy a bottle of wine from Longs. I caught the next bus to Kane'ohe. I did not forget the keys this time. Upon arrival, I did my lanaiboy chores. I was consuming wine like there's no tomorrow. I caught the 2pm bus to Ala Moana. When I arrived, I called both Pseudo-professors Glenn and Bill. I took the next bus to Waikiki. I walked to the Hawai'ian Monarch on Niu Street. The broker for the units that I was interested in was giving a tour. However, another broker for a single unit was sitting in the lobby. She gave me access to the elevator. I went up to the 18th floor to peruse the unit. It was a small studio, but quite nice. The asking price was $118,000 which was a bit high even though it was fee simple. When I came back down to the lobby, I waited for the other broker. When he finally returned, I went on a tour with two other people. I was not impressed. I won't go into details, but I am not going through with the deal. Basically, there is a block of hotel rooms for sale. For the most part, they will remain hotel rooms. I left during the tour. I called Pseudo-professor Glenn. He lives a few blocks away. I walked down Ala Wai Boulevard until I found his address. He was waiting in the lobby for me. I visited with him for a while. He poured out a glass of wine for me. We sat and chatted. Later, we walked to the other end of Waikiki. He showed me a few more properties that he had checked out himself. I called Pseudo-professor Bill beforehand. He was at the Mariott with a buddy. I agreed to meet him there. After Pseudo-professor Glenn and I parted company, I walked over to the Mariott. I had a few more glasses of wine. Pseudo-professor Bill seems to be preoccupied with babes. He apparently had a series of trysts with vacationing babes. He tried to persuade me to do the same. He has also made reservations to stay at the Turtle Bay Resort this October when the Miss Hawai'ian Tropic Contest is held there. He invited me to join him. I declined. We parted company in time for me to catch the last bus to Hawai'i Kai. What a day!
Pseudo-professor Bill had asked about my situation at the Asylum. He knew the place was bought out. I told him that a Persian guy bought it. He then rattled down a list of things which have now become all too familiar to me. "These Middle Eastern guys try to buy a place for nothing," he said. In fact, he also described the same sale contingency that we believe to be in effect. Right then, I knew that my contingency plans were moot. I have very little time before I am unemployed. I will not see myself assume the role of a real estate mogul. I am now on a collision course with dereliction.
Monday August 30
I have to admit that the Waikiki life-style is quite tempting. It sure beats convalescing in Kane'ohe. As Pseudo-professor Bill pointed out, there were babes everywhere. He described his recent series of trysts with babes as "week-long fuckfests." I was amused that he tried to persuade me to follow in his footsteps. Incidentally, Lori had once suggested that I do the same thing. I am not a stud. I doubt that I could seduce any babes.
Malia sent e-mail yesterday. She has an interview for another job that she really wants. I remember when she was down and out. Now, her life has turned around. I am happy for her. She also suggested that I apply to be a teacher in the public school system. She mentioned that I could meet "young female teachers." I saw Lori on the bus this morning, but I did not chat with her. I was too tired from my drinking binge yesterday. I was extremely tired all day. In fact, the exhaustion has affected my motor control. Even now, as I am typing the journal, I am having a difficult time. Every word has an error. I have also been bumping into everything. I am surprised that I haven't just collapsed.
Well, I am not sure about what I am going to do about the real estate situation. I was disappointed by what I saw yesterday. I should just concentrate on keeping Chez Loser, I suppose. I was really surprised by the sheer number of people who were out real estate shopping yesterday. It's mind boggling. Are there that many people looking to buy property in Waikiki? And, why? Perhaps I should reconsider and buy the hotel condo conversion. Or, maybe I should sell Chez Loser and purchase a nice condo in Waikiki. Then, I can take up the life-style of a Waikiki gigolo. Sheesh!
Tuesday August 31
I am frustrated by the last minute communications from the academic coordinators at the Diploma Mill. I now have to make a variety of changes to the courses I am facilitating. The pressure is on as I have less than a week. To make matters worse, I received a copy of the e-mail that Kim, the Director of Education at the Asylum, sent to Bill. Apparently, the accreditation board will no longer accept his lack of credentials. Bill is effectively terminated. I just hope that I don't inherit his classes because I am already overloaded. Everything appears to be reaching critical mass. Something's gotta give.
I've been exchanging e-mail all day with Debbie, my realtor. She's been giving me some information about the hotel condo conversion deal. What's odd is that she has four units there listed with her. She is also certain that the units can command $1,000 per month in rent. I need to meet with her and find out everything. I am also going to look at a few other units. This is really crazy. I still have this crazy notion that I can benefit from the real estate boom in this late stage of the game. I am at risk of losing everything because I won't be able to cover the mortgage for two places for very long. Yet, what other choice do I have? I am not going to inherit any dough. I have very little money for retirement. Wage slavery will only make me end up poorer.
Shirley is going to find out who the math department chairperson is at Windward Community College. I will then contact that person to see if it's possible for me to join the lecture pool. I also told her that she will be most likely be handling my "estate" (term used loosely) when the time comes. That's less than 30 years from now. I have no babe. Nor do I have any heirs. I have no will or trust either. Life is just getting dumb and dumber.
Wednesday September 1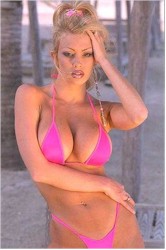 I read an interesting interview with Jenna Jameson on the AskMen site. She is such a hottie! Why can't I find a babe like Jenna? Well, that's a rhetorical question. I am a loser. After hanging out with Pseudo-professor Bill in Waikiki, I began to notice all the babes again. And, just think, Robert is in Las Vegas doing who knows what. I am certain that he's not gambling. Parallel lives, my friends. In actuality, the babe situation is over. I know that it's over. I just wanted to bring it up so that I would have a chance to include Jenna's photo here again. Then, there's Tera Patrick. Ho boy! I remember when I had all kinds of photos of babes in the journal. It was quite hilarious. The problem was not that I was babe crazy. I just wanted to add some excitement to the bland ol' journal. Later, I just babbled about my Bose Acoustic Wave and used its photo ad infinitum. Would you rather see Jenna or my Bose Acoustic Wave?
Frankly, I am wit's end. I don't know what to do anymore. Life has not been smooth sailing. It's more like the boat has capsized and I am flailing about trying to save myself. With each passing day, more and more options disappear. I try to warn many of my marginal students about this, but they just don't believe that it will happen to them. I was smart enough to prophesy this miserable end. I just was not smart enough to do anything about it when I had the chance. So, here we are. Granted, there are people much worse off than I. The latter is a moot point. I don't live their lives. I only live my own.
Well, the time of reckoning has come. I was fired by the Asylum this morning. Kim, the Director of Education, came by around noon to break the news. Sam, the Persian guy, made the decision. She just went along with the idea. Sam has to cut costs to pay for the multi-million-dollar penthouse condo he just bought in Waikiki. I wasn't heartbroken by the news. Actually, I felt a sense of relief. I predicted that this would happen a while back. I was hired back as a faculty member, but I will make $6,000 less per year. This is all bullshit. Eventually all of the faculty are going to be reduced to part-time status. For the time being, I still have my medical benefits. Incidentally, we are all still waiting for our 401(k) accounts to rollover. There seems to be no hurry to settle those accounts. I am going to try to collect partial unemployment compensation but Sam, the sneaky Persian guy, seems to have all of his bases covered. He is claiming that I am being hired on as full-time faculty. Little shitheads like Sam will have to pay the piper dearly one day when they need to dance. I won't be around to see him suffer, but I giggled my ass off just thinking about it. Maybe he will be stopped at the airport as a suspected terrorist. We can only hope that one of the security guards shoves a baton up his ass. Baha! Ha! Ha! Haaaa!
I sent an e-mail to the Dean at Chaminade to see if I could get classes in the near future. He sent an e-mail back. "Boy, I could have really used you this semester," he wrote. Remember, I had to decline the offer because I thought I would last to end of the year at the fucking Asylum. It seems that I didn't burn that bridge. I plan to send out more correspondence to see if I can drum up some piecemeal work.
The real problem is the disposition of Chez Loser. Should I sell or rent the place? I also had to mummify the plans to buy a condo in Waikiki. I sent e-mail to Debbie, my realtor, to ask her advice. After I calmed down, I tentatively decided to hold onto the townhouse no matter what it takes. I will do everything to not draw from my savings. I have also decided to play the Asylum game. I am going to tell everyone that I had to sell the townhouse. A few weeks later, I will tell the fools that I am homeless, and that I sleep on the beach. I will even tell that story to Sam and Al. No one will even care. In the meantime, I will move into complete survival mode.
Thursday September 2
At the Asylum, truth is a meaningless concept. And, sometimes truth is stranger than fiction. I have come to realize that I have been too honest with people I can trust no further than I can throw them. I have a reputation for being honest and, therefore, no one will suspect when I begin to weave my tales of dereliction. I will only save the truth for the outsiders and for the journal. Novice liars are easy to spot because, sooner or later, something conflicts in the tales they tell. Can you say, "Ernie"? I will be careful to review my version of the "truth" as it is recorded here. Nothing changes about my prophesy for the Asylum. It is doomed to failure because it is rotting from within. Greed and corruption run rampant, even with the smarmy Persian guy, Sam. People will all reap what they sow. I could see that Kim, the Director of Education, was not concerned about my welfare. She is trying to protect her own job. After giving me the news, I saw her standing in the hallway stuffing her face. She's well over 300 pounds now. The stress and guilt will eventually take its toll on her. Even Vivian, the human resources person, was singing the company tune. She will pay the price as well. She is an overweight vegetarian, and she smokes like a chimney. Last week, the stress at the Asylum manifested itself as a hideous rash around her neck. We already know that Al, Sam's sidekick, looks like a walking cadaver. That only leaves Sam, the Persian guy who has modeled himself after Donald Trump. He even has the same hairdo as his idol. Sam probably archives all of "The Apprentice" episodes on TiVo. It will take more than these fools to crush the ol' lavahead. I've survived a lot of shit, and I am not about to be taken down by two-bit morons.
Last night, I dropped my cell phone plan down to the final notch. I have only 60 free minutes per month. This morning, I went to the Asylum to finalize my unemployment situation. I spoke with Vivian for a few minutes. During that time, Sam called. Vivian kissed his ass as he grilled her about the cost to have the carpets cleaned. What a cheap, tightwad prick. "Don't worry, Sam," she said. "I won't spend any of your money unless you approve." Vivian and I then met with Kim, the Director of Education. I decided that it was time for me to tell the "truth." So, I detailed how I have begun the process to sell the townhouse. I told them that I stand to lose about $30,000 in closing costs and capital losses. I would have to make up some of it by obtaining a credit card cash advance, I added. "Don't worry, that's the way life goes," I sighed. Kim gave me a "guarantee" that I would have a certain number of classes. This is primarily because Bill is allegedly on his way out. They are also trying to get me a moderate pay raise. Fat chance. Sam will not approve anything that costs him money. Later, I told Vivian that I am still filing an unemployment claim.
I took the bus to the State government building. I went through the initial process of filing an unemployment claim. I had to sign up with O'ahu WorkLinks. The babe who was helping me looked at my application. "Oh, the Asylum is one of our training centers," she said. How ironic, isn't it? I was able to file the actual claim because it is done by phone. I learned that I qualify for $417 per week. However, any existing income is subtracted. As it stands, the only two classes assigned to me at the Asylum are not filling. So, I am assuming that I will be collecting on my claim. There's a good possibility that Bill will be given the ax. His classes will be divided between Kevin and I. It's plain to see that the situation resembles some sadistic turd (i.e., Sam) throwing a small scrap of meat to a herd of hungry wolves (i.e., the rest of us). I really can't take this anymore. It's becoming more like cannibalism every day.
I then took the bus to Kane'ohe. I spent only a few minutes at Chez Loser. I really was there just to pick up my Diploma Mill paycheck in my mailbox. Naturally, I had to partake of the remaining wine in the fridge. I was somewhat hammered when I left for town. I did my workout at the gym. Then, I ended up at the faculty computer room at the Diploma Mill. Pseudo-professor Ralph has been very consoling to me, and I appreciate it. I've been querying opinion by e-mail about the disposition of Chez Loser. Pseudo-professor Glenn believes that I should rent it. Debbie, my realtor, agrees. She thinks that property values are still on their way up. I know that I need to do something. I'm not sure why I just don't rent the place. I will have to sell the furniture first. I have two months reserve cash (to cover everything) in my checking account. I won't touch any other account. Speaking of which, that cheap bastard has yet to release our 401(k) accounts.
I tried to give Sam the benefit of the doubt when I first met him, but I knew back then that he was a greedy bastard. It's in the nature of that particular ethnicity. I have read several articles that support the latter. Only the elite were able to flee Iran when the Shah fell. They fled with whatever wealth they had accumulated. And, I believe that they were given much in the way of government assistance when they immigrated to LA. Their fixation with money and wealth goes beyond the superficial. It is in their culture to bend rules and manipulate others to gain the advantage. Of course, the Jews and the Chinese have the same reputation. I am not stating this to slander any ethnicity. It is just sickening to see how money is the supreme god to certain people. As I have said ad nauseam, money cannot buy eternal life. We all suffer the same miserable end, some worse than others. I see fools like Sam suffering in a prison of their own greed. He is unable to sleep comfortably because his money is always on his mind. It is a terrible affliction because there is never peace of mind. Even with all of his opulence, he is bothered and consumed by money. Money is what buys him power. He is a somebody in a world terribly biased against Middle Easterners. Well, he is not loved by anyone at the Asylum. If he keeled over tomorrow, no one would show up at his funeral except the select few who kissed his ass. He won't leave them any money, though. I don't have any respect for him because he is not a man. He let Kim do his dirty work for him. He hides behind the moniker "Sam," but that is not his real name. What does that tell you? In retrospect, I now realize that I was the only one who did not kiss his ass. That's why I was the first to go. I only bow to one God, not a weak mortal whose only strength is his bank account.
Friday September 3
I was a little fired up about that worthless little Donald Trump wannabe asshole. Why did I waste my words on that useless piece of shit? I had to vent, I suppose. This is really a lesson for me. I have been moving further and further away from who I really am. This was the wake-up call. I, too, have become haughty. I lost my humility as well as my faith. In some respects, this is a test of faith as well as conviction. There's more to my life than Chez Loser and my meager bank account. I've come to see that I don't need any of it. I sought freedom, but I only enslaved myself. Everything is still reparable, if I come to my senses. I've spent enough time lambasting the little prick. It's time to get on with life. All of the decisions that I'm making, both good and bad, are under my control. I have planned out all contingencies, so this is not a surprise. I've already been through the dress rehearsal with this scenario. So, it's time to review the options and make a decision.
With nothing else to do, I ended up in town. Lori was on the express bus. I chatted with her for the duration of the trip to town. She started off the conversation in a way which made me suspect that she knew about my ordeal at the Asylum. She asked why I was wearing jeans on Wednesday instead of the usual wage slave uniform. Well, there's only one way to know what is happening in the ol' lavahead's life. That's neither here nor there. I spent the morning in the faculty computer room preparing my classes at the Diploma Mill. I have had difficulty all week in setting up the SimNet modules for two of my classes. I have been in constant contact with the technical support staff at Triad Interactive. They set up my exams for me because something was wrong on my end. I had also told them that I was just fired from the Asylum, and they sympathized. I sent an e-mail to thank them. I also filed my claim for unemployment compensation. Then, I worked on preparing for my math class.
The day was more socializing than anything else. Professor Russell came by. I have seen him in weeks, He believes that his illness had finally been identified. It may actually be a spinal problem. He detailed the continuing saga of his plight. He has spent all Summer at home cooking and eating. He has to eat seven meals each day in order to keep from becoming totally emaciated. Even then, he is extremely thin. I stopped by the Asylum before I went to the gym. I was able to speak to Bill. He was fired today, which makes him the second casualty of Sam's reign of terror. I was quite sad to know that Bill will no longer be there. He's a good man.
I sent off e-mail to Kate, one of my virtual homeys. She has often posted to Speak! IV. She is apparently coming to Hawai'i this weekend. She will be staying in Shirley's town, Kailua. Maybe she'll even go to Daiei and stand in Shirley's line. Whoa! That would be something. I gave Kate my cell phone number just in case. There's a chance that I will meet her and her "shadow" on Sunday. Well, you will read about it here, if that happens. I went to the gym and did my usual workout. Then, I walked back to the Diploma Mill. Pseudo-professor Glenn came by. Off to Indigo Happy Hour we went. Then, we did the Art Walk. There weren't too many people out. We ended up at the Louis Pohl Gallery. Now, that's the happening spot of the whole Art Walk. There was a lot of good food. Wine was flowing like water. Former Pseudo-professor Richard was displaying a lot of his work again. I chatted with him briefly. The place was extremely crowded. All in all, it was a good time. One final word — a most regretful day with the crazy hostage crisis in Russia. All of us at LoserNet send out condolences to the victims of this tragedy. May world peace one day be at hand.
Saturday September 4
An article in this morning's paper cited that house and condo prices fell ten percent last month. When it rains, it pours. Home sales have also slowed down. Is it the end of the housing boom in Hawai'i? It doesn't matter because I've grown weary of home ownership. Nonetheless, I made the benign journey to Kane'ohe. I wanted to take the bus to town and transfer from there, but that particular bus was late. So, I ended up walking down to Lunalilo Home Road to catch my favorite bus that goes through Waikiki and on to Ala Moana. We actually made good time. The bus to Kane'ohe was already at the Ala Moana stop when we arrived. I was fortunate to get on board. I got off near the Windward Mall. I had originally planned to avoid any consumption of my favorite beverage but, after this crappy week, my willpower was gone. I bought a big-ass bottle of Vendage Chardonnay. I walked to Chez Loser. I had called the resident manager this morning. I had to drop my keys off because the complex is scheduled for the annual dryer duct cleaning. Naturally, when I went looking for the clown, he was not around. I spent the rest of my time indulging myself with the fake "Hammer." It doesn't matter whether the "Hammer" is real or fake as long as it does the job. After I was properly sedated, I decided to leave for town. The bus was late, of course. So, I did not have much time before the bus to Hawai'i Kai was to arrive.
Kevin had called last night, but I was too hammered to call back. I called him this morning. He said that he got the latest schedule from the Asylum. It seems that Ernie's friend, Layton, has assumed Bill classes. This is rather interesting considering that neither Kevin or I have a full class load. Our classes are not filling. It is my guess that Ernie had a hand in all of this. He probably was the mastermind for the whole scheme. Sam really loved it, I'm sure. He will save a lot of money by reducing all of the regular faculty to part-time. Kevin digressed and discussed a few of the key players like Kim, the Director of Education, and Ann, the Executive Director. He mentioned the tremendous stress they must be under because they must act against their code of ethics. "They look like they're ready to get cancer," he said. I laughed because I know that he's right. No one can toy with other people's lives and remain unscathed. Perhaps only Sam will survive. Later, I realized that the combination of the moniker "Sam" and "Hossein" (his real name), is "Samhain." You know what that means, don't you? Shit! He's the fucking sinister kahuna himself!
Kate called but did not leave a message. I did not see my cell phone log until later. I did a quick cardio workout at the gym. I am having a difficult time again with the spare tire around my waist. I took the bus to Kahala Mall later in the evening. I called Kate and chatted with her. She's in Kailua with friends. She wants to meet tomorrow for a tanning hike up Koko Head. I told her that the Koko Head hike is not too exciting. I only do it because it's in walking distance. She said she sent e-mail from the Apple Store in Ala Moana. So, she is already seeing a lot of the landmark places associated with the journal. Well, I looked around Kahala Mall. My first stop was Tower Records. I bought the new Bargrooves Terrazza compilation. I'm unemployed, yet I'm still buying booze and House Music. Sheesh! I ended up at Barnes & Noble. A fitting end to a long week.
Sunday September 5
What a day! I woke up fairly early. I phoned in my unemployment claim on the automated line. Kate called to say that she was on her way to Hawai'i Kai for the tanning hike. I met them at the entrance to Hana'uma Bay. I met Kate's "shadow" as she refers to him. His name is Marshall and he is a physician. They are both actually in Hawai'i for a medical convention on Mau'i. However, they came few days early to spend time with friends in Kailua. This was, of course, an opportune time to meet the ol' lavahead. We had a very nice hike up Koko Head. I tried to point out the relevant sites of Hawai'i Kai. As we were hiking back down, I asked them if they needed a tour guide. They liked the idea, so I told them that I would meet them at Koko Marina. They walked there, while I went back to moms' house to collect all the things that I needed. I met them at the Jamba Juice in Koko Marina. We chatted for a while. We then boarded the bus for Waikiki. We got off near the zoo. We took a walking tour of the beach and the classic Moana Hotel. We also strolled through the International Marketplace. Then, we got on a bus headed for Ala Moana.
Our plan was to take a tour around the island on the bus that goes through Kane'ohe. However, we got sidetracked. We ended up looking around the Apple Store. Marshall is an Apple fan as well. Then, we ate lunch and had drinks at the Mai Tai Bar. Kate has apparently been reading the journal since its early days about eight years ago. That's a long time. She actually learned of the journal when an article appeared in the now defunct POV magazine. After lunch, we walked back to the bus stop. Unfortunately, we missed the bus and had to wait another 30 minutes.
Shirley also called. She was on her way to Waikele to do some shopping with her friend Kerri. She wanted to know if I was going to be in Kane'ohe later in the afternoon. I called her back to say that we were running late. She wanted to know what I meant by "we." I then disclosed that I was with friends from the mainland. Shirley called about 4pm when she had just dropped off Kerri. We had just got on the bus. Shirley said that she would wait for us at the Windward Mall. We arrived at 4:40pm and had a difficult time finding Shirley. When we finally found her, Kate and Marshall were able to meet one of the major cast members. I knew that we would not be able to make it around the island at that point. I was a little disappointed, and I really hoped that I did not disappoint Kate and Marshall. Kate suggested that we go to Chez Loser since it was right up the street. So, I had guests in Chez Loser for the first time. We finished off the wine that I had bought yesterday. Kate had called her friend in Kailua to give her directions to my place so they could get a ride back.
Shirley stayed a while longer. We chatted for a while. We then went to Zippy's for Saimin. We had an interesting dinner conversation. She said that her friend Seth had asked if she did da wild thing with her BoyToy. She said no. "You know, blue balls can kill," he said. I burst out laughing. After dinner, Shirley gave me a ride back to Hawai'i Kai. I had a fun time today. It certainly made me see the value of friendships. I thought about the miserable alternative that I would have had today. I would have ended up drinking myself into a stupor and passing out on the floor at Chez Loser. What a dismal thought. Tonight, I am listening to my new Bargrooves CD. I am reflecting on life and where I am going.
Monday September 6
The Asylum apparently placed ads in the classifieds which appeared yesterday. There are two openings now. Roxanne, the financial aid director, has resigned. And, so has one of the admissions people. The stress level is going to be extremely high next week. There will be many people telling me that I was correct all along. I have had a minor case of heartburn for over a week. Obviously, I am a victim of low-level stress. Incidentally, that's the kind of stress that kills.
I'll just summarize the day as another benign journey to Chez Loser. As usual, I had to put up with late buses, schedule misinterpretations, and numerous other idiocy. I went to the gym in the morning first. The place was completely crowded, but I was able to get my workout done. I made the journey to Chez Loser because I discovered that the Ninja Turds were coming today. Moms had prepared all kinds of food on Friday, so I foolishly assumed that they were coming yesterday. I never want to be around when the Turds stop by. Mrs. Turd's irritating patronizing act just bugs the shit out of me. When I returned late in the afternoon, all moms could tell me about was the slight accident that the Turds were involved in on the way home. I could give a shit. I am fucking unemployed, and I don't get into accidents because I don't drive all over the whole creation. by the way, moms is scheduled to go in for cataract surgery tomorrow.
The Ninja Turds, as you know, present an interesting problem. There is a very good possibility that the Turds will be moving back to moms' house later this year. This was a prediction that I made based on moms' increasing concern that Turd Jr. does not have his own room. The latter is the main reason that I haven't rented out Chez Loser. However, I grow increasingly weary by the day. I just want to throw in the towel, just like Caroll and Robert did when they both lost their townhouses. I am just really tired of putting up with bullshit from assholes like "Samhain." I just want a simple life. Right now, I have a place that's too big and too expensive for me to keep up. And, we all know that I am not going to find a babe.
Somehow Kate brought up the discussion about babes and relationships while we were at the Mai Tai Bar yesterday. We discussed various issues including Robert's "big bank" theory to attract babes. I really don't think that there's any way to find a cookbook solution. There are guys with big bank who have babes and many who don't. There are many hunks who have babes and many who don't. For the most part, it's all a matter of timing and good fortune. As I told Kate, I am past the point of no return. I am going to be single for the rest of my life. My goal is to make those remaining 30 years as pleasant as possible for myself. We also had a few quasi-intellectual discussions. In fact, I felt quite lonely today. I had a lot of fun yesterday even though we did not do much.
Tuesday September 7
A long, grueling day. The first day of classes at the Asylum was uneventful. All of the returning students are not happy. However, they seem to be willing to put up with the nonsense. I gather that they just don't believe there are any changes. I have now fully implemented all of the "team" shit that I did as a dry run this Summer. Kim, the Director of Education, called both Kevin and I into her office to plead with us to help her out. Apparently, the accreditation team wants to see more community resources utilized in the technology program. Why the fuck would I even bother? I cannot even afford my mortgage. My class at the Diploma Mill went well. Later, I went to the gym and took a shower. I ate a Taco Bell bean burrito for dinner. Then, I went back to the Asylum for my night class. The class runs three nights per week, so I am going to be very fatigued. Although it is against the rules, I let my class out ten minutes early so I could catch the bus. Otherwise, I would have to wait another hour.
Kevin called after I arrived at moms' place. He claims that a friend of his had mentioned something about an opening at Heald. He said that he did not want the position because it was in the evenings. He then gave me the contact information. I find this very peculiar because I am suspicious of his motives. Does he have some kind of other deal in the works at the Asylum? No one can be trusted there. Kate sent another e-mail. She and Marshall are now on Mau'i. So, I will be hearing more about their adventures soon. Moms was already asleep when I arrived. I hope that the operation turned out okay.
Wednesday September 8
I chatted with Lori on the express bus this morning. We really do not have much in common these days. I am in pure survival mode, while she is living an opulent existence. I don't harbor any bad feelings. I am just preoccupied with other matters. She did offer one piece of good advice. Now that I have a lot more free time, I should be enjoying myself. I do not have a class until 2pm, but I am going to town early in the morning. I have imposed wage slavery upon myself. I justified my stupidity by saying that I had to work to do, which is true. However, when I arrived in town, I piddled around and did anything else but the work I had intended to do. I was not truly wasting time. I had many errands to run, which I did.
I will include excerpts from one of the previous e-mail from Kate. This was their last day on O'ahu.
We're escaping our version of the Ninja Turds in about 12 hours. There have been a few good moments but it's mostly been a hair-raising test of nerves to be here. Between the crabby baby and the devious antics of the five year old girl who feels deprived of attention, and the brain-dead status of the parents, we have been pushed to the edge much of the time here. Michelle forgets her money, street directions, provisions for the kids, is unable to plan ahead. She has no sense of what would be a realistic plan for two easygoing adult tourists and two demanding children. We have to politely point out the obvious "don't we need to change that diaper? Shouldn't we head home now because the kids have had a long day in the car? Why don't we stop at that convenient place for sandwiches now, instead of attempting a fine dining experience with the screaming baby?" Michelle is blissfully unaware and unperturbed as all hell melts down around her all day.

We went to Waimea the long way; bought new "slippers" (in Hawai'i-speak) at that surfing village on the North Shore (I always called them "thongs" but that word has come to have two meanings, so one ought not to shout "My God, where did I leave my thong?" I should start calling them flip-flops at least.) We drove home down the middle of the island. I finally got behind the wheel about halfway to Waimea so Michelle could wrestle with the crying baby firsthand instead of me, getting smashed bananas all over myself and the car weaving all over the road while Michelle tried to feed and comfort him with an awkward reach-around while driving. I felt infinitely better driving; Marshall rode shotgun and we managed to have a decent day overall.

Randy finally finished the restaurant job downtown, installing a ton of marble countertops, then he parked his pickup truck out by the carport -- the one with the metal racks that extend pretty high up in the air. Michelle's car was parked in behind it so she asked Marshall to pull it back while she pulled out, then told him to pull forward. There was a loud noise where the metal marble carrying racks smashed into the roof of the car port and bent the metal. Marshall was only following Michelle's orders, but it looked pretty bad. She had to wake Randy up (he had worked until 2 a.m.) and he said this would cost him two days' work and lots of money in repairs because the metal bars were bent. A battle raged by radio phone all day between Michelle and Randy about this incident. We felt indirectly responsible (note that I wasn't anywere nearby when the caper occurred) and were afraid they would ask Marshall to provide reparations. But all seems to have been forgotten by now.

In the late afternoon Marshall and I escaped to do a little hike up to a military bunker atop a low hill here near the cove in Kahului. When we got up to the top, it appeared to me that we could follow a trail along a series of ridges, ending up on the road leading back to M & R's house. Marshall isn't quite the adventurer I am and he wanted to turn back. I figured we had just enough daylight to do it, and he reluctantly followed me along. Sure enough, it was a great trail, well worn, although thickly vegetated. It was fairly Indiana Jones-like in some spots but this was how my whole childhood was spent on the Oregon coast so for me it's nothing. I could see we were right on track to come out where I had anticipated, but Marshall was falling further and further behind. He's not good at descending hills; worse as he gets older. He pivots around stiff-legged instead of bending his knees and using his quads. I guess he is getting to be an old man whereas I am just as capable as I was at 14 at this jungle stuff. It got pretty steep and I wanted to make sure the path actually came out somewhere in civilization so I pressed ahead, but Marshall got mad and kept demanding that I wait for him. It was beginning to get a little darker. I shoved onward to the end of the trail, then climbed back up to find Marshall. I shouted for him and he didn't answer. Eventually I heard him, and when I got to him he was wincing and gasping from a major knee injury. He had "gashed" his knee as well as injured it, and all the thick brush was hurting his wound with each step. I took him down the trail step by step and at the bottom assessed his injuries and indeed all he had was a minor scratch. He was able to walk. We were now running pretty late; it was dark and we had about a mile left to go to get back to Chez Ninja. Marshall was still mad at me for dragging him on an adventure that exceeded his limitations but eventually he admitted that he was fine and he had been overreacting. Indeed, it's not uncommon that I'm deeply gashed and bleeding on one of our hikes into the unknown, and this scratch of his didn't come compare to some of my more memorable wounds. He conceded all of this and peace was restored. But I am not going to get caught again taking him along on a steep hike; it's like dragging a boat anchor that keeps getting hung up in the vines. This will offend him but he is unable to proceed downhill at a reasonable speed and I am not going to stop blazing trails into the unknown just because he is old.

I actually got a couple of hours' sleep last night on the air mattress with the slow leak. One more night, and tomorrow we head to Maui and the comfort of an actual hotel with beds and no kids. I never thought two such simple conditions could sound so priceless and luxurious.

Between our tour yesterday with you, and burning half a tank of gas today, I think we ended up seeing a lot of the island. And against all odds, I managed to do one jungle-type adventure trek, making my trip to Oahu complete.

Kate
A humorous story, eh? When I last heard, there were on Mau'i, staying at a Japanese resort hotel. As you can probably guess, Kate is a writer. She should start her own journal. I am hoping that she will provide more details for me to include. I will probably not see them before they leave for Arizona. I am glad that I got to spend time with them because they saved my sanity.
Moms had to go back to the doctor today. Looks like the surgery went well. I helped moms put the bandage over her left eye this morning. It is, of course, times like this that assure me of the correctness of my decision to return home. Moms told me about a couple of the neighbors. Actually, it was more about their kids. They are not really kids. They are my bro's age. Denny and his wife moved back into his parent's house right across the cul-de-sac after his father passed on, mostly to keep his mom company. Apparently, Denny's wife was recently laid off. They are planning to move to China for two years. Lance, whose parents live at the corner, was just laid off from work as well. Time are getting tough for some of us.
I was able to get a few things done before my classes at the Diploma Mill. I went to the gym and did a short workout between classes. I ate a cheap Spam Musubi for dinner. Then, I was off to the Asylum. It's actually a lot better at night. I don't see anyone except for Chip and some of the night crew. There is a lot less stress. I did not check my phone messages until later. Bill, who was fired from the Asylum, called me from the airport. He said that he is leaving for England immediately because his mother is seriously ill. He's going to be gone for two months. It's an incredibly sad situation. Here, he was fired just a few days ago, and he now has a family emergency. Caroll also called. I will send an e-mail to Bill since he may not have cell phone coverage.
Thursday September 9
This morning, Vivian, the Asylum's human resource person, called me into her office. She had calculated the new payroll schedule for everyone. It was approved by Kim and "Samhain." I looked it over and discovered that they were trying to pull a fast one. My pay was cut in half. We argued the matter for a few minutes. Vivian believed that her calculation was correct because the classes are running in only half the time. I told her that we have the same number of contact hours. "Do the math," I said. I cannot believe that no one can figure out that $400 x 6 is not equal to $1,200. I said that I would walk this afternoon if this pay issue was not resolved. Later, Vivian came by to say that there was a mistake. Yeah, right. "Samhain" had already approved it. I also discovered that no one was under any medical plan for a brief period of time. That's why Chip's claim was rejected. In addition, all of our 401(k) accounts have still not rolled over. "Samhain" is breaking State and Federal laws but he doesn't seem to care. He just continues to find ways to cut costs. There are new people being hired as well, and all of them are haole. I find this amusing since over 90 percent of the students are Filipino.
Kevin is still pushing me to apply for the Heald job that he mentioned the other night. He even sent me e-mail about it. His motives are suspect. I believe that he wants me to leave the Asylum so he would be the sole computer instructor. His greed precedes him. He wants to teach nine classes or more per term so he can make more dough. That's a stiff load for an instructor. Since he doesn't not do much, it will be easy for him. He keeps telling me about how "Samhain" and all of the other evildoers will get what's coming to them. Yet, he doesn't see that his greed is even greater. My time is limited. I will just continue on until I am completely phased out, which I predict will be in December. I called Bill and was surprised that he answered. He was in New York, just boarding a plane headed for England. I wished him well. In some respects, Bill is fortunate. He is free of the bullshit at the Asylum. He is free of "Samhain" and his walking cadavers.
Friday September 10
The Asylum was quiet today. Hardly anyone was around. They were all taking the day off because "Samhain" is due to arrive on Monday. There is not a single person who cares for "Samhain." He is detested by all. Even spooky ol' Al couldn't take it anymore. Word has it that Al is never coming back. Most of us suspect that Al had a falling out with "Samhain." In some respects, Al was trying to improve the conditions at the Asylum. However, he codified everything and alienated everyone with his hypocritical sales pitch. "Samhain," on the other hand, is only worried about money. I've accurately predicted every single one of his moves. There's going to be more staff reductions, but his target is the faculty. So far, he's been testing the waters while concurrently breaking employment laws.
I spoke with Robert yesterday. I ran into him out on King Street. He said that he had a good time in Las Vegas. He did not visit the "ranch." Once again, he mentioned that he needs to join the gym. However, he wants a bargain-priced membership. He's saving all that dough he used to spend on the storage unit. Why doesn't he just join already?
Well, I am really fatigued. The night classes at the Asylum are tiring. I am wondering whether any of this worth much. I am simply working to try to pay the mortgage. I won't make enough, yet I keep hanging on. Why don't I rent or sell the damned place already? I keep asking myself that. I don't have an answer. I am not attached to the place, although it is nice. It's a matter of pride, I suppose. I don't want to fail. Selling or renting the place just means that I couldn't handle the responsibility. Selling is an issue by itself. I will never be able to purchase another home again unless I can secure stable employment with much more pay. And, if I throw in the towel, then "Samhain" will have won.
The downtown Ho'olaule'a was this evening. I was too tired to even think about it. And, I knew no one who wanted to go. So, I ended up spending the evening with my beloved iBook and my beloved Bose Acoustic Wave. I kept thinking about that pitiful piece of shit, "Samhain." Vivian had told me that "Samhain" would call when she was still at work at 8pm. That's close to midnight in Cali. He would drill her on the Asylum expenses. "Samhain" spends his every waking moment deeply worried about losing even one penny. It's eventually going to make him chronically ill. He will spend his last days in painful misery all alone, that is, if he has not sold his soul to the Serpent by then. After all, he is "Samhain," a disciple of the latter.
Why do I waste my words on these wretched walking cadavers? They are already dead on the inside. And, they have no more worth than my own spit on the sidewalk. I have my own issues, primarily my exodus from society. I have compromised my own situation with my convoluted beliefs about life. I have diametrically opposing viewpoints raging within. This is causing immense confusion and incongruence. I'm not sure why I cannot see the obvious by just looking at "Samhain." That's what the material life brings. It removes humanity from the equation. The rich and affluent cause much suffering and pain for the masses because of their insatiable needs. When I wanted to be a humble monk of modest needs, I was on the right track. Now, I have derailed myself and I am chugging along like a runaway locomotive. I am on the path to hell along with "Samhain." Lord have mercy!
To be continued ... Go to E.08
| | |
| --- | --- |
| LoserNet | © Copyright 2004. All rights reserved. |