Regular One - The Journal of ...
Note: This raw document is now the pathetic substitute for what was once a glamorous journal. This is all that's left. This journal is not edited to the usual LoserNet standards. It has been restored to "public" status after a brief hiatus. This journal should not be confused with the Journal of the Mind.
Tuesday August 24, 1999
Do you think that we could do a phenomenal business with our dubious e-Commerce project if we had babes like Haunani (see picture at right of her at One West Waikiki) working with us? Do you think she would like to ride around in a BMW Z-series roadster with the ol' lavahead? Do you think she'd want to be his squeeze? As usual, the ol' lavahead is dreaming. I wish I could have seen Clare wearing one of those skimpy swimsuits. I would have been all over her like a cheap suit. Actually, Clare used to wear some very skimpy thong workout outfits. Just thinking about that brought me close to ordering a year's supply of Viagra. Instead, I broke out the can of Bush's baked beans that Kevin gave me when I visited him last month. It just seemed like the right occasion for the Festival of the Baked Beans.
This whole babe and relationship situation is getting totally out of hand. I've written about this before. We are are inundated with nonsense about love and romance at every turn. Listen to your favorite songs. Observe the content of your favorite show on the tube. What the hell is every damned movie about these days? In fact, even the "shoot 'em ups" have a romance subplot. That is, all except the ones produced by John Woo. Clare drove me nuts. Barbie Doll Heather drove me nuts. Haunani and Latisha are driving me nuts. John Woo, save me please!
Speaking of which, I saw an interesting article on the MSNBC site titled "Why We Love Who We Do":
Dr. Ayala Pines, an Israeli clinical psychologist and author of several books on love and its consequences, said there are many conscious ways people can enhance their chances of finding love, but that the "spark" that seals the deal is imbedded in the subconscious. Various researchers have theorized what that spark is or how it is achieved in relationships. Pines suggested that the irrationality of love surrounds a person's romantic image — an image that can be formed in early childhood.

Romantic image may be the reason why people who fail in relationships continue to select the same type of partner — they are seeking a certain type of person, even if that person may be wrong for a relationship. It is difficult, but possible, to change one's romantic image and find love, Pines said. "You do have a choice," she said. "You have to work on the relationship."
Interesting, provocative, well seasoned. I'm afraid that the "spark" is generated from the friction of a thick wad of C-notes rubbing against a fat leather wallet.
Wednesday August 25
Bruce, Derrick, and I met for lunch today. We once again discussed the dubious e-Commerce project. I am beginning to believe that it is not going to come about although Bruce wants us to get going now if the three of us can raise enough money to get the venture started. As I am broke and unemployed, I am not sure what I can contribute. Nonetheless, we all believe that the project can be successful if we get it off the ground. Derrick believes that he has found another potential investor. I hope that it is more promising than what I have come up with. I am making it a point to contact the LA connection once I'm in Cali. I talked to Rod last night and he said he will try to get things going at his end. All Derrick and I want is to be the Smut Kings of Hawai'i! Is that too much to ask?
I am getting very frustrated. I am growing older by the day and I have nothing to show for myself except a stupid journal that no one reads. I only have myself to blame, I suppose. Remember when Q said that in Star Trek: TNG? My computer keeps crashing ever few minutes. It's somewhat unbelievable since I only have 250 Mbytes of applications installed. Of course, my life emulates my computer. I believe that I'm at rock bottom now, so the turnaround has to come soon.
Thursday August 26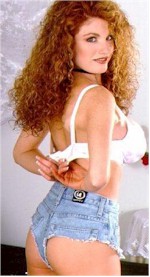 One more day before I depart for Cali. Word from da 'hood is that neither Mercedes Boy or the handmaiden have been seen for over a week. Could it be that the handmaiden has finally moved on? Let's hope so. Otherwise, there is not much to discuss today. I will say that some of my former students are real babes. I talked with a few of them today. One babe, Sharon, nudged against me with her tight little body and my mind rapidly turned to mush. The worst part is that these young babes wear some of the skimpiest and sexiest outfits I have ever seen. I can see why a few male professors have been dismissed over sexual harassment allegations. Sharon is causing my mind to play tricks on me. I can't even begin to tell you what I was thinking. I'm sure you know. She has that really sexy look like Haunani. Yeah, it's a good thing I'm going to Cali.
I am listening to House on NetRadio, that is, until RealPlayer crashes. I should be packing. Instead, I am drinking a 40-dog of cheap beer. I wish it was King Cobra. Well hey! Don't let the smooth taste fool ya! And, I'm eating boiled peanuts. Am I livin' large or what? That's why I had to include yet another picture of a babe who drives me nuts. No, it's not Sharon. I don't know who it is, but I would sure like to get to know her. Of course, I want to only develop a spiritual relationship with her or any babe. After all, I am a monk.
Friday August 27

As I winged my way across the Pacific, I pondered about the issues of my life. However, the slob sitting next to me was practically using me for a pillow. If it had been a babe, things would be different. I wanted to clean his clock, if you know what I mean. The guy at the other end of the row was drinking brewskis like there was no tomorrow. Maybe there is no tomorrow for him. I don't know why but I always contemplate my mortality when I am on a plane. I'm not afraid of flying, mind you. It just seems so apropos. It could also be because I have not taken my Wort in over a week. I am flirting with danger and I know better. I will buy some Wort tomorrow and down the whole bottle if necessary.
John greeted me at the airport in San Francisco. The drive to San Jose took about an hour. We caught up on the latest along the way. Later, I called moms. John also talked with her. It has been about 19 years since the time John and my other ex-babe Susan visited Hawai'i together. Later, we did the obligatory nerd nonsense. I might as well get used to it. Nerding out is going to be my life. I have got to purge babes from my mind. I am a monk. Annie asked why there are so many babes now gracing the journal. I had no other explanation to offer except that I have gone "babe crazy." I think it really all started with Clare (see photo at right. Oh baby!). Is that enough reason to go babe crazy? Yet, one has wonder. After what I've been through, I should have the sense to realize that I'm only inviting trouble. Big trouble. I'm a boy in the army. I'm not equipped to play the "game." Yet, my biology beckons me. It taunts me and teases me just as the babes do. Maybe it is all a figment of my imagination. My mind is playing tricks on me. It has betrayed me. I cannot even trust my own organs. Sheesh!
Saturday August 28
Today was a relaxing day for me. I felt bad because John and Linda had a lot of things to do. They had a dinner party to prepare for on Sunday. I was going to run over to the gym because the gym chain I am a member of in Hawai'i has a location just a few blocks away. Instead, I ended up going for a bike ride with John's teen-aged daughter Vicky. We rode around the neighborhood and over to the park. It has been a long time since I rode around on a mountain bike. Until today, I didn't realize how much I used to enjoy riding my old mountain bike around the canyon back in Convalescent City.
John and I managed to get some nerd time in so we could discuss the usual. Computers. And, babes. Mostly, we discussed computers. John is big on Linux and he's beginning to convince me to change over. What else can I do? I don't know any babes. I will pick up my little rental car tomorrow. I also heard from the LA connection, so I have to decide whether I will drive to LA for a meeting. I may not have a choice. I believe that the dubious e-Commerce project is our only hope to escape this mundane existence. I may be wrong but there are no other alternatives.
Sunday August 29
I'm still in San Jose. Today, I helped John and Linda prepare for their big dinner party. I even mowed the lawn. I also went to the gym. It wasn't too exciting although the front desk babe happened to be from Hawai'i. There were no incredible gym babes there. In fact, there were hardly any babes at all. I'm okay with that. The last thing I needed to see was a gym full of incredible babes. The dinner party was in full swing when I returned. The people were from the church that John and Linda go to. They did not seem too open to an outsider so I eventually ended up in the computer room to nerd out by myself.
Caroll finally connected with me. She is driving to San Francisco tomorrow so I may go along with her. I expect to end up in Santa Cruz sometime tomorrow anyway. Hopefully, I can spend a day visiting with Caroll. Then, I will head down to Convalescent City and possibly LA. The adventure has not really begun, I suppose. I picked my little rental car so I'm ready to roll.
I have become more confused as the days go on. My whole life now rests upon a dream. The stupid dream of retiring after the dubious e-Commerce project becomes successful. That dream is about as stupid as I am. I might as well dream that I will hook up with an incredible gym babe. What has happened to me? In actuality, I have discovered one thing about myself. Remember the "life issues" I was pondering on the flight over here? The only "life issue" I have is babes. All I want is babes. The song by the Beastie Boys is just too close to home. The small number of babes who read this journal are losing their patience with the ol' lavahead. They find his behavior abominable. I can't help that I'm a guy. I'm a monk, but I'm still a guy. It's a good thing I installed RealPlayer on John's computer. Yep, GrooveTech, my friends. GrooveTech.
Monday August 30
Caroll met up with me in Los Gatos. John, Linda, and I had gone there for breakfast at a quaint café. I rode with Caroll to her new place of employment in Daly City. She will be selling cars now. So, I took a nap in her car while she took care of some paperwork. Then, we drove back to San Jose. I spent the rest of the afternoon nerding out with John because Caroll was supposed to go to work. John is building yet another computer. Caroll found out that she wasn't scheduled for today. So, I ended up driving to Santa Cruz (actually Seacliff) this afternoon. Caroll has a nice place that is just a block or so from Rio Del Mar Beach. We took a walk along the beach at dusk. That was such a pleasant experience. The beaches in Hawai'i are beautiful but there is something that I enjoy about the Cali coastline.
I met Caroll's new roommate Jeff. He seemed to a likable guy. Caroll wasn't kidding when she said that she never unpacked. There were boxes everywhere. In talking with Caroll, I believe that she is getting close to losin' it. She's ecstatic that she will no longer be selling carpet on commission. Now, she will selling cars on commission. And, once again she will be commuting over an hour each way to work and back. I see her repeating the same patterns that will lead to her demise. She is extremely tired because of stress and sleep deprivation. She doesn't realize that it's affecting everything including her logic functions. I am worried about her but there is nothing I can do. I am not in the position to be helping anyone since I am also on the verge of losin' it myself.
I have neither taken any Wort or consumed any fire water since I left for Cali. Perhaps that is why I am so fatigued and somewhat blasé. I hope that I can stay off of the fire water permanently. Will that be possible?
Tuesday August 31
Talk about an unproductive day. Caroll went to work early so I met her there for lunch. I drove to San Jose to meet up with John but somehow our wires got crossed. I did manage to go to the gym for a quick workout. Then, I drove back toward Santa Cruz. Caroll was still at work so I met her there first. I found a pair of decent dress shoes at Mervyn's so I bought them. We drove back to Seacliff in tandem. Later, Jeff, Caroll, and I went out for dinner.
The drive on Highway 17 to Santa Cruz is a bit treacherous. Caroll will be commuting on this road every day to her new job starting tomorrow. Her total commute time one way will be almost two hours. I don't think she's going to last long given this situation. And, frankly, I'm a little worried. I can already foresee a lot of problems. On a lighter note, I have asked Caroll to find a BMW Z3 roadster for me. So, she is seriously going to try to locate one. My six-four may be replaced soon.
I have no idea what my purpose in life is anymore. It has been muddled and obfuscated by conflicting values. I am now driven by the kind of motivation that consumed the handmaiden. I am seeking a veneer of opulence when I am still a pauper at the core. Let's look at the facts. The soles of my old dress shoes were separating from the body so I glued them back together. My teeth are practically falling out and I have no dental plan. I am hard-core unemployable and on the verge of defaulting on my loans Yet, I only am thinking about buying a Z3. What has happened to me? I'm worried about Caroll, but who is truly losin' it? To make matters worse, I haven't even had a drop of fire water in almost a week. Therefore, there is nothing clouding my judgment. I'm even losing interest in babes. No, that's not true. All I can think about is the Z3 and babes. What the hell am I up to?
Wednesday September 1
I left for Convalescent City early this morning after briefly stopping to view the spectacular Rio Del Mar coastline. The drive to Convalescent City was pleasant. Usually I think about life but this time I just zoned out. Maybe that's a good sign. I met Big John at his place. Big John dropped me off at the university. I met with my new tea-time buddy and managed to accomplish what I came here to do. I will be taking the comprehensive exams in lieu of my thesis so that I can complete my second graduate degree before the default date.
Big John and I drove out to Port San Luis and Pismo Beach in the late afternoon. The coastline was beautiful. There is something very therapeutic about the Cali coastline. On the way to the beach, we stopped at the local BMW dealership and I obtained a copy of the BMW Z-series roadster brochure. Later, John and I went to dinner at Applebee's. I tried to get a hold of The Bull and Romero but to no avail. As I've said before, I have lost touch with mostly everyone here in Cali.
I did manage to touch bases with The Master. We met at Starbuck's this evening. I was hoping that The Master would be able to provide me with insight on getting back on track insofar as the monk lifestyle is concerned. As I suspected, The Master is waffling about his own commitment to the Hermitage. I surmised that he has been stalling in the hope of falling from grace. I was correct. So, I tried to convince The Master that he needs to buy a BMW Z-series roadster. I had brought the brochure with me to help sell that point. I also discussed the dubious e-Commerce project with him. He may end up being a part of the project. Can you imagine The Master driving around in a Z3 with a couple of exotic dancers in the passenger's seat? That would make any man forget about the Hermitage. On that note, I believe that there will be a big "For Sale" sign out in front of the Hermitage very soon.
Thursday September 2
I finally managed to connect with Romero today. Once again, I took a tour of the Great Romero Empire. I also gave Romero a verbal prospectus of the dubious e-Commerce project. Romero may end up participating in the project. I have no choice anymore. I tried to call the LA connection but to no avail. So, I won't be driving to LA on this trip. I was afraid of that. Thus, I have to assume a lack of commitment. I must now consider my own network much more seriously.
I met with Tom later in the evening. We walked around Farmer's Market and then had dinner at the Firestone Café. I ran into a few people who I had not seen in a few years. One of them was Kathy, a friend of my ex-babe Susan. I talked with her for a few minutes. She was married when I last saw her a few years ago. She has two lovely daughters. However, she is now divorced.
"He left me for a younger woman," Kathy told me.

"If it's any consolation, I was left for a rich guy," I interjected.

"Well, I'm seeing someone new. He's an older man. He's forty-six," she added.

"Say what? Older man? I'm only a year younger."

"Errr ... did I tell you that you look fantastic?"
Tom and I ended up at Starbuck's for coffee. Tom has been living a hectic life. I have tried to call him a few times from Hawai'i but he never returned my calls. I thought he was married already. Apparently, Tom has started a new job at the community college and he is also teaching three classes there. So, he's been very busy. However, I think that he has been neglecting his babe and she may eventually lose interest. Once again, I presented a verbal prospectus of the dubious e-Commerce project. We might as well keep it all in the family, eh?
Friday September 3
Another tour of the Great Romero Empire. Today, Romero and I discussed quite a few things mostly dealing with babes. A few of his anecdotes were very interesting but I cannot include them here. I will mention, however, that the handmaiden has many sisters of kind. I also ran into Doug, another buddy from the past. I am always amazed at how I run into so many old friends here. "This is your home," Big John told me. He is probably correct. Big John and I spent the evening talking. We went out briefly to go to Froggy's for frozen yogurt snacks. There were two gorgeous, young babes working there. We chatted with them briefly. I am really losing control. I was ready to bolt over to the liquor store to buy a 40-dog of King Cobra as my mind was ready to snap. Well, hey! Don't let the smooth taste fool ya!
The LA connection called this morning. My meeting in LA was postponed so I did not drive to LA as you can guess. Caroll has not called me back although I called her several times. I have no idea what is going on but something is not right. I'm not even sure if I should drive back up to Santa Cruz. Maybe I should wait until Sunday and just drive the rental car back to San Jose and hop a shuttle to San Francisco. I can spend the night in a hotel and insure that I make my flight on Monday.
Well, it's time for viewer mail. Neal (niall@allover.com) wrote:
I hate to break it to you, but you can carry more babes in a 328i convertible than you can a Z3. Then again, you can carry more babes in a Jeep Wrangler, too. Which makes me wonder about your priorities ...
I am still sold on the BMW Z3. Moms has a difficult time getting into my six-four. I believe that the lower chassis of the Z3 will be much easier for moms to get in and out. That will certainly justify my need for the Z3. This is much more important than trying to impress babes.
Saturday September 4
Caroll called me early this morning to tell me that she had to work today. I asked if she was working tomorrow. "I don't know," she replied. That has been her response every time so far. Doesn't she know? She asked when I would be leaving Convalescent City. I told her that I would be at her place late this afternoon. I spent most of the day hanging out with Big John. Then, I bid him farewell. I then stopped off at Tom's place in Templeton. He lives way out in the middle of nowhere. The view from his house is nothing short of breathtaking since it overlooks the surrounding foothills. Tom and I discussed a lot of the same issues that have confronted us for a long time. He has helped me to see that I need to make a decision. If I am not happy in Hawai'i, then I must leave. Tom was in a similar situation not too long ago. He almost ended up living in the Bay Area. However, he knew that he wouldn't last up there. Now, I must decide.
I bid Tom farewell. I really didn't want to leave. I had a most relaxing and enjoyable time in my old stomping grounds. However, I promised Caroll that I would be back at her place today. As I knew was that she has been losin' it. I began to wonder whether I could depend on Caroll at all. She happened to call me while I was driving. She wanted to know when I was arriving and why I left Convalescent City so late. I have no idea why she wanted to know since she was still at work.
I called Caroll once I arrived. She was still at work and was not due home until 10:30pm. So, what was the big deal about me being late? She also told me that she has to work tomorrow. Why didn't she tell me that earlier? She knew that I have to return the rental car. "Maybe you can return the car and take a taxi to my work place," she told me. From San Jose to San Francisco? That's plain stupid. So, I called the rental car agency. I will be able to return the car to the San Francisco International Airport office without additional charge. Now, I have to decide whether to leave tomorrow and stay at a hotel in SF or stay at Caroll's place by myself all day. Had I known all of this earlier, I would have just stayed in Convalescent City for another day. Caroll is seriously losin' it. I believe that she wants me to keep her company although I will only see her for a couple of hours after work. The sad part is that she will be so delirious that we won't even be able carry on a conversation.
Sunday September 5
Caroll came home at 12:30am. Two hours late. She decided to check out some apartments because she hates the apartment she lives in. She said that she wants to move to Los Gatos now. By the way, I met Jennifer, the college babe who lives next door to Caroll. What a babe! Caroll also has an interview next week for a manager position at Blockbuster Video. I have no idea what is going on.
Caroll left for work early this morning. She called me later to find out what I was going to do. I originally thought that I would extend my car rental another day for $45 and hang out in Santa Cruz. I could have gone to the gym there and then I could have spent the rest of the day at the beach. Caroll wanted me to drive up to Daly City where she works. I just threw my hands in the air and made arrangements to return the car at SF airport. After I returned the car, I checked into a motel. It's an $100 expenditure that I didn't anticipate but it worked out for the best. I relaxed and listened to the sounds of the freeway traffic. I took a long shower. And, there were several hurdy-gurdy movies available for me to watch at outrageous prices. Who could ask for more?
Caroll came by after work. We went out to dinner and spent the time talking. At several points, the conversation was strained. Caroll has been making inflammatory comments about my situation (i.e., living at home with moms) which almost set me off. It was reminiscent of what the handmaiden used to me. I am fortunate to have the opportunity to catch up with my finances but I'm certainly not livin' large. I don't own a Mercedes. However, I can see that Caroll is getting close to the edge of sanity. Her situation worsens every day but much of it has to do with some of her decisions. I let Caroll stay in my motel room for the night so that she did not have to make the drive back to Seacliff. That's probably the cause of her delirium in the first place. Her snoring kept me up for most of the night. I let it go since she really needs a break. At least we had a chance to talk. We haven't been able to do that for a long time.
Monday September 6
The end of my trip came too quickly. Caroll and I got up early. I took the shuttle from the motel to the airport. Caroll met me there shortly afterward. While I stood in line, a woman came up to me and said, "I used to run track and I couldn't help but notice that you have the nicest legs I've ever seen." The handmaiden and quite a few other babes have complimented my legs and calves but they are are mere twigs. Whassup wi' dat?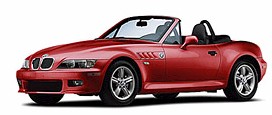 I was very tired so I spent most of the plane trip home in a coma. I did a little thinking but I wasn't able to comprehend my thoughts since Caroll's snoring kept me up all night. I perused the BMW Z3 brochure during my more cognizant moments. After arriving in Honolulu, I took the bus home. Words cannot even describe the amount of fun I engaged in during the bus trip home. After I arrived at home, it didn't take but an hour before I rolled down to Foodland to buy some fire water. Word from da 'hood is that the handmaiden is still living down the street. It's a good thing that I have my new goal of buying a Z3 (see photo at left).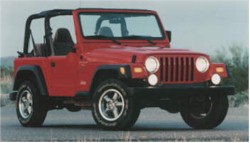 The real question is whether I should replace my six-four with the Z3. My six-four is an older version of the new six-four (pictured at right). Actually, it's not a 1964 model. It's a 1990 model. It is red as I seem to have a tendency to buy red vehicles. Is it time for me to retire the six-four? Trivia fans may note that the company that owns Six-Four Motors also owns Mercedes. Baha! Ha! Ha! Haaaa! Isn't that something? Baha! Ha! Ha! Haaaa! Opulence meets the peonage!
Tuesday September 7
I have got to retire. The situation at the business college has gotten worse. The problem is not the students. It's the damned administration. Fortunately, the community college informed me that I have been recommended to the lecture pool. I may have a way out come next term. Overall, I'm not sure I can take this anymore. My nerves are shot because I must continually deal with morons who have nothing else to do but play games with me. The problem is that people know they can get away with this crap. In the old days, a knuckle sandwich would remedy the whole situation. I'd like to line up all of these fools and punch 'em out. Add to that the stress of defaulting on my loans in a few days. It was hard for me to abstain from the fire water but I did. It's time for me to cut back. I've spent more than $1,000 in the last few months on fire water. That's already 1/36th of the cost of a new Z3. I'd rather have the Z3 than a liver transplant. Sheesh!
Wednesday September 8
As I suspected, I was called into the office at the business college again. Like a schoolboy gone bad. The allegations were exactly as I suspected, so I knew who was involved. I made it perfectly clear that the accuser had zero credibility. Of course, I worded my statements and questions in such a way that I could narrow down my suspects to one perpetrator. I was assured that this situation would end. The university was hopping with activity these past two days. I cannot even begin to tell you about the sheer number of babes who are enrolled this term. It's amazing. What's worse is that I have quite a few of them in my classes.
To make matters worse, these babes come to class as scantily clad as possible. They also wear very low-cut blouses especially if they are well endowed. It's almost a crime. One really has to wonder what is going on. These are very beautiful women that I'm talking about. It is as though I have fallen into the sinister kahuna's ultimate trap. I can look but I can't have any of that. It's forbidden fruit. In fact, as I talked with another professor just before my class started, I noticed that he had a big grin on his face. I usually see him with a number of different coeds. If I didn't know better, I'd say he was on the make. Can I blame him especially if he's single? I already know that I have to start thinking like a damned eunuch. So, I have babes in my classes at the business college and I have even more babes in my classes at the university. I suppose that there are guys out there who would kill to be in this position. The babes I'm talking about are the ones that don't normally give any guy the time of day unless they are real studs. It's a laughable situation, my friends. But, it's one I thoroughly enjoy. Baha! Ha! Ha! Haaaa!
Thursday September 9
I had a dream last night that left me entirely fatigued today. In the aftermath, I have to wonder whether I am back at square zero. In the dream, I found myself with the handmaiden. I had asked her if she was happy with Mercedes Boy. She said yes. But, she wasn't being sexually fulfilled. Somehow, I ended up in the bathroom. Mercedes Boy walked in. He didn't have his shirt on and it was plainly obvious that he had a much better physique than I. He was even flexing in front of me to put me down. In the dream, I felt so puny. When I woke up, I felt even more puny. I was "in a funk" (as Steph would say) by midday. I don't believe that I subconsciously desire the handmaiden again. I believe that it is a life issue wielding its ugly head, something Big John and I were talking about in detail when I was in Convalescent City. The issue is one of determining what any of us is living for.
I don't understand why but most of us really do not have a purpose in life, that is to say, within the context of our singularity. We just go through the motions and exist in a mundane fashion. The concept of living for someone else has its roots in what we usually define as "having a life." The only context where this has ever been used (to my knowledge) is the existence of a significant other. It also suggest a kind of pathological dependency. As each day passes, I see the futility of my very existence. I now question my deviation from mendicancy. If I give into materialism, then I will become a slave to the very system I despise. I have become like The Master. A man who no longer knows what path he is on. The possibility of finding a mate precludes the dismal existence that socio-cultural norms have determined to be equated with singularity. Barren, lonely, desolate. I can't honestly say that I want to remain an active member in this society just in the hope of finding a babe. For that is what it boils down to. Believing that we are missing something in life. From what I can tell, this is what has threatened the very fabric of Caroll's existence. It has eaten away at her sanity yet she want to stay in it because that is what she is supposed to do. I don't want to be another casualty of war like Caroll. I don't want to take a gamble to find opulence and security like the handmaiden. Each has taken a toll on the individual in question.
The Master mentioned that he had talked with Bob recently. Bob is a mutual friend from way back when. The Master detailed his plans about the Hermitage to Bob. However, Bob asked him why he was planning so far into the future. "Your relatives are going to love you because you're probably going to keel over the day you retire to the Hermitage and leave them all your dough." Bob's words haunted me for the rest of my time in Cali. What exactly am I working for? I want to retire as well but that could be over a decade away. In the meantime, I will make sacrifices in the name of mendicancy. I almost lost it when I realized that I was no better than The Master. That's when I decided that I needed a Z3. Nothing seems to make sense anymore. I cannot find an answer. It is as though I am trapped in a no-win scenario.
Friday September 10
I am not exactly sure what to discuss today. I invited a couple of former business college students sit in my university classes. I like Cory and Phillip but they exemplify the typical "local" mentality. I also took them of the tour of the so-called downtown campus which really is comprised of office space rented in a number of office buildings downtown. We stopped in the library so I could pick up my faculty card. As we waited, there were a number of university coeds running amuck. The boys were losin' it but in a very sophomoric fashion. In a way, it was embarrassing as the babes were obviously not too impressed.
Cory rode home with me on the express bus. We then took my six-four to Ala Moana and caught the bus into the Ho'olaule'a that was happening downtown. It sure beats sitting at home. I've been very concerned about Cory because he has promise as a student but he is being swayed into the dark side. His family life is miserable ever since his father allegedly shot himself in front of Cory in a suicide attempt when Cory was seven years old. He is allegedly a member of a gang here in Hawai'i, although the gangs are much more timid than their mainland counterparts. I'm not sure what else I can do. He thinks of me as an older brother but I don't seem to be able to persuade him to make some important changes.
The Ho'olaule'a wasn't very exciting. There were quite a few babes meandering around. What was sad for me to see is that the rudest and crudest people were the "locals." The event was "dry" this year which may explain why it was significantly smaller than in the past. Probably another dying event in Hawai'i. It is supposed to celebrate the Aloha spirit. But, that is about dead as well.
Saturday September 11
I am beginning to suspect that Cory is a chronic liar of which the reasons are becoming much clearer to me as the days go on. Lord knows I've been around quite a few of them in recent history. Some of Cory's stories are seemingly far-fetched. Perhaps these stories are credible with young high school babes but I can find no basis in fact. Nonetheless, this is only another indicator that his childhood was probably not a good experience.
I have begun to read another Web journal. It's on an interactive Web diary site called My Dear Diary. The diary itself is appropriately titled, Cruel Love. Mind you, I rarely read any journals on the Web. After all, I am the author of one of the most boring ones. The crux of the diary is a long distance relationship that started via the Net. Sound familiar? Well, this time, the viewpoint is from that of the female. The similarity ends there. However, it does provide a very interesting insight into the feminine perspective of a relationship gone bad. I have read only a few entries but I am now beginning to unlock some mysteries of the female mind. Will it lead me to understand the handmaiden? Who is to say?
Yesterday, the boys were trying to tell me that I need a babe. That's only natural since that's all that is on their minds. However, I see their point. There is nothing to do here in Hawai'i except to sedate oneself with fire water (or drugs) if one does not have a babe. The handmaiden does not have to worry about this as she is not alone. And, she has someone who can spend an inordinate amount of dough on her to make her happy. I have neither. All I have is my hand and the loans that are on the verge of defaulting. In the case of the latter, I have decided to take a sizable cash advance on my credit card to make the payment. My hand will always be here for me.
I have neither heard from Bruce or Derrick. I also haven't heard anything from the LA connection or anybody else I submitted a verbal prospectus to. Thus, I am officially declaring the e-Commerce project a failure. I am once again on my own to discover how I will retire comfortably within the next four years. Lord knows I have to retire.
Sunday September 12
I am beginning to now understand the "feminine mystique" insofar as romance is concerned. The bottom line is that wrong is right. Remember the movie by the same name? That's exactly what I mean. Take all of your fears, insecurities, quirks and so forth. Project all of that nonsense entirely upon another person. There you have it. Being guided entirely by feelings, emotions and hormones lead to ineffectual and irrational behavior. Neither sex really has a "prerogative," as it were. For some strange reason, we (as a society) have sanctioned certain prerogatives to both sexes.
For the longest time, I thought that maybe it was all due to my strange thinking. Perhaps I have been a monk too long. In the end, I'm finding that my limited participation (less related to my cynicism as I previously thought) has enabled me to be more objective about what I have observed. I have, consciously and subconsciously, "tested the waters" as the old saying goes. Therefore, I have finally discovered something else about myself. I am not a blind conformist. I have questioned the nature and feasibility of the mating "game." I have discovered that it serves no useful purpose because we, as humanity, have lost our compassion.
The "Me, Myself, and I" mentality is still prevalent. The selfish nature of individuals can only insure the certain demise of what should be the last bastion of civilized society. The evidence speaks for itself. The heartache and sorrow of musical beds and serialized divorce and breakups give no credence to any priority in relationships except to have our sexual needs fulfilled and short term loneliness abated. There is so much conceit and self-centeredness in a situation that requires strategic and mutual compromise. In this loser's opinion, there is no one out there who will satisfy any one person's relationship needs. Everyone is too selfish, uncaring, insensitive, and narcissistic to involve another person in his or her life. And, it's not just the guys' fault. Many people have told me that I am the one who is not prepared to be in another relationship because I am not ready to share my life with another. Frankly, I am seeing that I am more prepared than most people. I just don't want to play this patronizing game that really only hides selfish intent. What do I mean by that? Simple. If you don't want to do what I want you to, then you are at fault. That is what everyone is perpetrating. In that respect, I'm better off alone because I'll be alone anyway even if I was in a so-called "relationship."
Drink cheap fire water. Pass out. Come to. Drink some more. Repeat over and over again. That's my Sunday. And, I'm back to the same pattern of nonsense that I did before I left for Cali. Isn't it great? Even my students admit that there's nothing to do except to get drunk. Life in Paradise. Actually, I don't care if I buy the Z3 or not. If I don't, then I'll have hella drinking money especially if I default on my loans. Why should I be responsible anymore? Look what "being responsible" has gotten me so far? I'm behind everyone else. If I stop being honest, I may actually be on a par with most people. I'm quickly learning that the true Golden Rule is to "do unto others before they [copulate] you over."
Some clown has set up an "amateur" site. His goal is to skin up as many of the "amateur" babes as possible. Why didn't I think of this? He puts the photos of his "encounters" with these babes on his site. Yeah, I think I'm going to disappear into the woodwork soon. I'm going to shut down the journal completely until I have some reason to start it back up again. I see too many reasons to end it. One is the repetitive nature of the journal which reflects the circuitous path I've taken to get nowhere. I have associated with losers and idiots for most of my life as well. The sad part is that I have seen the moronic self-importance that has permeated even this lowest level of the food chain. It makes no sense. Common sense tells me to get out of Babylon.
To be continued ... Go to R.9

| | |
| --- | --- |
| LoserNet | © Copyright 1999. All rights reserved. |