The Year of Living Dangerously
Two Can Play That Same Game


Note: This volume has been edited beyond recognition.
Monday June 30, 2003
An uneventful day. Sunburned, tired, and groggy. I was extremely fatigued because of the "mid-life crisis." Yeah, Prozac has his "bipolar" disorder. I have my "mid-life crisis." They're both the same. At the Asylum, Kevin told me that Bug was upset because he and I did not make the Asylum's graduation ceremony. If I had a choice between going to the beach with two hot babes or going to the damned graduation, which would I pick? Duh, which way did he go, George?
After class, I ran into Pseudo-professor John in the faculty computer room. He had about 30 minutes to spare before driving to the Hawai'i Loa campus. I discussed how my experience with the handmaiden has made me very wary of babes, especially if the latter display similar traits. Coincidentally, the "mid-life crisis" ramped up. When will it ever end?
Tuesday July 1
An uneventful day. The symptoms of my "mid-life crisis" were totally out of control all day. It's now starting to affect my job performance. There is an underlying issue that needs to be resolved, but I can no longer identify it. There's too much ambient noise and spurious information. I cannot sift through all that crap. My guess is that the "issue" is really the babe situation. What else could it be? In my discussions with Pseudo-professor John, I've come to discover that he is attracted to Shirley. Or, she at least epitomizes the kind of babe he wants. So close, but so far away. Life is like a bad game of Musical Chairs. However, we always know who is going to be left standing.
After my math class, I was chatting with Pseudo-professor Ralph. He was impressed that we were able to recruit babes like Shirley into the group. I told him that Prozac wasn't too impressed. Just about then, Prozac walked in. He told me that he has just about decided to join the gym. Didn't I hear this a few months ago? This is the kind of nonsense that drives me berserk. That's why I decided to organize the Summer activities. I can't sit and wait for my brethren. We still haven't decided what to do for the 4th of July. Not to worry. There's still plenty of fun awaiting us. It's just too bad that some of us can't have the babes that we want. Just kidding!
Wednesday July 2
I watched a few more Ally McBeal episodes last night. The last one was quite interesting as there were a couple of applicable situations. I chatted with Pseudo-professor John on the phone as well. He had written something curious in e-mail about a "Plan A" and "Plan B" that he came up with about 15 years ago. It indirectly had to do with the babe situation. Yesterday, I also had a discussion with two of my guy students who are my age. Both were married, and then divorced. Each has a child. The whole thing left a bad taste in their mouths, so they do not care to repeat the experience. Then, there's the ol' lavahead. In the midst of his "mid-life crisis," he wants to find a hottie, get married, and have a family. I have made so many preparations to be able do so. However, I have no takers. It's so ironic and so pathetic.
A somewhat interesting day. At the Asylum, the new Dean presented me with an interesting proposition. He wants me to do the curriculum coordination as a course substitution. In other words, my class load would go down, and I would spend the remaining time working on curriculum issues. I told him that I would be very interested. I would do almost anything to reduce my class load. There will be no increase in pay, nor do I get an official title. Who cares? I called Shirley and talked with her briefly. She said that she is not going to make the kayaking adventure. She promised to spend time with Ramona. I did not argue, since I know that I have dragging her along on these adventures. In addition, the original agreement really only included the two of us. Now, there are hella people involved.
I also had a discussion with Professor Russell after I was done at the gym. I asked him for information about where we should meet on Sunday. He showed that to me on a map.
Thursday July 3
Pseudo-professor John called last night. We chatted for about two hours. He was extremely concerned that Shirley was not going on the kayak outing because of him. He blamed himself over and over again because he had asked Shirley to play basketball with him and his friends repeatedly on Sunday. He felt that Shirley was repulsed by him and was now taking measures to avoid him. I could nothing to dissuade him.
Just about then, Shirley called. So, I ended my discussion with Pseudo-professor John. Shirley and I ended up chatting until two o' clock in the morning. I told Shirley about Pseudo-professor John's concern that he had repulsed her. The thought really did not even cross her mind. In fact, she thought it was nice of him to invite her. She also said that she would still like to do the kayaking adventure later in the Summer.
An uneventful day. I was extremely fatigued because I only had about four hours of sleep. I made it through the day, and I even went to the gym.
Friday July 4
The group has become fragmented. I am almost tempted to cut the Summer activities after this weekend. And, even then, the environment is already tense because of the undercurrents of infatuation. This has become an episode of Friends gone badly awry.
Saturday July 5
Moms has been preparing all kinds of food to cook in the kamado, so we know that the Ninja Turds are due for a visit. I am so glad that I came up with this crazy idea for Summer activities. The Turds have now faded into my periphery where they belong.
Shirley had car trouble, so she didn't arrive until 8:20pm. We then drove over to Waikiki to pick up Pseudo-professor John. We finally arrived at Brew Moon around 9pm. We drank and ate pupus for about an hour.
Sunday July 6
Last night after Shirley left, I realized that there is only one variable that changes the group dynamic. With the exception of the Diamond Head hike, it is Shirley's presence that now determines the context of the group's interactions. If there are three of us and we can interchange one spot with either Shirley or Pseudo-professor John, we see entirely different group dynamics. It is as if a psychological game is at play to pit one against the other. This has triggered a "psych-ops" red flag.
Woke up at 6:30am. Drank lots of coffee. I am extremely fatigued since I only had about two hours of sleep. We are supposed to meet at Kailua Beach Park at 9am, but I have no intention of arriving on time. It's going to take me quite a while to wake up. So, we basically spent two hours on the beach with an hour of piddling around in the water. I was glad to return home. I walked to the gym and did my usual workout. Later, Pseudo-professor John came by. We sat around and chatted for an hour or so. He brought up how Shirley has been a loyal friend to me. Well, the evening will be boring. I used to like it that way. What has happened to me?
Monday July 7
Last night, I sent a formal apology to everyone for the botched kayaking adventure. Evidentially, a few people had shown up at 9am and wondered where we were. So, now I'm feeling real stupid. Yesterday, I received accolades from Pseudo-professor John for being a caring friend to all. He cited how I had tried to help him get a job at the Asylum, even before I really knew him. "No one has ever done this for me," he said. Sometimes I am a pretty good guy. I do things for people that no one else can or will do. Yet, at other times, I am unscrupulous. Shirley called and we chatted for a while. I may see her sometime this week.
An uneventful day. I was still fatigued from the weekend activities. I spent over two hours with the crappy scanner in the faculty computer room at the Diploma Mill. I was trying to scan a few of the pictures from the hiking adventures. The pictures were grainy to begin with, so the end result was not too good.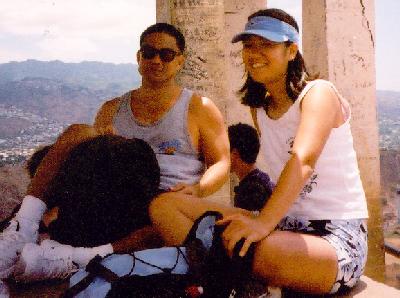 Shirley and the Ol' Lavahead
It's too bad the images are not clearer and devoid of all the splotches. Well, that's neither here nor there. At least I was pleased to see that Anonder added his comments to Speak! III by LoserNet.
Tuesday July 8
Last night, Shirley called and chatted with me for a few minutes. She made one odd comment. "You and John go after attractive babes," she said. Beauty is in the eye of the beholder, I responded. I was not exactly sure why she said that to me. It seems to imply that we are looking at babes who are way out of our league. Perhaps she's right. Lately, I have been derided for my inaction and indecisiveness concerning this matter. Anonder called it a "storm of consternation." Perhaps I am childish, or I am in deep need of counseling. Maybe I really do hate myself. Or, maybe I'm just a shy guy who is way over his head on this one.
An uneventful day. I chatted with Professor Brian this afternoon at the Diploma Mill. He is leaving for Norway on Thursday. He has moved out of his apartment and is now fully settled in with Pseudo-professor Cathrin. She is is Norway right now. That is where she is originally from. I asked Professor Brian if he was planning to marry her. As it turns out, he is bringing a ring with him. He will propose to her when he is there. I asked him about the beginnings of their relationship. I remember when he was mackin' on her in the faculty computer room. Essentially, that's where it all began. At first, he thought that she was not interested because she blew off his offer to join a group of faculty at happy hour. He finally asked her out to dinner, but it turned into a fiasco because another couple came along. However, they saw each other steadily for a week after that. The rest is history.
Pseudo-professor John and I have been corresponding by e-mail. In his last one, he said that he is depressed about his "loser life." This came up because I had mentioned to him how hard it has been to stay at home lately. The Summer activities have been keeping us busy, so much so that idle time seems so boring. His concerns take it one step further. "Hanging out with you guys is a welcome relief from my otherwise rather boring life. It is frustrating to be around attractive girls who want no more than to be friends," he wrote.
Shirley called around dinner time. We chatted about a number of things, one being the upcoming Summer activities. I suggested that we rent a bungalow and have a party at the end of Summer. We would all get hammered and have a great time. Then, of course, we had to discuss the babe situation. "You guys are just interested in hotties," she told me again.Fortunately, it was time for dinner.Shirley said that she would call back later this evening.
Wednesday July 9
I spent almost all of last night on the phone. Kevin called. He wanted to discuss a few Asylum issues. At this point in time, I really don't care much about the dump. Shirley called and we chatted for a few minutes. However, she received a call from Tammy, so we had to cut our conversation short. I called Pseudo-professor John and chatted with him. Then, Shirley called back, so I ended up talking with her until 11:30pm. Apparently, Bryce finally called her up and asked her out. Shirley was a little upset because she had specifically told her sister that she did not want to go out with him.
An uneventful day. Shirley called me 12:45pm, while I was sitting in the faculty computer room. Pseudo-professor John was there. He was acting a little strange. Shirley was in town again, so she said she would come by. I waited for her downstairs. We had to walk over to another building to get an envelope. Shirley and I walked to Jamba Juice. We sat outside with our smoothies. She has been trying to persuade me to snap into action for no particular reason. At one point, she told me, "You're a good-looking guy. You can get any babe you want." This is why Shirley is a loyal friend. If it were anyone else, I would have known that I was being patronized. Shirley, on the other hand, was attempting to make the ol' lavahead feel better about himself. However, we all know the truth. Babes are not attracted to the face of stone.
I went to the gym for a quick workout after my class. Later, on the way to the bus stop, I ran into Prozac. He said he stopped by Brew Moon last week. He is also planning to join us this Friday for movie night. I am going to relax for the evening. No phone calls. No nothing.
Thursday July 10
Yesterday, while at Jamba Juice, I told Shirley the confusing story of how I have had relationships with babes, yet I have never asked a babe out on a date. Not once. Yes, I do know what to do when the babe is clearly interested. I just have no idea how to bust a move. It would be laughable, were it not so pathetic. I also discovered that Shirley has been making a concerted effort to avoid anything remotely resembling the pairing of her with Pseudo-professor John. Oh, these foolish games we play!
An uneventful day. Shirley called before my class at the Diploma Mill. We only chatted for a few minutes. Shirley said that they had made no decision about the movie. She also complained about the high price of admission, but I assured her that I will be paying her way as I promised. Later, she sent e-mail to say that she can only make movie night on Friday because she has to work on the other days. I am sensing some undercurrents, which signal possible problems for the group. Shirley is uncomfortable because she senses that Pseudo-professor John has a thing for her. I am worried that we have a fragile situation.
The symptoms of my "mid-life crisis" have abated for some reason. However, at the gym, I wondered to myself about why I keep working out. It seems to make no difference. Why don't I just become a slob? I chatted with Prozac for a few minutes. He is going to join us on Friday. He will have a babe with him. She's the neighbor from across the street, but he is not interested in her. She is not a hottie.
Friday July 11
An uneventful day. At the Asylum, the new Dean has assured me that I will have the new Curriculum Coordinator position. I will receive course substitutions as compensation. That's fine by me because I want to reduce my class load. Shirley called at 1:30pm. She said that Bryce sent e-mail asking her out. We only had a few minutes to chat before I had to go to my class at the Diploma Mill. Later, I went to the gym. Pseudo-professor John gave me a ride home. We talked about the babe situation, as usual. I believe that he has a thing for Shirley, although it is probably far stronger than he admits. I called Shirley after dinner to finalize the plans for the evening. She arrived at 7:35pm, and left for town. She was in a bad way, so we did not really talk much along the way. Parking was a nightmare. Shirley finally gave up and decided to go for the valet parking. Shirley and I walked to the Starbuck's near Border's to see if anyone was there. Then, we walked back to the Starbuck's in the theater complex. We sat outside. Then, two students, Brad and Odessa, from my math class at the Diploma Mill showed up next. Prozac appeared without his babe. He gave us some convoluted story about why she wasn't there. He seemed to have doubled his medication because he was on a roll again. Professors Russell and Allison arrived next. Finally, Pseudo-professor John arrived. We spent a good hour talking. At one point, I went into the Starbuck's to get a Mocha Frappacino.
We didn't decide on a movie until the last minute, so buying tickets was also fun. Some of us stood in line, and the rest of us tried to beat the clock on the ticket machines. I missed it by just a few seconds. The machines shut down 20 minutes before showtime. Brad secured a whole row for us. When Pseudo-professor John and I meandered into the theater, we had a hard time finding our group. They were sitting in one of the front rows. We walked down. After the movie was over, everyone stood up. I was the last to stand. We filed out of the theater. We chatted for a while and parted ways.
On the way home, Shirley and I chatted. Tomorrow's activity is a night at the Mai Tai Bar. So far, only two of us are going. I have made a provision that I will cancel an event if there are less than three people. I walked Shirley out to her car. We ended up talking for 20 minutes more. Again, she told me that I should lower my standards. "So, we are way out of our league," I said. This went back and forth for a while. "You're a good-looking guy," she said, obviously frustrated. By the way, we saw Pirates of the Caribbean tonight.
Saturday July 12
I really need to get a grip on reality because I am losin' it. I am the one who is causing the disintegration of the group because of my own stupidity. I also wanted to keep our group from fragmenting when everyone begins to suspect that my motives for forming the group was selfish, which is not true. I suppose this is a blessing in disguise because it finally puts an end to this charade.
Sunday July 13
Last night, Pseudo-professor John and I saw Terminator 3 at the Kahala Theaters. We first met at Barnes & Noble. I was listening to a few House Music CDs. That's when I came up with my latest brainstorm — we're going to take the babes out dancing on Labor Day weekend. Pseudo-professor John did not like my idea. He thought that I had lost my mind. "We have to do it," I said. "We must break free of the prison of our minds." How can we go wrong with an idea like this? Shirley called during the movie, but I could not answer the phone. I called her back later. I told her that we were having "Boy's Night Out" at the movies. "We really miss you guys," I said. It's true. The void was plainly obvious.
So many aspects of my flawed thinking have become plainly obvious in the past month — how much time I've wasted in useless seclusion, how useless money really is, how my life is devoid of meaning, and how much I need a babe. I have even lost interest in my beloved iBook. In essence, my previously structured life-style is crumbling before my eyes. Will this be a turning point? Or, will I end up back at Square Zero in defeat?
Today's activity was also canceled. Fortunately, I had gone on a hike up Koko Head yesterday morning. I enjoyed the hike, even though I was alone. I had a lot of time to think and reflect about all that is going on. I can see all of Honolulu, Hawai'i Kai, Hanauma Bay, and the wide expanse of the Pacific Ocean as I make my ascent up the ridge of the crater. The view certainly puts everything into perspective. The day is coming when I won't even be able to amble up here. I'll be too old and decrepit. So, why do I not hike up the crater every day? That's really life in a nutshell. Some of us are doomed to repeat the same mantras over and over again, but nothing ever changes. It's all lip service. I am gradually learning that a guy's life is a lonely and isolated one. That's the default. It takes a concerted effort to rise above the default. On the other hand, babes live the most fulfilling lives with little effort, especially when they are young and attractive. In the ten years of their prime, they have the potential to experience so much more than an average guy does in his entire lifetime. And, with little effort. It is all in the name of courtship that guys must provide these experiences to babes. We will spend all our time and money to compete with the other cretins just for a chance with a babe. This realization is nothing new for me. I've repeated it ad nauseum for years.
For the majority of guys, the end result is less than optimal. There's a lot of wasted time and energy, only to end up in a desperate pairings. I am tempted to declare "confirmed bachelor" status, which really makes sense for a guy like me. However, our "Boy's Night Out" made it painfully clear that the alternative is no better. While I tried to maintain a youthful optimism, I was shot down by Pseudo-professor John because my ideas were too risky. The propensity toward negativity is extremely high whe there are only guys around. A mixed gender group eliminates the "pity party," but it does create another potentially chaotic scenario. It takes no genius to realize that, anytime a group of single people are going out together, there is a high probability that one or more of the participants is going to entertain amorous ideas.
Both Shirley and Pseudo-professor John prefer the group to remain small (i.e., the four of us). Shirley prefers small groups of close personal friends. Pseudo-professor John just doesn't like large groups of people. Smaller groups require a lot of personal disclosure, which doesn't work well if one is trying to be elusive. Because of the increasing logistical problems, my only goal now is to maintain the group activities until Labor Day weekend. I would like the group to continue on, but that is impossible given the strong undercurrents which exist. I am certain that nothing will happen in the next six weeks because nothing has happened in the last four weeks. So, let's just enjoy the time that we have.
To be continued ... Go to D.13
| | |
| --- | --- |
| LoserNet | © Copyright 2003. All rights reserved. |