The Exodus Files
Last Man Standing


Saturday September 11, 2004
The benign journey to Chez Loser in Kane'ohe was more benign than usual. I thought that I could resist the temptation to purchase a bottle of wine, but I was wrong. I caught the bus to town and made a smooth transfer to the next bus. I got off near the Windward Mall and bought a big-ass bottle of Vendage Chardonnay. I walked to Chez Loser. Within seconds, I was already sipping the fine vintage. I had nothing else to do. I left within an hour, but the bus was apparently much later than I expected. So, I walked back to Chez Loser to continue my drinking binge for another hour. I was quite hammered. The next bus was only a couple of minutes late. I was able to make the transfer in town. I was too hammered and too fatigued to go to the gym. I've been fatigued all week because of the night classes at the Asylum. Next week, I am leaving for town closer to noon on Monday and Wednesday. I am not going to let "Samhain" ruin my life. However, he already has.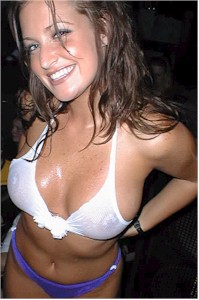 I had several very weak moments today when I was thinking about the babe situation. Like a bad sitcom, this issue keeps coming back. I can see why Robert must keep himself sedated. The issue should already be moot since I am rapidly approaching the Big Five-O. I will waste the last few months in the most malignant manner — wage slavery. It really is interesting to see how Robert and I lead parallel lives. I now know what happened to him on Mau'i when he lost his townhouse. I am on the same path. I have given up. I have made no effort to call any of the property managers. I have not put the furniture up for sale. I only guzzle cheap wine and stagger around in a stupor. It's not only the babe situation, but the latter factors heavily in the equation. There's really no solution. I am simply going to run the clock down, just like Robert. We've already gone over the specifics of the babe situation ad infinitum. My only remaining goal is to purchase a G5 PowerBook, whenever it comes out. With the introduction of the new G5 iMacs, the PowerBooks are just around the corner. That's really all I need. Perhaps I should build up my hurdy-gurdy library. That's as close as I'll come to having a babe. I could have bought dozens of hurdy-gurdy DVDs for what I paid for the essentially useless furniture. I am certain that Robert has an extensive hurdy-gurdy library. He's quite an expert on the various hot hurdy-gurdy babes. Actually, I brought this up just so I could have an excuse to include another one of those babe pictures from the archives. What a hottie!
There's talk of a Hawai'i Five-O movie. Perhaps I should try out for the part of Chin Ho Kelly. Remember him in the original series? Or, I could audition to be one of the villains. I can be a sadistic General Noriega wannabe. Yeah! Actually, Robert and I should have started up a hurdy-gurdy production company as I suggested a while back. Heck, remember when we tried to work up the "dubious" business plan a few years ago. Sheesh! Anyway, I had told Robert that we could address a void in the hurdy-gurdy industry. There are many loser Asian guys, too numerous to even fathom. I know that they all buy hurdy-gurdies. And, I am sure they are getting tired of seeing pasty Caucasian guys and well hung Black guys doin' da wild thing with all of those hotties. So, we create a series with real losers like myself. We can do da wild thing with young hotties and laugh all the way to the bank at the same time. No more dealing with asswipes like "Samhain." The production company won't be that hard to start up because video equipment is reasonable. And, we will use an Apple computer with Final Cut Pro to do the video production. Why doesn't anyone else take this idea seriously? To be honest, if things continue the way they are going, I may just start up the company myself.
I noticed in the paper that there was another unit in the Chez Loser complex for sale. It's a fee simple unit on the second floor. The floor plan is the same as mine but the lanai is much smaller. The price is 284 AWUs which is about right. The fee for the upstairs units is less than the bottom floor units, which means that I can ask 289 AWUs for Chez Loser. Well, those are my fragmented thoughts for today. Way too much cheap booze.
Sunday September 12
I have given some thought on the stage names that Robert and I can use, if we start up the dubious hurdy-gurdy company. I will call myself "Pee Wee Dong," as a tribute to Pee Wee Herman (who apparently was a real aficionado of hurdy-gurdies). Robert will be known as "Kimo Kamanawanalei'u." Oh brother. I wasn't planning to go anywhere today, but I quickly changed my mind. There was quite a bit of rain this morning. However, I was still able to go on my tanning hike up Koko Head. The rain left the sky a bit overcast. I did not put on any suntan lotion. Big mistake. I was already ascending the trail when the sky cleared up. I now have a mild sunburn. I left for town close to noon. I made the transfer to the Kane'ohe-bound bus. I ended up spending about 15 minutes at Chez Loser, with only enough time to drink a can of guava juice. I departed for town and just made the transfer to my usual bus. I got off at Kahala Mall specifically to go to Jamba Juice. That was my reward for not drinking myself into a stupor given the big-ass bottle of wine in the fridge. I looked around Barnes & Noble until it was time for my bus to arrive. Caroll called while I was on the bus. I returned her call, but she was on her way out to dinner with a friend. We chatted briefly. She has rented a house. She seemed much calmer, now that she's out of the trailer park. I just hope that she didn't over-extend herself financially again.
This was not an enjoyable weekend for me. I spent most of my time in thought about my precarious financial situation. Rather than plan for my eventual exodus from society, I have become further entrenched in debt and wage slavery. The only thing that I truly need is my iBook. Everything else can go. Why don't I sell my six-four and my Bose Acoustic Wave already? Why don't I divest myself of the biggest "ball and chain" (read: Chez Loser)? There is no way that I am going to lead a "normal" life. I have no prospect of finding a babe, so I will be single for the rest of my life. Specifically, that means I can get by with the bare minimum. Sometimes I wonder if I am under some kind of false illusion that things will change. I seem to be making no move to change anything. Strangely, I am in no real apparent danger to lose my shirt or to end up in bankruptcy in the near future. The real problem as it were, is my perception of what I should be doing. The issue of retirement is also moot. I know that I will never save enough for retirement, but that's according to common advice. However, most of you know my position concerning retirement. There is no sense in saving money or planning for long-term healthcare. Nothing will save our assets from being depleted by the robber barons. The time to enjoy the dough is right now. I don't mean that we should spend foolishly. Rather, it makes sense to enjoy life while we are still fully ambulatory and we still have our wits. It is also wise to begin hiding our assets by investing in gold or something similar. The only other prudent thing to do is to lead a healthy life-style. This includes the reduction of stressors like that asswipe "Samhain." It's an interesting game, but we can win. The majority of people in my age group are on some kind of medication. I am on none. However, the last vice that I must deal with is the cheap booze.
Moms apparently knocked a bird's nest out of one of the trees. there was a baby bird in it. Moms is trying to nurse the chick, but I suspect that it will be in vain. The young chick needs its mother. That brings me to one final stressor. I've been thinking about what I am going to do when moms is gone. This has been a very painful issue because it could happen at any time. For that reason, I am not regretful that I have spent time at moms' house. It is something that I had to do. That's why I came back to Hawai'i. When all is said and done, though, I have no idea what I will do next.
Monday September 13
Last night, I looked into the little basket that moms had made into a makeshift nest. The little chick was resting. It was so tiny and so cute. I was so moved by the sight of the poor little bird. Moms had fed it a small piece of banana. I found a Q-tip cotton swab and poured some water in a little dish. I then soaked the tip of the swab and put it against the bird's beak. I could see the little chick drinking the water. It made tiny chirping sounds. Tears welled in my eyes. I don't think that the poor little chick will make it. I was not the same for the rest of the evening.
I walked the the gym in Koko Marina this morning. I did the best I could to finish my workout, given the sheer number of people there. Doesn't anyone work? I left for town on the street bus. I arrived at noon. I never once set foot in the Asylum. I cannot tell you how good that felt. I haven't been this relaxed in a long time. Pseudo-professor Bill arrived at the faculty computer room at 1pm. He told me his latest "score" adventure. He had met four Japanese babes at Duke's this weekend. Apparently, they ended up back at his place for some kind of four-on-one orgy. He really liked the 28-year-old hottie. "You should move to Waikiki," he said. "It's a great time." I seriously doubt that anything would change if I were to move to Waikiki.
The baby chick was still alive and kickin' this evening. I noticed that its beak was a little crooked. Moms may have injured the bird while feeding it. It's eyes are still closed. Very little of its feathers have come in. The little bird is becoming much more feisty, so there is a chance that it will make it. Let's hope so. I was awestruck by this tiny creature. It is so helpless and innocent. In some respects, this has been a wake-up call. My senses are being reborn. I am becoming cognizant of the life force of the universe once again. There is perfection in nature. Only humans have ruined that perfection. I had walked over to Koko Head Park late yesterday afternoon. I sat on the grass and observed nature. It was quite astonishing. Everything from the grass to the trees to the birds fleeting about suggested such an intelligent design. There is tremendous harmony and balance in nature as well. Then, I looked over at the ugly paved parking lot. Idiots were revving up their riceboys (read: pimped-out Honda Civics). A few clowns were smoking and throwing cigarette butts on the ground. As you know, in this journal, I have chronicled just how ugly human life has become.
I am not a victim. I have become one of the perpetrators. The worst possible place has been the Asylum. I don't even run into people like "Samhain," Ernie, or Kevin anywhere else. Yet, it is a reflection of real life. This morning, I also thought about how long its been since I walked down to Koko Marina or taken the bus to Kahala Mall with moms. I've been too consumed by wage slavery. Then, there's the babe situation. Why can't I transcend all of this crap? Why can't I move up Maslow's Hierarchy of Needs? I am talking about the exit point, namely the exodus itself. Well, it's has to come soon because the latest reports are saying that Mauna Kea could blow at any time. That's right, the world's largest volcano could unleash a thunderous fury and obliterate us all here in the islands. Heck, maybe it's for the better.
Tuesday September 14
I am going to include Kate's summary of her trip to Hawai'i as posted on Speak! IV so it can become part of the official record. I believe that it sums everything up rather nicely. Thanks, Kate!
I just returned from my Hawai'i trip. Eight days that seemed like about six weeks. The first three days was extremely long, as we were staying with our very own local Ninja Turds. The highlight of our Oahu stay was meeting with T. It was only for one day, but we enjoyed every minute of it. Meeting T was kind of scary. When I called his cell phone and he didn't answer, I heard his rather strange computer-generated outgoing phone message, and I thought: "Maybe this guy is going to be supremely strange." Yet, when we connected in real time by phone he seemed normal enough.
We arranged to meet in person the next day, and as we sat there waiting, I thought maybe it was all an illusion and he didn't really exist. Then he suddenly materialized out of the jungle, or so it appeared. Shirtless, muscled, glistening with sweat. Just the right size. And he looked to be in his 30s. The issue of turning 50 could be a hoax; I didn't check his birth certificate but no one would believe that's his age.
We both really liked him immediately. And I must say, it was brave of him to come out and meet a couple of total strangers who were more or less stalking him.
The whole experience really exceeded my expectations. I was hoping to see just a few of the LoserNet frequently mentioned locations, and get a feel for things. We did a lot more than that. We went on the authentic tanning hike up Koko Head, then sat outside Jamba Juice at Koko Marina and rode the very same bus routes, and walked some of T's usual pathways around the island. To actually have drinks at the Mai Tai bar was great. But then it transpired that we were going to meet Shirley -- and T hadn't even heard from her over the last five months -- and actually SEE CHEZ LOSER. We got a ride there in Shirley's car.
Shirley has a stuffed husky dog on her dashboard, given to her by her boyfriend. I pried this information out of her, plus the fact that she's studying advertising, of all things. We can also provide outside verification that T is an excellent judge of babes, because Marshall judged that Shirley is quite the little hottie. (He says only another guy can judge whether a woman is a hottie or not; women's opinions cannot be trusted.) And she seemed like a really nice girl. Personally, I do not buy into the theory that she's not doing da wild thing with her boyfriend. I have much skepticism there.
Being with T was great. The only bad part was that we felt bereft leaving him. It was as if we had known him for years. Which I have, in a way.
I'm afraid T is not as antisocial as he would have some readers believe. And if Peak Oil comes to pass, he's got to get the heck out of Hawai'i, so I am going to try to get him to join us on our general escape to Mexico, whether it's Guanajuato or Costa Rica.
Well, that's the great part about LoserNet. Everyone can become a cast member! Sheesh! As I boarded the express bus this morning, the driver asked me where I was yesterday. He was concerned that I may have missed the bus. I told him that I had left later than usual. This particular driver is really friendly. Once in town, I paid my mortgage, something that I will not be able to do much longer. I walked to the Asylum. When I entered the building, I experienced extreme anxiety. That's the mood of the whole place. "Samhain" arrived at about 10pm. He had some stooge with him. He was in a meeting with the key people for most of the morning. I left after my class was done. I did my afternoon math class at the Diploma Mill. Then, I went to the gym.
I always hang out at the faculty computer room at the Diploma Mill before going back to the Asylum for my night class. Along the way, I stopped by Taco Bell to buy a couple of bean burritos for dinner. I make less money now, and I must spend money to eat dinner in town. All I can afford is fast food crap. When I arrived at the Asylum, I discovered that "Samhain" was still there. He was walking around for no reason. He apparently peeked into my class while I busy lecturing. I don't expect much good to out of his latest visit. I could sense apprehension everywhere. I chatted with Chip and Juanita, who are also teaching at night. I also chatted with Kevin earlier in the the day. Kevin is actually a good guy. He just got caught up in the sewage of the Asylum. After my class, I boarded the bus to Hawai'i Kai. One of my students, Layne, got on the bus at the next stop. We chatted until he got off in Kaimuki. This was actually a nice day, even with the dark clouds forming at the Asylum.
The little bird is apparently doing fine. It made it through another day. Moms fed it and gave it water. We'll have to do that for at least three more weeks. That little baby bird is so cute. I think about the little bird during the day. Somehow it has revived a sense of spirit within me. It has reminded me of the precious and fragile nature of life. I want the little bird to live because it has given me a sense of hope in a rather unusual vicarious fashion. If the bird can make it, so can I.
Wednesday September 15
I left for town on the street bus again. I arrived at the Diploma Mill at 11:30am. For me, it was another relaxing morning. The more I am away from the Asylum, the healthier I feel. I facilitated my afternoon classes at the Diploma Mill. I went to the gym during the one-hour break between classes. I bought a Spam Musubi for dinner. I walked to the Asylum just in time for my 6pm class. I was able to get some bits of information from Vivian and Robert. Nothing important. My paycheck was $320 less than usual. So, I will make $640 less (after taxes) every month. I calculated that I will probably be close to break-even. In other words, I will be able to cover almost all of my expenses including the mortgage. I also chatted with Juanita and Chip again tonight.
The night class at the Asylum has been fun. It's about the best time to work because no one is around to make things stressful. When I finally arrived back in Hawai'i Kai, I discovered that the baby bird was gone. Moms told me that the bird passed on this afternoon. The little bird needed its mother. It was alone and devastated. It is interesting to note that love and care are important ingredients in the nurturing of the young no matter what the species.
Thursday September 16
An uneventful day. Lots of crap going on at the Asylum because of "Samhain." However, I have been laying low. When I'm done with my classes, I leave immediately. Spooky ol' Al is apparently coming back. There is some kind of major problem with the accreditation. Kevin is apparently setting up Layton (Ernie's buddy) for a fall. Layton was given Bill's classes, which makes him a threat to Kevin's livelihood. Kevin is now claiming that Layton is incompetent. Layton's students are allegedly switching to Kevin's classes. The night class is my only salvation. I have been telling everyone at the Asylum the continued version of the "truth." Because of my pay reduction, I was forced to list the townhouse for sale. I can no longer make the mortgage payments, I tell them. I will probably take a $20,000 out-of-pocket loss, but that's life. I've been quite convincing. Kevin quietly left the office as I was giving some of the faculty the rundown. I will keep updating all of them about this pathetic tale. It should circulate through the rumor mill soon.
The crooked dentist sent me another bill. I owe $22 more. He is apparently padding the bill before submitting the claim. The dental plan will pay only so much. For a routine cleaning, it now cost about $150 total. This is ridiculous. That's why I prolong my return visits. My annual dental costs far exceed my medical costs. This is the kind of bullshit that is bringing me closer to bankruptcy. I will have to trim my expenses because I really am precariously close to financial ruin. I have not been able to contact any of the property managers on my list. I will have to get some information soon because I will have no choice but to rent Chez Loser very soon. I still have to sell the furniture and put in a new dishwasher. Then, I must divest the rest of my useless possessions.
Friday September 17
Another uneventful day. The latest at the Asylum is that Kim, the Director of Education, and Brad, the Director of Admissions are eying the Executive Director position currently occupied by Ann. Ernie may also be fired from his coordinator position and reduced to faculty status. The stooge who is accompanying "Samhain" on this trip is allegedly Al's eventual replacement. The clown seems to have the personality of a brick. Kevin claims that Kim is going to start up a graphic design program just for him. I have also heard reports that everyone has been kissing up to "Samhain," even Kevin. It's so pathetic. As I've already stated, the dump is rotting at the core. Soon, all that bile will ooze to the surface.
Robert was in the faculty computer room this afternoon. He's been sending off application packets for various attorney positions. Somehow, I don't believe that he is going to break out of the ranks. Robert is stuck, just like me. He has also aligned himself with one of the mayoral candidates and has been on the campaign trail. He is going to a few election parties this weekend. And, he has resurrected the babe situation. "I thought you said that it was over," I chided. "Not when the hormones are raging," he replied. What's odd is that I was contemplating the babe situation this afternoon while I was working out at the gym. I have come to the final realization that people like Robert and I are single for a reason. As I've stated before, no one can possibly remain single for years unless it is one's destiny. I also chatted with Pseudo-professor Dorothy today. She gave me the name of the property management firm that is handling her rented townhouse. She is planning to sell the unit and buy two new ones with the capital gain.
I managed to restore my military haircut this morning. It really grows out too fast. The same Filipina hottie from last time cut my hair again today. She does a really nice job. Moms has been illin' since last night. According to moms, it's a sinus problem. It's got to be more than that because moms has not left the house at all. I have to worry because moms is at the age that any kind of major illness could be fatal.
Saturday September 18
A most dismal day. I really did not want to go anywhere. Moms is never able able to relax even when sick. So, there was a lot pacing and other nonsense. It was driving me nuts. I left for town fairly early. The transfer to the Kane'ohe bus was smooth. I arrived before noon at Chez Loser. Naturally, I had nothing else to do but drink the remaining wine in the fridge. I was hammered in no time. I discovered that the fill valve for the commode is defective. I will have to replace it. I shut off the water to the commode. More dough I need to spend! I also picked up my mail. I have, in fact, changed my mailing address. I won't need to pick up the mail at Chez Loser anymore. Frankly, I want to cut down my trips to Chez Loser to once every two weeks. I left for town at 2pm. When I arrived, I saw the bus I had to transfer to. It had pulled away from the bus stop already and was waiting behind another bus at the intersection. I caught the driver's attention, but he would not let me on the bus. Mind you, the bus is on Hotel Street, which is not open to regular traffic. There was no safety issue. However, the fucking asshole would not let me on. So, rather than wait another hour, I caught the bus headed toward Ala Moana. I was really perturbed, almost to the point of violence. I got off and walked to Pier 1. I did not enjoy looking around the store. Why was I even there? After I was fired at the Asylum, I made the decision to hold off on any purchases related to Chez Loser. I walked back to Ala Moana. I had time to stop by the Apple Store. Then, I caught the bus back to Hawai'i Kai. I was still hammered when I arrived. Needless to say, I did not make it to the gym as I had planned.
What is strange is that I opened my Diploma Mill paycheck while I was at Chez Loser. The combined net income is only about $300 less per month. I am not in financial dire straits as I had assumed. I will still have to cut down on my expenses just like "Samhain." I am thinking about dumping my cell phone service entirely. So far, I've only used 33 free minutes this month. I don't call anyone. No one calls me. I have no friends anymore. Well, the friends I do have are all married. The few single ones are just not people whom I care to hang out with. It's all for the better. I need to get used to the life of solitude that I will be leading for the remainder of my 30 years on this planet.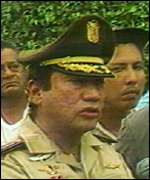 I gave some more thought to the babe situation, mainly because of Robert's renewed interest in this area. I'm not sure why he's changed his mind. It was he who finally made me see the light. We have both been single for years. It's close to a decade now. We have had no dates, no relationships, and no one-night stands. Nada. I've seen uglier mofos than than the ol' lavahead with hotties. So, the answer is very plain to see. Robert and I will never have babes. Not now and not anytime soon. Babes, especially young hotties, are not attracted to guys like us. Heck, babes our age are not attracted to us. There is nothing to be attracted to. We are merely amorphous and invisible entities. I, myself, am a General Noriega look-alike. As far as I can tell, Robert and I cannot do anything about this situation. It's like I had told Pseudo-professor Bill — I could live right in the heart of Waikiki and nothing will change regarding the babe situation. I'd probably be even more miserable there than I am living in limbo right now.
The wake-up call for me is right now, though. When moms eventually passes on, I will be a total basket case. Moms is all that I have left of a family. No one else gives a shit about the ol' lavahead. So, I will be truly alone. I need to divest myself of all my useless possessions soon. At least I can get some dough for them now. Otherwise, I will just end up abandoning them. I will need to seriously consider the disposition of Chez Loser. I will not put myself through bankruptcy like Robert and Caroll. So far, what little faith I possess has kept me afloat. Even in the eleventh-hour of unemployment, I came out relatively unscathed. That's a miracle in itself.
Sunday September 19
I did absolutely nothing last night just like every night. I can't even remember the last time that I was out having fun. Well, actually last year was quite fun, but one would be hard-pressed to know that. Remember, I had to prune the journal. Here's an interesting tidbit. Most single people are not happy about their solitary state. According to an annual Yahoo! Singles poll, only 38 percent of single women and 31 percent of single men are happy to be alone. Apparently these percentages have dropped drastically from last year. This explains Robert's renewed interest in the babe situation. He really has other issues to consider foremost. We lead parallel lives, as you know. Although he is safe in the "cocoon" at present, that could change at any time. His mother rents the house that they live in. What would happen if his mom were to become seriously ill?
Moms is still illin'. Any kind of cold or flu could turn into pneumonia. Usually, when this happens to people in moms' age group, the results are fatal. This is a very critical time. Given this fact, it is much easier to see why my decisions are often stymied by doubt. I believe that I am making the best decisions for myself based upon the circumstances at hand. I had already predicted these events a long time ago. The real regrets, of course, can never be predicted. No one knows what growing old is all about until the time comes. Acceptance is an on-going battle. Moms has been sleeping most of the least three days. After a few hours of sleep, moms gets up, walks around, or gets something to eat for a few minutes. I am getting a little worried.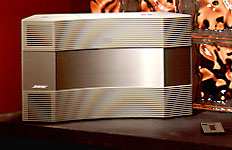 I decided to stay in Hawai'i Kai and emulate my life of two years ago. I lapsed into a coma in my favorite chair all morning. When I finally came to, I just sat around doing nothing. I finally walked to the gym at 2:30pm to do a quick cardio workout. It's never fun walking through the parking lot at Koko Marina. The traffic in the lot is beyond belief. When world oil finally peaks, I wonder how all of those fat slobs are going to get around. The foolishness of continually driving in a circle in a parking lot just to get a parking space a few feet from the final destination is laughable at best. Later, I walked to Koko Head Park and sat on one of the benches for a while. This is about as benign as life can get. Four years of this crap is what drove me berserk. That's why I decided to organize the activities of last Summer. by the way, there is no record of those events since I had to edit the journal. I finally could not take the non-sensory experience anymore, so I unwrapped my Bose Acoustic Wave. I am listening to classical music on public radio as we speak. It is this sickening propensity to repeat history which causes the incongruence that often leads to insanity. Yet, what can I do? I cannot say that I yearned to make the journey to Chez Loser. The trip is actually quite tiring and useless. I doubt that I will ever live there. I am more inclined to be homeless. What I would really prefer is a shack out in the middle of nowhere.
My conclusion is that life in general is extremely benign. I often wonder what people do at home. I can barely sit for a few minutes before I become bored and lapse into a coma. I surmise that modern home life centers around the tube (or video games). If one has no hobbies or activities, then there is no other option. I have no tube, so I am usually bored shitless. Even Shirley suggested that I buy a tube for Chez Loser. Heck, I have not visited anyone's home in a long time, so I have forgotten that the tube is the focal point of people's lives. The computer is probably a close second to the tube, I suppose. I don't spend much time on the computer unless I am at work. I deliberately continue to use a dial-up connection to prevent Net addiction. The issue of "quality of life" must be addressed. In a sick society like ours, quality options are limited. We've become too dependent on technology for everything.
Monday September 20
An uneventful day. I walked to the gym in Koko Marina this morning. It's amazing to see how many young hotties there are at 9:30am on a weekday. Don't any of these babes work? Probably not, given the fact that they do live in Hawai'i Kai. The ride to town on the bus was uneventful. The bus was crowded. There was a young hottie on the bus whom I've seen a couple of times. I believe that she is a student at the Diploma Mill. Somehow, she ended up standing right in front of me. I was sitting on one of the chairs that faces the aisle. She was wearing a short, little top that exposed her midriff. As people kept passing through the aisle, she had to basically push herself into me. She smiled and apologized. Then, she just stayed in that position. My mind was ready to snap. Sheesh!
I was able to do some socializing today. This really is the crux of faculty life, especially in the faculty computer room at the Diploma Mill. Pseudo-professor Dorothy and I chatted briefly. A couple of my former students also chatted with me. Professor Gordo made a surprise appearance. He is not going to Iraq after all. Pseudo-professor Bill told me about one his young hottie students whom he saw at the Waikiki Ho'olaule'a this past weekend. She apparently works at one of the strip clubs. She invited him to go there, but he declined. Robert made an appearance as I was leaving for class. He has met a couple of young hotties, no doubt interns at the Legal Aid Society. He seems to want me to join a possible "tag team" operation. "They travel as a pair," he said. He obviously believes that I can help him mack on the one he's interested in. My job, I presume, would be to keep the other one occupied. He has yet to realize that we are both single for a reason — babes are not interested in us. Yes, it's that simple.
Moms is still illin' and I am getting a little worried. The worst part is that moms can't seem to eat much of anything. I tried to reason with moms to make an appointment with the doctor. It's been almost a week now, and I don't see any improvement. I can't say that I blame moms for not wanting to see a doctor. Most of them are quacks anyway. All they want to do is pad up the bill so they can hit paydirt with the HMOs. Nonetheless, I have not slept well all week as a result.
Tuesday September 21
All I can say is that the babe on the bus yesterday had some phenomenal abs. What a hottie! An uneventful day at the Asylum. Everyone was scurrying around to cater to "Samhain." Kevin has been doing his fair share of ass-kissing to both Kim and "Samhain." In fact, he has now assured himself of a steady position and a pay raise. He told me that Ann, the Executive Director, was fired. I already knew that she was on her way out. In fact, I predicted it about a month ago. After she requested my job description, she disappeared the following day. She was in the office a total of two times since then. The "official" story is that she was illin'. My guess is that she became toxically ill when she realized that "Samhain" planned to reduce everyone to part-time status and drop their medical benefits. A person with any semblance of a conscience could not live with that. Only "Samhain" is perfectly comfortable in reducing people's lives to inconvenient expense items. Ann set herself up to be discharged. Now, she's free. The guilt will always remain with her, though. She will become even more ill in the near future.
I told my version of the "truth" to various people including Kevin. The latest is that I am supposedly selling Chez Loser at a considerable loss. Kevin becomes very uneasy when I discuss these matters. He usually excuses himself after a few minutes. The fact of the matter is simple. Kevin has discredited both Layton and I in order to insure that he gets ahead. He is a disciple of "Samhain." Whatever good he had inside him has completely dissipated. Kevin, Kim, Brad, and "Samhain" are cult members of the Satanic Order of the Demon of Money (SODOM). They have sold their souls for a few pennies. I'm fine with that. I predict that each will be suffering a different fate. They have no remorse, so guilt will never affect them. They will have an extremely painful ending. Mark my words. My predictions have all come true. "Samhain" has yet to do anything about our 401(k) accounts. They've been frozen since May. This fact alone tells me enough about this prick.
I seek asylum at the Diploma Mill these days. Asylum? Baha! Ha! Ha! Haaa! I chatted with Professor Allison for a while. After my class, I ended up at the faculty computer room. Robert and Pseudo-professor Ralph were there. We had a nice chat. Robert and I left at the same time. We discussed the babe situation briefly. He knows that mackin' on young hotties is out of the question. I asked him what the options were. "Prostitutes," he replied. "Prostitutes. That's our answer." I will tell you right now that I don't buy that solution. That's a ridiculous idea. All of these events are gradually converging on some kind of catastrophic incident. These are the signs of the times. Those who follow the prophesy of the Good Book will note that we are dangerously close to the end. Armageddon is near. We are on a collision course with Divine intervention. We are seeing all of the natural signs, but the key is what we observe amongst humans. "Then, also, many will be stumbled and will betray one another and will hate one another. And many false prophets will arise and mislead many; and because of the increasing of lawlessness the love of the greater number will cool off." That's from the Book of Matthew. We are living in sick times. As with everything else on the planet, there will be a cleansing.
Wednesday September 22
I walked to the gym in Koko Marina to do a short cardio workout. I then took the street bus to town. I was supposed to go to a faculty meeting at the Asylum, but I blew it off. I was having a nice day, and I didn't want to ruin it. I have been wearing my shorts and tank top when I leave for town. I change before class. Today, I discovered that I forgot to bring a shirt. So, I had to run to Ross to buy one. I told all my classes about this foolishness to give them a laugh. I went to the gym again between classes. I should mention that several of my students have told me that I have a high rating on the RateMyProfessor.com site. In fact, one student told me that she specifically signed up for my class because of the rating. I also discovered that only a couple of my other colleagues had a rating. Former Pseudo-professors Paul and Tony had bad ratings. After my second class at the Diploma Mill, I ran into Shirley as I was walking back to the faculty computer room. She only had a few minutes before her evening class. We didn't get to chat about much.
My evening class at the Asylum has been fun. When I arrived there, I was relieved to see that none of the key players were there. Robert, the IT guy, told me about the faculty meeting. He said that Kim lectured the faculty. She is also placing more demands on all of us. I asked Robert if she stuffed her face when lunch was served. He said that she was shoveling the pizza in her mouth like there was no tomorrow. She's already well over 200 pounds. In all likelihood, she will suffer some kind of physical trauma within the next nine months. I also chatted with Mike, another faculty member. He was quite upset about the 401(k) accounts. He had to borrow money to finance a trip to the mainland to see his ailing mother. He was counting on cashing out his 401(k), but "Samhain" won't pay the fees. He may never pay the fees. "That gives you an idea of what kind of prick we're dealing with," I said. "He doesn't give a shit about anyone." My soothsayer powers seem to be conjuring strong feelings about "Samhain." He will suffer the same fate as the roofing contractor who swindled moms. I have also heard from a few instructors that the students are not adjusting well to the new system. My students are doing well because I am committed to work with them. I have also been the only faculty member to follow all of the new procedures. Nonetheless, I stand behind my prediction that there will a significant downward enrollment trend by V-Day next year. "Samhain" will lose his shirt.
I received the property management information from Cornerstone Properties, the firm that Pseudo-professor Dorothy works with. The testimonial from her alone had sold me. I will most likely contract with this firm. I am a little relieved that I have a viable contingency plan in case my financial situation begins to collapse. Incidentally, there are now five units for sale in the the same complex. So, selling Chez Loser right now would be difficult. I will disclose more of my plans later. In the meantime, I will tell more of my version of the "truth" at the Asylum tomorrow.
Thursday September 23
An uneventful day. I spoke with Kim, the Director of Education at the Asylum. She was fairly understanding about why I missed the faculty meeting. I had a chance to to tell my version of the "truth," specifically about selling Chez Loser at a loss. She feigned some level of concern. I used the opportunity to tell her that my decision is based on "quality of life." I went on about how nothing would really matter if my health was at stake, implying that keeping Chez Loser would only result in extreme duress for me. My performance was entirely for Kim's benefit. I was hoping to spark her conscience into awareness and bring her back from the living dead. Only time will tell. Right now, my conclusion is that she's already in way too deep. She's sold her soul, in effect becoming a whore for "Samhain." Kevin sang a different tune today. He was quite perturbed about Kim's condescending presentation at the faculty meeting. Almost all of the faculty are upset. I had warned them about all of the procedures that were mandated. Now, they are busily trying to catch up. It's a losing battle. The whole scheme is a lose-lose scenario for the faculty. There is no way we can accomplish all of the tasks. The real purpose is clear. "Samhain" intends to reduce the faculty to part-time and strip them of health benefits. The highest paid faculty are being set up for termination. Even Erin finally admitted that I am right. Others are still in denial.
I was relieved to leave for the Diploma Mill. I facilitated my afternoon math class and went to the gym. I was able to chat with Pseudo-professor Ralph for a bit in the faculty computer room. Then, I was off to my night class at the Asylum. These night classes have been leaving me really fatigued by the end of the week. All of the students are really tired as well. I have been hearing about the increasing discontent amongst the students. Even the new students are not happy. As I've said before, the core is rotten. The bile will soon ooze to the surface. The Asylum is being steered by the Devil-incarnate. The end will come soon.
Friday September 24
An uneventful day. I was able to catch up with most of my owrk this morning. The Asylum was quiet. "Samhain" departed yesterday. All of the ass-kissers were there to wish him farewell. Kevin seems to be quite perturbed. He has actually been putting some time in. He must be feeling some pressure. He said that Layton did not show for his class. Kim was allegedly very upset. I suspect that Kevin reported the situation to Kim. I continued to tell my version of the "truth" to Kevin. He becomes uneasy when I discuss the forced sale of my townhouse. I have been using the "truth" as an opening to my sermon about universal karma. My motive, as I mentioned yesterday, is to bring some of these people back from the living dead. Although they have sold their soul to "Samhain," it is still possible to seek redemption. I believe that good can still combat and subdue evil, even of the most vilest form. In all honesty, I am using the power of guilt to exorcise the demons from these lost sheep.
I chatted with Pseudo-professor Dorothy this morning. I asked her questions about the townhouse that she rents out. It looks like a really good plan. I can, in effect, write off almost everything including the condo maintenance fee. The guy from Cornerstone Poperties also stated the same thing in e-mail. In addition, he manages a unit in the same complex as Chez Loser. He said that charging $1,500 for monthly rent is the going rate. I will need to apply for my general excise tax (GET) certificate and get some property insurance. I will also have to finish cleaning Chez Loser, sell the furniture, make minor repairs, and replace the dishwasher. I am not in a real hurry. However, I will get these done in order to be ready when "Samhain" makes his next predictable move. I do not plan on coming out the loser on this one.
I also chatted with Robert this afternoon. He was supposed to go on a church retreat this evening, but he was having second thoughts. He is moving further away from his religious convictions. At one time, he wanted to become a minister. Now, he seems to believe that his religiosity is the root cause of some kind of neurosis which has prevented him from taking action with babes. The babe situation is once again in the spotlight. Robert believes that he harbors a lot of guilt about da wild thing and babes which had caused him to become impotent, at least mentally. I suspect that he wants to release himself of his moral shackles and go wild. He also said that he had lunch with the young hottie whom he is interested in. It is Robert's turn to discover what I have already discovered. The game is over. To believe otherwise is to be in denial.
Pseudo-professor Glenn invited me earlier this week to go along with him and his wife to a couple of art gallery celebrations. I was too tired, so I declined. I actually ran into them on Fort Street as they were going to the one in the First Hawai'ian Tower. Well, the Art Walk is next week. I need to conserve my energy until then.
Saturday September 25
When I was talking with Kevin yesterday at the Asylum, I brought up the 401(k) accounts. Previously, he told me that he was not a participant in the plan. Somehow, I caught him off-guard. He mentiopned that he has about $10,000 in his account. This minor faux pas has now assured me that Kevin is maintaining a ruse. I am beginning to believe that he even has his wife bamboozled. He controls all of the finances, including what she earns. Greed causes people to cross the lines of ethics. Kevin really has nothing against "Samhain," because he would do the exact same thing if he managed the Asylum.
Moms is still illin', but not quite as bad. It has been over a week. Moms still spend most of the day resting or sleeping. It may take another week before moms fully recovers. Even then, I am skeptical. At this point, moms could have already developed walking pneumonia and not even know it.
I left for Chez Loser around noon in my six-four. I stopped off at Foodland in Hawai'i Kai to purchase a few "beverages," if you know what I mean. I brought my tools, moms' vacuum cleaner, and other cleaning supplies. When I arrived, I began working immediately. I also poured out the first of many glasses of wine. I cleaned all of the windows and the vertical blinds. I then vacuumed the entire place. I walked to Ace Hardware on Kahuhipa Street at 3:30pm. I bought a new fill valve for the commode. It took me about 30 minutes to install. However, I had to remove it and adjust it again because the tank cover would not fit properly. It just barely makes plumbing code specifications now. I was pretty hammered by late afternoon, but I got a lot done. I returned to Hawai'i Kai at 6:30pm. I passed out for a few minutes. Then, I caught the bus to Kahala Mall. I did the usual rounds including Tower Records and Barnes & Noble. This is now the extent of my fun.
Caroll called a couple of time today. She also called when I was at Kahala Mall. She has moved into the house that she rented. She has two housemates. I sure hope that she's not repeating history again. She has always chosen unreliable tenants, only to end up paying dearly because of the latter. Of course, I have my own foolish issues to deal with. Perhaps it was the booze, but I felt really trapped for the first time. The mortgage is like a prison to me. I've got to get a grip. Everything will work out fine, I keep telling myself. I'm not sure if I believe that at all.
Sunday September 26
An uneventful day. I decided to take the bus to Chez Loser this morning. The journey was pleasant. When I arrived, I began work immediately. I had a few minor repairs to make. Then, I applied lithium grease to the tracks of all of the sliding doors and windows. I also lubed the troublesome front door latch. The place is in pretty good shape now. There are a few small repairs that need to be done. I can finish them next week. The big project will be the dishwasher. Since my townhouse will soon become a source of income, it should be in excellent condition. I am not like "Samhain" in this respect. Well, I had only a couple of glasses of wine. I then departed for Hawai'i Kai. The trip went smoothly. I anticipated that I would miss the connecting bus. I spent a few minutes looking around Ross, although this benign activity is soon to be moot. I wanted to go to the gym this afternoon, but I was too tired. I am losing my desire to to do anything.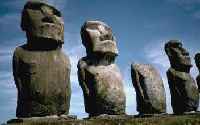 There was an article in this morning's paper about the soaring new car sales in Hawai'i. It is estimated that there will be 68,000 new vehicles on the road this year. You can imagine what traffic will be like if this keeps up every year. Can't any of these fools see that we live on an island? The situation is laughable because we are following in the footsteps of the Moai on a grand scale. The production and transport of the huge stoneheads was the main priority for the Moai. They eventually brought their civilization to extinction. The stoneheads are still there as a somber reminder. We live in a time period when such information is readily available, yet we ignore history. This is the foolish nature of humanity. It's easy to see why. People have become so self-centered and egocentric. The "me, myself and I" thinking has debased society primarily because it has crossed all generational lines. This is the same kind of hedonistic activity which preceded the fall of the Roman Empire. In fact, "Samhain" should do himself a favor by reviewing history concerning the fall of the Persian-Mede Empire.
To be continued ... Go to E.09
| | |
| --- | --- |
| LoserNet | © Copyright 2004. All rights reserved. |