| | |
| --- | --- |
| Millennium ... Journal of Life | |
Sunday July 9, 2000
The weekend is nearly over. I installed Music Producer last night. I don't know why I ever uninstalled it. It is one of the better products made by Bill. And, it was free. It composes royalty-free music. I may develop a few selections for LoserNet Radio. Isn't that great?
Another day in the detestable resin chair. I have grown very fond of the detestable resin chair as of late. I went shopping at Safeway and bought the ingredients for Lasagna a la Ragu. For lunch, I made Ravioli in Marinara Sauce. Moms seemed to like it. I graded exams most of the morning. I also did my yardboy chores. And, I charged the battery in my beloved six-four with my beloved battery charger. I also chowed down on Tostitos and Salsa. What a day!
One of my former students, Cory, called yesterday from the Big Island. He apparently moved there to be with his fiancé whom he had met just days before. That was less than two weeks ago. His parents are supporting him financially. And, they are both living with her mother in Hilo. Do you see why I'm still the Keeper of Lost Lives? Another former student, Paul, called from Convalescent City. He will be visiting Hawai'i in August.
The more I thought about it, the more I realized that the detestable resin chair is not detestable at all. I had two resin chairs but I believe that my nephew broke one of them. Life with moms and the detestable resin chair is not too bad. I could think of worse situations. It's time that I rename the detestable resin chair. How about the "contemplative resin chair"? That'll work.
Monday July 10
A bit of brouhaha seems to be developing over the computer curriculum at the Asylum. Right now, I'm the only one who is on schedule. The other faculty say it's impossible to finish the material in the allotted time. The whole thing is a mess since no one knew that the advanced class will be using an advanced textbook. We have to cover the material. I managed to obtain a copy of the new book and passed it along to the other faculty. Naturally, the genius behind all of this, Phillip, is on vacation for three weeks.

JonnyX brought up the Festival of the Baked Beans in Speak! by LoserNet. Remember Speak, the Tic's dog/world's largest rodent? I have actually been thinking about the Bush's baked beans. I cannot believe that I forgot to look for the Bush's when I was at Safeway. Bush's baked beans, Kim Chee, and rice. The ideal monk meal. Maybe I can grind up some Viagra and mix it in with the beans. Sheesh!
I have got to spend some time in fixing up the LoserNet site. It has gotten large and unwieldy. The addition of LoserNet Radio will further obfuscate matters. How did LoserNet get out of hand? And, why are there so few visitors? Perhaps only a few select individuals can appreciate LoserNet for what it is. Nonetheless, Music Producer (and the ol' lavahead) will be composing a few pathetic tunes for your listening pleasure. Don't worry, we won't embed them in any of the pages and force people to listen to them.
Tuesday July 11
The rumor mill at the Asylum is alive and well. Matt the librarian told me the latest about Roach and Maria, the female staff member. Apparently, Tina (another staff person) was looking for Maria. No one knew where she was for a couple of hours. Someone heard giggling coming from Roach's office. As the story goes, Maria was in Roach's office all that time. She was helping him "redecorate." As a side note, Matt had met Roach's wife a few weeks ago when some of the staff members went out for drinks after work. "Let's put it this way. Maria is a step up for him," he said, in reference to Roach's wife. Without a doubt, Roach is totally oblivious to his fraternization policy. The fun and games, whether harmless or not, are pretty obvious to everyone.
My spare time is now devoted to Music Producer, my cheesy music synthesizer. Well, at least I haven't uncorked that bottle of the "Hammer" in the fridge. In fact, I haven't had any fire water in a while. I will be creating a few tracks for LoserNet Radio. The first is already completed. Do you see why LoserNet is the only site of its kind?
Wednesday July 12
I hadn't weighed myself in a long time, so you can imagine my surprise when I discovered that I'm 15 pounds overweight. The scale at the gym is a new digital model, therefore we can rule out any inaccuracies. No wonder I've been so sluggish. I now have further proof that my diet is out of hand. I was hoping that the new gym would have opened in Hawai'i Kai by now. I suppose that the membership drive hasn't been very successful. The present gym could easily be outdone by one of those pathetic SoloFlex all-in-one machines. I may have to start going there on the weekends anyway. If I don't, then I'll be a total slob within six months.
All of my students have been raving about these "real life" programs on the tube. Assemble a bunch of idiots. Either put them on a desert island or in a dumpy apartment together. Then, videotape their antics. Watch these idiots as they try to act natural in front of a camera. Is this fun? Even if I was almost rendered comatose by the "Hammer," I would still take the tube and throw it against the wall. There is money to be made because people will buy into anything. The more dumb, the better. I could probably make a quick million bucks if I could persuade Hog and Toad to let me videotape them making fools of themselves and then televise the spectacle.
Thursday July 13
Well, it looks as though LoserNet Radio is a real loser. Okay, I'll just throw those files in an archive somewhere and get back to business of losing it. Forgot to mention that Mark and I had lunch at the Paradise Café on Tuesday. Mark took a couple of weeks off to go to Mau'i and celebrate his parents' wedding anniversary along with other family members. So, that's why I haven't seen him in a while.
I've been taking the first express bus out on Tuesdays and Thursdays. That way I can return home earlier. I usually do a few yardboy chores and sit in the (formerly detestable) resin chair. It's almost like retirement. I've been spending more non-existent dough. Yesterday, I had to buy a new backpack and some gym shorts at Ross. The total was a staggering $16 expense, much more than I could afford. However, most of my stuff are falling apart. I've got to buy another pair of those detestable Docker's pants for work at Liberty House. The big Zooper Sale event starts tomorrow. I can probably get another two months of use from my cheap Payless gym shoes. Maybe then I'll be able to come up with the $20 or so.
You must wonder how I can possibly live this pathetic lifestyle. Well, I have no choice. I have come to realize that many homeless guys are doing better than I am. They make more dough off of the system and they don't have to work. They have a lot of money to buy cheap fire water. They receive free bus passes. Hearty meals are available at a variety of conveniently located "missions." They have better health benefits than I do, all for free. And, the punchline is that they live tax-free. Sheesh! To add insult to injury, many of the locals know this game as well. What am I doing wrong?
Friday July 14
I never made it to the Liberty House Zooper Sale. Why bother? I already have a new pair of detestable Docker's which I bought at the last sale over six months ago. I've yet to wear them. I'm still wearing the same pair that I bought a year ago. That's right, I wear the same pants day in and day out. There is no purpose in having a stylin' wardrobe when one is wage slave.
Each day I always think about moms. It makes me sad because I realize how long I've waited to return home. Moms wrote to me every week when I was on the mainland. And, she called weekly as well. I guess I took a lot of that for granted, oftentimes not even devoting much thought about moms. This really is a precious time for me. I'm not at all concerned that I'm missing out on life. Living at home with moms hasn't severely cramped my lifestyle. Frankly, I like it this way. I don't need to be gallivanting over the whole creation. I'm also happy that I don't have a family of my own. It would have been too easy to forget about moms.
The weekend is here again. My pathetic paychecks are a reminder of my mediocre existence. I have three exams to grade. That bottle of "Hammer" is still chillin' in the fridge. Am I good to go? You bet!
Saturday July 15
I don't know why I waste my time grading exams, especially when quite a few student score less than 50 percent. How is it possible to make 20 out of a possible 200 points? There must have been a serious brain donation. What is even more interesting is that all of my students take the full 80 minutes to complete the exams. Well, we are talking about local students. So, I really shouldn't be surprised.
I made Lasagna a la Ragu tonight for moms. It turned out pretty good. I surprised myself. I had a small piece for dinner, which was more than enough for me. I'll leave the rest for moms. After all, I'm 15 pounds overweight as it is. I almost broke out the "Hammer" for the occasion. However, I can do without the big headache tomorrow.
I sat in the resin chair for most of the afternoon. I have really gained a fondness for the resin chair. Perhaps I'll spend the evening piddling with Music Producer. I'll crank out a few more sickeningly blasé tunes. I may even update the Virtual Harem (see Lavahead Express). Sheesh!
Sunday July 16
I did my houseboy and yardboy chores today. No matter what, I always have time to sit in the resin chair. I read an article about the Cynics, a Greek philosophical sect. I had to laugh when I read about Diogenes, often referred to as "The Dog." He became an ascetic because he believed that anything else was a distraction from finding the true meaning of life. However, he came to hate humanity in the process. I find that I am following in his footsteps. In the quest to discover the real essence of being, I have come to look upon humanity as expendable. It is not difficult to see why.
The selfish and uncaring disposition of most people make it difficult to retain any form of compassion for them. Humanity becomes more of a scourge than anything else. The problem with Diogenes and possible myself is that we fail to see why most people enjoy living in a stupor. Maslow's concept of self-actualization eludes us, yet it seems to come naturally to the so-called simpletons. Indulging in reckless materialistic abandon is such a simple task to obtain happiness. Perhaps, out of envy, Diogenes and I became belligerent. We develop a disdain for those who find happiness through a simpler, albeit vain, route. Despising humanity for its inherent flaws suggests a form of superiority, which does little to justify the perpetrators. Tolerance is the key. And, monastic isolation is still the only rational solution.
Of course, I had to break open that bottle of the "Hammer" to further augment my thinking processes. We are here for a purpose. It goes beyond endless shopping sprees and other stupidity ad infinitum. One of our purposes is to ponder life and our existence. Many of us fail to do so because it's just too much trouble. Engaging in a drunken, heathen orgy of lust seems much more fulfilling. Yet, Diogenes was correct in that aspect. We can only find meaning in life if we at least attempt to discover its purpose. Fruitless as it may seem, contemplation still brings about some semblance of satisfaction. Contemplation cannot be mandated. It comes in its own time. For some, it will never be. In the end, at least I, myself, must learn from Diogenes' example.
Monday July 17
We can probably find modern day examples of Diogenestic behavior if we look hard enough. The Unabomber and Loser come to mind. This morning, big headache. I'm going on the wagon. Permanently. I saw Mark on the express bus this afternoon. He mentioned that he has seen the handmaiden around quite a bit. Later, moms told me that my sister-in-law called to say that she ran into the handmaiden at the water park near Kapolei. Apparently, the handmaiden's daughter is here in Hawai'i. Who cares?
Caroll wanted to know when I'll be visiting the mainland. She wants to take a vacation down in Mexico and asked if I would consider tagging along. That would be a nice jaunt, but I am in no financial position to travel. I will stay in Hawai'i and do penance until I have earned the right to take time off. If I had not been so irresponsible before, then I wouldn't be in this position today. Penance is all that I have.
Malia and I had some time so we ended up at Starbuck's Coffee. We hardly see each other these days. Part of it has to do with Roach's fraternization policy. The same policy he flagrantly violates. In fact, I heard him calling out for Maria (the female staff member) as he was walking down the hallway. There is something going on, and everyone sees this crap. It's a small-scale Camelot, or so Roach thinks. The ax is bound to fall soon. I just want to be there to say, "Adios, amigo!" Baha! Ha! Ha! Haaaaa! Amigo? Can I get a witness? Baha! Ha! Ha! Haaaa!
Tuesday July 18
I'm beginning to wonder if I'm going to have a stroke or a cardiac event soon. With all the crap that I've been eating lately, nothing would surprise me. Add to that the recent stress because of the Asylum. I discovered Roach wandering about the hallway again. Naturally, he ended up in Maria's office. There has been more evidence that a sordid affair is going on. Matt the librarian mentioned that Maria has a picture of Roach posted on her wall. No picture of her husband, though. Do you find that odd?
More pathetic stories. Several people did not show up for an exam today. Bernadette was one of them. "Did you see the bruises on her arms?" one of my assistants asked the other. Apparently, Bernadette has a very abusive boyfriend. A local boy. She also has a kid. Bernadette is an attractive babe in her early twenties. And, she had the highest scores in the class until she failed to show up for the exam. The same story repeats itself over and over again. The turds will continue to float around and fester until one finally decides to pull the plunger. Joanne even talked to me today. She, too, has not been happy with the new faculty advising arrangement. I did not volunteer much information because I can't trust Joanne. No one can be trusted because it all starts at the top. Right at the pinnacle with Roach.
Wednesday July 19
I have to write up some details for another restraining order tonight. This time, it's against the dumbass ho' (the mother of the teenage ho') next door. It started last night at 9:30 when I heard two people (one male, the other female) talking at the top of their lungs outside. It was obvious that the conversation was contrived but I didn't realize that until later. I went out the back door and along the rear of the house to investigate. To my surprise, I saw the dumbass ho' as I peered out front. It was she and one of her crackhead boyfriends doing the yelling.
At 2am, I was rudely awakened by someone yelling, "Go ahead, call the cops, you stupid ass! Just like you call the cops on kids." It was obvious that the fat ho' was directing this to me. So, I got up and told her to shut up. She made several more derogatory comments and slurs. At 2:20am, the teenage ho' came home. Then, they were both yelling derogatory comments and laughing. It was then that I realized what was happening earlier in the evening. The dumb ho' was trying to bait me to go outside and tell them to be quiet. Then, her loser boyfriend would beat me to a pulp. Well, that was the plan anyway.
This became more obvious when I returned home today. As I walked into the cul de sac, I could see the teenage ho' at the screen door. She was obviously keeping a vigil for me. She ran toward the back and yelled something out. No doubt, she was telling the slut that I was home. The useless tub of [dung] came outside and acted like she was getting something out of her car. Then, I heard, "We're gonna kick your ass! We're gonna kick your ass!" I had no choice but to call the cops. When the officers arrived, I let them in. No one was in sight next door anymore.
The officers gave me several choices but recommended that I either opt for a restraining order or take the slut to court on criminal harassment charges. No doubt, this will not end soon. However, I will file for the restraining order as early as possible tomorrow. My major concern is for moms' safety. Later, I walked next door to talk with our other neighbors. I was told some interesting things about the family in question. The neighbors even told me about the time that they had to call the cops because the useless slut's ex-husband was beating her right out in the driveway. He was yelling, "You [copulating] whore." There has also been literally hundreds of guys who have lined up subsequently. She certainly has lived up to her ex-husband's accusations. And, the teenage ho' is no better. So, in exchange for da wild thing, I'm sure the old ho' can find someone who will be willing to pummel the ol' lavahead. At this point in time, I believe that I need a Glock 9mm.
The real stupid part is that I only called the cops once prior to this crap. And, that was when two of the teenage ho's BoyToys were sneaking around moms' yard. It hasn't dawned upon the used-up hag that the other neighbors may have been disturbed as well. I only made the mistake of trying to first handle the problem diplomatically. Well, I hope they are stupid enough to dare me to have them all arrested.
Thursday July 20
Moms and I had some fun last night. Just about an hour after moms had told me that she thought there was a mouse in the house, I saw the mouse crawling along the ledge of the kitchen window. I trapped it under the convection oven, but there was no way to capture it. So, moms helped me corner it and then I sprayed it with roach spray. I moved the oven to the edge of the counter. Using a fly swatter, I pushed the mouse toward the edge. I sprayed liberally. Then, moms placed a trash can with a liner as close as possible. I quickly forced the mouse into the trash can and moms tied up the liner. Then, we put the mouse in one of the many empty Kim Chee bottles laying around and threw it out.
I obtained the petition for the restraining order but I did not submit it today. I decided to take Mark's and Malia's advice about holding off. However, I think I'm going to file it tomorrow. All was quiet when I returned home. Moms called my sister-in-law and got the names of the ho' and her daughter. Moms also told her about the current situation. "Tell him to watch his back," my sister-in-law warned. Therefore, I've ordered a Taser-type stun gun on-line and I'll be looking for a can of pepper spray tomorrow. If there's going to be a war, I'd better beef up my defenses. I'm also checking out prices for the "nine."
Friday July 21
Still no restraining order. I only had a short period of time to wait for the paperwork to be processed. After an hour, I ran out of time. So, I will have to make it through the weekend without the restraining order. One of my students is an ex-cop. He is an ex-cop because he managed to end up incarcerated. He wove a tale of corruption and treachery that almost made me sick to my stomach. Money and power. That's the name of the game. Drugs were the key. He mentioned the mysterious suicide of a cop in Manoa a few years ago. It was murder, he told me. The cop was about to come clean about the police corruption.
The real problem in Hawai'i is Ice. That is, the illegal drug called Ice. The barbaric behavior of most locals is further amplified by the drug-induced state produced by Ice. I suspect that the dirtbag ho' next door was on Ice a few nights ago. That explains the unusual behavior. No one seems to really know how prevalent the drug is, but I can ascertain that the majority of people here are on it. That is why I have observed so many people stumbling around in a stupor. They are, in actuality, "tweaking." That's a form of psychosis that occurs due to sleep deprivation (a side effect) and euphoric fatigue. The disposition towards violence is naturally at a peak during the "tweaking" phase. All the more reason to possess deterrents like pepper spray and a Taser.
I could not find any pepper spray. Even the cop supplies store across from the police station didn't have any in stock. "There no demand for it," the clerk told me. Why? Perhaps it's because everyone possesses guns. Moms has made it clear that she doesn't want a gun in her house. I must respect her wishes. However, what defense do I have against a gun? I know that one thing is clear. If anyone does attempt to hurt the ol' lavahead, I will have to perpetrate a 1-8-7 on 'em. Otherwise, these losers will come back with a vengeance. I have been psyching myself up to do the deed when that time comes.
I can envision at least one scenario. A dumb, local goon attempts to approach me while I'm in the garage:
"Eh, I goin' broke your face, f--kah," he'll say while staggering up the driveway, obviously "tweaking" from Ice. "You no talk to my wahine like dat, f--kah! You no mo' da cops to protect you now, f--kah!""
I quickly turn and shoot him in the face with pepper spray. As he grabs his face with both hands, I run behind him and kick him to da curb. Then, I press the Taser against him for as long as the 350,000 volt charge will last. While he is down and quivering uncontrollably, I run over to get the big rock that used to be part of pops' never finished pond. I lift the 120-pound rock as high as I can and drop it on the scumbag's head. I repeat the procedure at least five times. Then, I call 9-1-1.
Mark and I had lunch at the Café Metro across from the Post Office. Great Mexican food. I have been craving Mexican food for a while now. The weekend is here. I have exams to grade, but it's not going to be relaxing. I am essentially living in fear of when the scenario above will play out. The Taser will not be here for a few days. And, I still have no pepper spray.
Saturday July 22
I was in a bad way for most of the day. I put the top back up on my six-four as a symbol of the latest developments. I also took moms shopping at Koko Marina in my six-four. Big headache. After polishing off a six-pack of cheap brewskis, I was even more perturbed. I demonstrated to the neighborhood how the rock from pops' never finished pond could easily pulverize a cinder block. The rock, by the way, weighs closer to 250 pounds as I could lift it no higher than midway. I also demonstrated how pops' old conduit bender can easily shatter remnants of the cinder block as easily as it could a human cranium. My anger is becoming psychotic. I continuously replay slight variations on the homicidal theme I described yesterday. The ugly ho' has turned me into a maniac.
That brings me to my point for today. It's so easy to be a jackass. Just act dumb and let everyone else pay for it. Take the slut next door, for instance. The ugly ho's stupidity will cost me a lost of time and money. I will spend several hours at the courthouse and $15 to file the petition for the restraining order. Then, I will spend a lot of non-existent dough on security deterrents like pepper spray, the Taser, and maybe even a "nine." I must also devote time to maintain all security precautions including locking down the house and making routine checks throughout the day. And, I must constantly worry about moms. This will take a toll on me and may force me to take the offensive. In my hammered state, I could have easily gone next door and shattered as many craniums as possible with the conduit bender. In the meantime, the damned [rectums] only have to sit around and intimidate me with ambiguous actions. It is too easy to be a dickhead. In my fragile mental state, I have to wonder why these fools want to toy with the oversized cranium. I have, however, found a place that sells pepper spray. I will go there on Monday.
Sunday July 23
I find so many errors in my journal each day because of my lousy Fujitsu computer. On some days, it almost pushes me to the edge. Good thing I'm getting a Taser. I may have to use it on myself. My sister-in-law came by today with my nephew. Moms and I discussed the situation concerning the fat ho' next door. It seems that my bro had called the cops on the slut a few times. My sister-in-law is certain that there will be some kind of retaliation, most likely an ambush by a few of the skank's crackhead boyfriends. My sister-in-law believes that the ho' works as some kind of part time, minimum wage cashier. "She's had a number of different jobs on and off." And, here that bitch was calling me a loser. She barely makes enough money to support her drug habit.
Sometimes I think I'm ready to take out the punks who will be coming. At other times, I wonder why it will come to this. Are these people not afraid to die? Will they egg me on even as I poise myself to drop the 250 pound rock on their heads? Something tells me that they will remain defiant to the end, not believing that I will do the deed.
If I am ambushed, then I cannot allow anyone to survive. This is a barbaric urban jungle. The natives are strung out on Ice and believe they are invincible. It's either them or me. I wish that I was kidding about all of this, but I'm not. Hog is a frequent user of Ice, according to Malia. Toad is probably on Ice. I'm sure the handmaiden was on Ice for a while, especially if you remember the psychotic incidents in the [UJ] archives. I am Dirty Kimo. I should have become a cop when I had a chance. Tomorrow, I must buy the pepper spray. I must also locate some nylon wire ties, the ones cops use in place of handcuffs these days. I eagerly await the Taser. Just as much as I await the punks.
Monday July 24
Matt the librarian told me that he is being harassed by Roach's girlfriend Maria. She wrote him up for insubordination amongst other things. Naturally, Roach called him to the mat. "The impression I had through the whole thing was that Roach came to the rescue of his girlfriend," he stated.
I read a few articles last night that were disturbing. These electronic Tasers are a joke. They don't work. So, I wasted my dough on that. The most disturbing material was the matter of the law. Criminals are completely protected. If a citizen uses excessive force on a suspected criminal, then that citizen may end up worse off than the criminal. That's right. I almost lost it. Let's return to our program, already in progress:
"So, do you feel lucky, punk?" Dirty Kimo raises the 250-pound lava rock as high as possible over the crackhead lying on the ground.

"You f--kah! I goin' kick your ass!" yells the slimeball. His face is smeared with pepper spray residue. Mucous is pouring from his nostrils and mouth.

"Hmmm. Maybe Dr. Rat is right. I need to strip you down, [rectum]," Dirty Kimo muses as he puts the rock down. With a quick jerk, he pulls the tweaker's pants down. "I wasted my money on this piece of [dung] because of you," he says as he pulls out the cheap Taser seemingly from nowhere. "Look at this, dickhead. Now, let's see ... maybe this cheap piece of [dung] might work on your Vienna Sausage. Baha! Ha! Ha! Haaaaa!" Dirty Kimo applies the cheap piece of crap to the slimeball's Vienna Sausage.

"Aaaaaaaaahhhh! You f--kah! Aaaaaaaaaahhhhh! I goin' kill you, f--kah!"

"That's it, I'm through." Dirty Kimo takes the cheap Taser and presses the whole thing into the tweaker's mouth. He uses his full weight to push the piece of junk down the tweaker's throat as far as possible. Then, he flips the switch again.

"Aaaaaarrgghhh!"
I retracted the restraining order today. I can no longer trust myself, no less than damned ho' next door. It is time for me to retrench and fortify. There will be another time. I will be ready, and I won't need a cheap toy to do my work. Finally, I did not have time to get the pepper spray. Tomorrow is another day.
Tuesday July 25
I finally found time to visit the Magnum Firearms store near the Ward Center. I bought a can of pepper spray and also inquired about the procedure to buy a "nine." A Glock 9mm, that is. For about $500, I can obtain the best possible protection. For the time being, the lousy can of pepper spray should work. An article on the Web pointed out that may people use oven spray cleaner as a substitute with good results. I may have to carry a can with me as well.
When I returned home, moms told me that the goon was next door earlier in the afternoon. Moms saw him leaving at about 4 o' clock. As I suspected, he probably doesn't have a job. Or, he works about four hours per day just as his ho' does. Yep, the ho' leaves at about 8:30am and is home by 1pm. With so much time on their hands, it easy to see why they are so eager to cause me grief. Smoking Ice probably doesn't help.
Malia told me that José's babe had called her up to engage in a confrontation about José. It was another pathetic story that sounded as if excessive smoking of Ice was involved. Is there no escape from this madness?
Wednesday July 26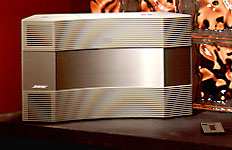 I've wasted so much time and energy on the fools next door that I have lost my own synchronicity. Not that anything has changed with the sleazy ho' or the dysfunctional multi-generational household. In the meantime, I've been thinking of putting my Bose Acoustic Wave up for sale on eBay. There are rarely any of these for sale anywhere. I may be able to command a decent price and not take a huge loss. Then, I'll just buy a $50 K-Mart all-in-one. The rest of the dough can be put away until I am forced to buy a "nine."
Perhaps I'll break out the Bose Acoustic Wave this weekend and listen to some psychotic classical pieces on public radio. I may become more endeared to it and keep it. I will be making Lasagna a la Ragu again this weekend as I have invited Mark to join moms and I for dinner. What better ambiance for dinner than psychotic classical pieces?
Thursday July 27
Fatigue is setting in once again. Life just doesn't get simpler. I've spent far too much time reading up on deterrents like pepper spray. I have decided that I must at least keep a stock of pepper spray. Until I find another deterrent that is as effective, I must make do. Most of the people I have talked to are surprised that I am carrying something like that around. Some people had no idea that it was legal to possess and others wanted to know where to buy it. With all the psychos around, I was pretty much surprised that so many people are so lackadaisical about the issue.
I am making tentative arrangements to take the comprehensive exam for my second, albeit incomplete, graduate degree. The exam is in November so I will have much more time to prepare for it. Hopefully, there will be no major snafus like last time. I've also got to prepare new curriculum for the Fall term. So, I'm finally moving on with my life, or so I think.
My so-called investments went down the toilet again. After a slight recovery, the market took a real dive and so I am now beyond broke. Well, I decided to take the risk. I'm in it for the long haul, so I'm not too worried. It only means that I need more diversification in my investment strategy. For now, I'll just sit here with my can of pepper spray next to me and wait for stupidity to come a knockin'.
Friday July 28
I have reason to believe that several students at the Asylum have obtained copies of my exams. It appears that someone pulled off a clandestine operation and snaked the copies from the faculty preparation room. I am a little perturbed. Most likely, I will have to come up with another exam and make it even harder.

This evening, I drove to Safeway to buy the ingredients for Lasagna a la Ragu. I'm making it as we speak. I also bought a can of Bush's baked beans for old time's sake. Yes, we will have the Festival of the Baked Beans! However, it won't be a daily affair. At $1.49 for the small can, I'm better off with my 99-cent Whoppers (my way, of course!). In any case, there will be quite a feast tomorrow night.
I am, at times, particularly amused by losers (claiming to be winners) who visit LoserNet and act like they have made a big mistake. Naturally, they engage in oral flatulence (i.e., posting to Speak! by LoserNet) which only confirms their stupidity. It's perfectly okay to visit LoserNet after choking the chicken at the Maxim site. We don't care. Just don't come with a self-righteous attitude. We already know that big-mouthed losers have callouses on their palms.
Saturday July 29
Mark and I went to see What Lies Beneath this afternoon at Koko Marina. It wasn't a bad movie, although it was about two hours in length. Part of the plot had to do with a professor who was fraternizing with a voluptuous female student. He had to do her in. His reason? She was threatening to go to the Dean about it. Sheesh! Afterwards, we had the Lasagna a la Ragu feast.
Well, in a new book titled The Adonis Complex, the authors describes a new psychological disorder affecting guys. Here's an excerpt from the article You've Come a Long Way, Bubba on MSN Health:
These disorders start with obsessions about body image, which lead to compulsive behaviors, some of which can be harmful, even lethal. They fall into three categories, Pope says: a focus on body fat, which can lead to anorexia, bulimia, or binge eating; a focus on excessive muscularity, called "muscle dysmorphia;" and body dysmorphic disorder, in which the sufferer is obsessively dissatisfied with a specific part of his body, like his hair or nose.

Also, as women became more financially and sexually independent, they may have shifted from wanting a man who can bring home the bacon to a man who can supply a little beefcake. The researchers looked at advertisements over the last 40 years in Glamour and Cosmopolitan magazines. Over that time, Pope says, the women shown in a "state of undress" stayed roughly constant, but the percentage of men showing skin "rose from virtually zero, until it surpassed the number of undressed women by the 1990s."

Many men who suffer from body-image disorders do so in silence, Zeckhausen says: "In our society, 'real men' aren't supposed to fuss about what they look like; it's considered effeminate."
Haven't we known this way back since the time of The Bull's reign?
Sunday July 30
Moms is worried about the tropical storm that is due to hit tomorrow. It originally started out as a hurricane but it has been losing its power. Moms and I spent at least an hour this afternoon preparing for the storm. Since high gusts are expected, we put as many of the loose junks away as possible. Of course, some of it ended up in the trash can. I even moved my beloved resin chair inside. There should be a lot of rain. I'm only worried that I'll end up stranded in town in case some of the roads are flooded.
I've been spending a considerable amount of time perusing the various police supplies sites on the Net. I've also been looking for information concerning the various deterrents available to civilians. Once again, I've become obsessed. All I have now is my can of pepper spray. However, it's the real thing. The one used by cops. I really could use a "nine." Or maybe, I can establish an armed security force comprised of babes (see image at right). Nice uniform. Don't you wish that all cops looked like that? Of course, that is of no concern to me. I'm a law abiding monk.
There is only a little over two weeks left for my Summer classes. I'll have about two weeks off to regain my sanity, albeit without pay. Perhaps I can spend some time to finish the much needed renovations to the LoserNet site. My former student Paul is arriving in Hawai'i on Tuesday. He'll be here for about two weeks. I'm looking forward to seeing him.
Monday July 31
My day started off bad after I almost had an altercation with the boyfriend of one a visiting faculty member at the university. He was in the faculty computer room. Why the brain donor didn't have a pen on him, I do not know. I was busy analyzing the pathetic test scores of the exams I graded this weekend. The brain donor interrupted my train of thought when he asked for a pen. I was not quite cognizant of what the fool was asking. "Quickly!" he demanded. I almost had to had to drag him to the rest room and shove his head down the toilet. Of course, I refrained.
The pathetic Taser-like device arrived. What a cheap piece of [dung]. I've been had, that's for sure. Well, now that I have it, I might as well use it. The device is illegal in Hawai'i, and not because it is deadly. Now that may not be entirely true. A prospective assailant may die laughing when threatened with the pathetic toy. Of course, I will have to test it out. Say I have another encounter with a big-mouthed boyfriend of a certain visiting faculty member. I could pull a Dirty Kimo and shove the damned thing down his throat before flipping the switch. Baha! Ha! Ha! Haaaaa!
Life As I Know It
This is about as good a time as any to sum up this situation. I'm just a simple monk looking for a simple life. And, I'm learning that the so-called simple life cannot be found. I record my daily grief but I do not try to infer that I am being persecuted or that I am the only one in the world with these problems. The crux of the Journal (and hence LoserNet) is that it represents the common Bozo's plight. This is what we all face in the real world.
I suppose that I will always continue to write this journal as long as I have Web space available. I find it entertaining and enlightening. It takes a lot to admit one's stupidity to the whole world. Not that I'm patting myself on the back. I mention this because there are people who believe that I'm looking for sympathy or a shoulder to cry upon. Or, I'm looking for allies and converts to my way of thinking. I just record my life with the passion of the moment even if it is semi-comatose.
As we move into the new month, I must laugh. My so-called investments went completely down the toilet in the last week. All the while, I've been adding on to my expenses which includes the the Taser-like toy. No doubt, I will have to add this crap to the KnowledgeBase series. As I always tell my students, "Learn from my mistakes and never repeat them."
Onward we go! The Millennium continues and we have no choice but to follow the pathway. There will be more foolish times ahead. The LavaheadCam will be back on-line when I can afford to buy more batteries. The Virtual Harem is moving and will be enhanced. Comic Sans Lavahead will compose new tunes. And, the [UJ] archive will be open on select days. This is LoserNet!
To be continued ... Go to M.11

| | |
| --- | --- |
| LoserNet | © Copyright 2000. All rights reserved. |