2001: The Viagra Years

Monday April 9, 2001
I was extremely fatigued today because I was rudely awakened at 1:30am by the thumping bass of those ridiculous car audio subwoofers. The young ho' and her boytoys were at it again. The punks are all on vacation because of the teacher's strike. The only highlight of the day was that one of my students at the university took a picture of the oversized cranium and will be putting it up on the Hot or Not site. I didn't particularly like the idea, but good public relations is an essential part of my job.

I asked Pseudo-professor Ralph about his NEC Versa notebook computer. He's had it for about four years. He originally purchased it as a factory refurbished unit. I don't feel so rushed now to purchase a new computer. I believe that my beloved Fujitsu notebook computer will be able to last at least two more years, if necessary. I have almost no reason to upgrade. In fact, I have no idea why I need a new computer except that I just want one. On another note, the LoserNet mirror on the NBCi host will be disappearing soon. That's part of the intense fallout in the Net arena. I would not be surprised if all of the free hosting sites were to shut down. Naturally, that means an end to the Virtual Harem, since it is on the NBCi server. I'll have to go back to taking amateurish photos for the LavaheadCam again. Sheesh!
Tuesday April 10
I was having an enjoyable morning until I was almost run over by one of the brain donor "clean team." They are the highly paid City & County morons who clean up Fort Street Mall all day long. These bonehead janitors cruise around in electric golf carts with reckless abandon. I cussed out the dickhead and then I called the cops with my beloved cell phone. Now I'll have to live in fear that I'll be ambushed by those knobs. I have decided to carry my can of pepper spray in my hand at all times from now on. Between those brain donors and the usual psychos on Fort Street Mall, there is an increasing probability of violent confrontation.
One thing that many people do not realize is that crossing a local only results in some form of revenge. Grudges can go on for years, as evidenced by my own dysfunctional family. A loyal local will always look the other way or tolerate unacceptable behavior because that is easier to deal with than having to live in fear. The sheer number of crimes of passion further substantiate this fact. I'm not particular fond of the local ways, which also tends to put me at odds with quite a few locals. They are too stupid to realize that they are locked in a prison of conformity that only serves to keep them down economically and socially. I suppose that, if they are too ignorant to realize their own demise, then they should just be cut loose. Yeah, that's my feeling exactly.
Wednesday April 11
I contacted a student who left me a message in my faculty mailbox. Janice was a student of mine over a year ago. She alleged that she received an "A" grade in my class on her grade report which was sent by mail after the term had ended. However, just a few days ago, she discovered that the grade was mysteriously changed by the campus computer system to a "B" grade. Suspiciously, she has "misplaced" the original grade report. She assured me that many of her friends have experienced the same problem. A quick call to the Office of Records only served to discredit her testimony.
Another student contacted me by e-mail yesterday afternoon. He has an "incomplete" status for a class he took about eleven months ago. The grade has since reverted to an "F" since the time limit was six months. He alleged that he would be losing all of his financial aid at 5pm this afternoon unless I contact the Financial Aid office. This morning, he e-mailed again to say that he wanted to meet me before my class to assist me in sending an e-mail to the appropriate authority. I have yet to see any of the incomplete work assignments from him. I called the director of Financial Aid, only to discover that the student had been telling her that he has been submitting his work to me in a timely fashion. What the student neglected to tell me is that the Financial Aid office wanted his final grade. In effect, he was giving me less than 12 hours to review his work and give him a passing grade. He neither left anything in my faculty mailbox nor did he show up before my class as he said he would. I suspect that he wants me to give him a passing grade just because I feel sorry for him.
My impression is that both of these doorknobs believe that I am a moron. Even when I hold all of the cards, they still try to play me for a fool. This has not been a good week. I have also discovered that I may not be facilitating a Summer class because there aren't enough students registering for classes. It doesn't matter to me. I could use a brief hiatus from that crap.
Thursday April 12
Penn, the student who needs a passing grade to preserve his financial aid status, showed up before my afternoon class. He delivered a package of disks and a report. Upon checking the diskettes, I discovered that there essentially was nothing but garbage on them. As you may recall, I had befriended Penn a while back. That was my big mistake. After the gym, I personally visited the Director of Financial Aid. She feels duped by him as well, and will be taking the appropriate sanctions regardless of the grade that I give him. He apparently has pulled the same stunt with another faculty. I suppose that Penn is under some kind of illusion that he has outsmarted all of us. He's just a rank amateur. I've now assured that he'll get his just reward, while removing myself from the loop. Baha! Ha! Ha! Haaaaa! Maybe I should get into politics, eh? Baha! Ha! Ha! Haaaaa!
Sinister Kahuna Day 2001
I received more e-mail from Penn. He has no idea why the project is not on the diskette. Yeah, right. He also now claims that he may no longer have any of the missing work files on his own computer. The story is becoming more convoluted with each turn of the knob. Knob. Get it? Baha! Ha! Ha! Haaaa! I e-mailed the Director of Financial Aid and indicated that she should assume the worst-case scenario.
I had an appointment with the endodontist today. This was just a follow-up for the root canal of six months ago. I visited the Bose showroom right after that. I can't say that I felt any passion for any of the Bose products. I always peruse the Bose Acoustic Wave even though I already own one. Don't ask me why. I also visited CompUSA to look at the notebook computers again. A DVD movie was playing on the new Apple PowerBook. I was impressed. It was playing in full-screen mode. The resolution was crisp and there was no discernible jerkiness. I also took a look at the usual stable of Windows computers. Upon closer scrutiny, I have to admit that the Sony VAIO notebooks are the most impressive in terms of video quality.
I got a lot of other work done before my classes. I wore extremely casual attire today, since I didn't have classes at the Asylum. The State is observing a holiday, although one is hard-pressed to notice because of the strike. I had on a pair of jeans and an Aloha shirt with a tank top underneath. I decided to do my classes sans the Aloha shirt. As I propped myself on a desk and lectured, one of babes in the class poked my arm with her fingers and exclaimed, "Wow! Mr. Lavahead, you have huge triceps!" I was speechless for a minute. Then, I realized that I was better off sticking to the dress code. Sheesh!
A few of the faculty were going to Happy Hour at the Indigo Restaurant after work. Sadly, I had a few taxing moments today (of which I have chosen to omit). All I wanted was to go home. I'm going to spend the rest of the evening with my beloved Fujitsu notebook computer. I'm not even going to think about the Sony computers because I must mail my Federal tax return (with check enclosed) tomorrow.
Moms mentioned that she had seen the handmaiden twice in the morning this week. The handmaiden must no longer be working downtown. The sages were correct. I was very fortunate to have made it out of that situation unscathed. The handmaiden's new moron probably doesn't realize that one-half of his posh estate is now owned by that consort of the sinister kahuna. The rest of the sages' prophesies will come true in due time. That's the way the cookie crumbles. Baha! Ha! Ha! Haaaaa!
Saturday April 14
Yesterday, JR (one of my students) mentioned that he had seen Sheena (the "dangerous" babe student who works at Hooter's) at the club the other night. Apparently, she and another Hooter's babe were competing in some kind of "anything goes" contest there. Freaky (read: phreaky) is the only term to describe the scene. JR had also seen another one of the babes there a few weeks ago. I can't even begin to describe what was going on. He also disclosed to me that Lindsay, another "dangerous" babe student, also works at Hooter's. I should also mention that I've seen my former students Geraldine and Joyce around lately. Joyce has been very distant ever since Geraldine disclosed those curious details about Joyce's alleged interest in the oversized cranium. Whether they are true or not, I don't know.
I replaced a fluorescent light fixture for Mark. It gave out on him earlier this week. I'm glad that I was able to help him out because the labor rates for electricians are fairly high. We ate lunch at the Pizza Hut in Kahala Mall. Then, we looked around in a few of the shops, ending up at Barnes & Noble. I returned home to discover that Penn had left a few messages. He has been frantically trying to scrape up the missing files. He claims to have miraculously found them, and now he wants me to meet him sometime so he can deliver the new set of diskettes. The whole situation is kind of ludicrous. It's fairly obvious to see that he's grasping at straws. As he becomes more desperate, he also becomes more brazen. This is my weekend. I am not going to be at the whim of some knob who thinks that I'm a moron.
I returned to Mark's place later in the evening to watch Fight Club. We also partook of the real "Hammer" (Corbett Canyon Chardonnay) for the occasion. I was totally entertained by the video. The message, of course, is basically similar to the ol' lavahead's diatribe. Well, I just hope to get some sleep tonight. The young ho' was outside with her dumb-as-a-knob boytoy at 2:30am. If you have seen Fight Club, then you know what sleep deprivation will do to a guy. Sheesh!
Sunday April 15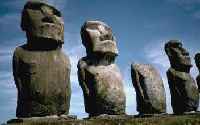 Today is Easter Island Stonehead Day. It's a good time to reflect on why anyone would spend so much time carving out large faces of stone from lava rock and then moving statues to different locations on an island devoid of vegetation. The obsession with the stoneheads can be likened to the rampant materialism we see today. That obsession was a greater priority than growing food for the now extinct population. What lessons can we learn and apply concerning our own trivial pursuits? Sheesh! I spent most of the day working on portions of the LoserNet site. I also read portions of the journal from two years ago. It was sickening. It's easy to see why there are so few readers. Much of that material was as bad as the typical whining Web diary. So, I took the liberty to edit the journal.
I mailed my Federal tax form yesterday. The lousy State tax form will be mailed on Friday. I still haven't squared away my IRA for the year. I'll do that tomorrow when I return to the salt mines. I have a headache from staring at the screen of my beloved notebook computer all day. So, I'll spend a relaxing evening cruising the Net. Does that make sense? Sheesh!
Monday April 16
The Asylum gave me a pay raise, effective from the first of this month. It was a small raise but I was very appreciative nonetheless. I also made the decision to put my IRA money in a bond fund. I'll probably convert my other IRA to that same bond fund later in the year. Of course, the whole thing is moot. I'll always be poor and in debt. Damage control is all that I can strive for.
Penn delivered yet another bogus set of data disks to me. I called the Financial Aid office and advised the Director that I was going to pass him. After the gym, I filed the necessary paperwork.. Then, I called Penn on his cell phone. "I gave you a 'B'," I told him. "Do you know why? Because it's a nice day." That's right. I gave him that grade because today was a nice day. I'm merely spreading the wealth, as it were. I believe that he spent a restless weekend worrying about the situation. He jumped through the hoops, although in a pathetic fashion. Yet, he surely must have realized who is the monkey and who is the organ grinder.
That pathetic, fake journal Bridget Jones' Diary is now a major motion picture and is making its author filthy rich. The entertainment pundits are giving it wide acclaim. What a joke! With all of the diaries and journals on the Web, one has to wonder. Stories of real people and real lives should beat out a contrived piece of [dung] on any given day. Or, so I thought. Perhaps reality is just too much for the average person's senses.
Tuesday April 17
The other brain donor student had left a message for me. Janice is still attempting to persuade me to change her grade based upon that flimsy story about the the computer mysteriously changing her grade. Perhaps I should make a prediction. When I call her, she will change her story. Instead, the knob will claim something even more ludicrous. My guess is that a new allegation will center on some non-existent promise that I will have supposedly made about her grade and how I ended up reneging. I'll call her back before the week is over.
I went to the gym and took the early express bus home. As to be expected, I found myself staring at the screen of my beloved notebook computer. The computer is my most important possession. I can still foresee a time in the not-so-distant future when it will be my only possession. That's the Master Plan. There's kind of a discomforting inner peace associated with mendicance. The purpose of money makes no immediate sense. The lure of new toys fades away once the impulse to buy subsides. The key is to wait out the duration of the urge. The denouement is anti-climactic. Novelty is such a short-lived concept. I have too many toys as it is. I remember when I observed the Festival of the Baked Beans on a daily basis. The ritual had always kept me in check. An intentional return to the lowest level of Maslow's Hierarchy of Needs can restore some semblance of intrinsic human values as well as to reveal the futility and insatiable nature of opulence. In essence, I always end up back at the beginning. The tangible aspects of life have no real meaning. A stone will always be a stone.
Wednesday April 18
I was extremely fatigued today as the young ho' woke me up at 1:30am with her boytoy. Since they are on extended vacation due to the teachers' strike, they are having a good ol' time. Why don't they just go to the park and do some boinking? The faculty at the University of Hawai'i got their pay raise so they went back to work today.
Professor Brian was in a bad way for the second day in a row due to his students. He is losing mind because of the universal lack of respect and carefree attitudes of his students. I tried to calm him down but to no avail. It will take him some time to get used to the routine. I often have some bouts of derealization, but I quickly come to my senses. The students of today are far different from our time. Actually, I've noticed the most significant degeneration of student attitudes in just the last year. Quite a marked change, I might add. Much of it has to do with the usual Gen-X elements including excessive tube watching. Pseudo-professor Roy has gone on the rampage. He has recently become a male activist. He believes that feminism and the offshoot pseudo-forms of feminism are responsible for the decline of society. I am inclined to agree especially concerning the continuous male-bashing associated with the latter.
Society has gone berserk as far as I'm concerned. There is no sense of any security. I am cognizant of the subliminal level of stress which tends to permeate every aspect of my life. There is no escape. Cheap brewskis, the "Hammer," drugs, etc. will do nothing except deaden the physical senses and only for a short period of time. I, too, am beginning to believe that there is no shepherd.
Thursday April 19
"Fatigue" is my middle name. I have become keenly aware that all current events have something in common. Everything can be reduced to the lowest common denominator. Money (and greed) are at the root of all evil. I am trying desperately to separate myself from this form of debauchery, but to no avail. There is no escape. Even now, I am wondering whether I need a new computer or, perhaps, I'm being guided by the "invisible hand." In not spending much dough on useless possessions, I've found that I feel transparent. It is is as if I do not exist, or that I am merely a nomad. Permanence requires the ownership of large non-portable capital and also some kind of real property with a constructed edifice attached to house the latter. The concept of self in the visible realm can only be realized through association with tangible objects of significant value.
Does the computer qualify as such an object? I doubt it. The computer is merely an appliance. Status cannot be obtained by means of ownership of a computer. In my case, the computer has no value without a Net connection. It is only by virtue of the crappy university modem pool that I made this discovery. The realization that I may not need any form of material possessions is somewhat disconcerting. A sense of futility supersedes purpose. The base philosophical question of "Why am I here?" becomes an increasingly intrusive thought. No doubt, this is part of the journey to become a true monk.
Friday April 20
I'm spending more of my days in a zombie-like trance. I am functioning just fine during the time that I must perform in my role as a pseudo-professor. Once classes are over, I'm wandering about with no purpose. Mailing in a $500 check with my State tax returns today certainly didn't help. I have a date with destiny, yet I neither know whether it will be calamitous or uneventful. With each passing day, I have less desire to leave the house. Even my daily excursions in town have been limited to the travel distance between the university and the Asylum. The large crowds of cattle impersonating as people are also grating on my nerves. Mad Cow disease has reached epidemic proportions.
The mendicant lifestyle is once again a priority. A bottle of Kim Chee brings great pleasure. My beloved Fujitsu notebook computer is once again adequate for my modest needs. The small wind chimes outside provide much more enjoyable music to my ears than the Bose Acoustic Wave. Silence, of course, is preferable. Everything is vanity. King Solomon made that observation even before the first millennium. I don't claim to understand much, but I do know that something is terribly wrong.
I returned the call to the student who alleged that her grade was mysteriously changed by the computer. I informed her that I had requested an investigation which yielded nothing. I can do nothing unless, of course, there is a way that she can produce evidence to the contrary. From all of the stammering I could hear from the other end, I was certain that she was unprepared for this. Thinking that I was a moron, she was certain that I would change the grade without question. I gave her a way out by reiterating that she should try to locate the missing grade report. I doubt that I will hear from her again.
The end of days. The Hooter's babes were displaying their wares in class. Actually, most of the babes were displaying their wares. Student evaluations were also done. This is where the students get to evaluate my performance. They did a combination student evaluation and Hot or Not session, for what that's worth. As for me, I'm on the outside looking in.
Saturday April 21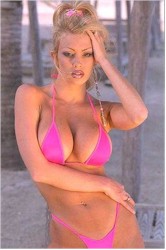 I took the bus to Kahala Mall because I had a dental appointment. Because of the limited bus service, I ended up there much earlier than desired. So, I spent some time at Barnes & Noble. Hanging around Barnes & Noble did not seem to be an exciting prospect to me today. In fact, I questioned how I managed to go there so often in the recent past. It's the same old stuff. Books, CDs, DVDs and other collectibles. Why do we buy and collect this crap? Sometimes we buy this junk and never touch them again. Or, we tire of them. Then, they just sit on a shelf or in a box forever. The only DVD collection that makes sense is a hurdy-gurdy collection. One can watch those DVDs over and over again and choke the chicken endlessly. Who could tire of watching Jenna Jameson doin' da wild thing in every possible way? The only problem is that there are no Jenna Jameson DVDs at Barnes & Noble. Sheesh! I then had my cavity filled. Actually, the old filling had deteriorated and a part of it had broken loose. I just hope that I caught it in time so I will not have to go through another root canal.
Moms cooked all kinds of food in the kamado this morning. When I returned home, I found moms ready to leave to deliver the food to the Ninja Turds. There is not much that I can do about this stupidity. I should just be thankful that I do not have to see the Turds. That's one less reason to drop back a few cheap brewskis. I haven't bought any cheap brewskis in a few weeks now. Last week, I bought a bottle of the "Hammer," which Mark and I drank while watching Fight Club. I may buy another bottle of the "Hammer" tomorrow. Then again, I may not.
I have been haunted by the continuos outflow of dough which is not truly out of my control. Cell phone service ($14 per month), car insurance ($160 every six months), car registration ($100 annually), and gym membership ($36 per month) could easily be eliminated. I sit and refuse to deny myself of these luxuries. All a guy needs is a decent computer, a bus pass, a couple of 5-pound weights, a portable DVD player (unless it is already included with the computer), and a good hurdy-gurdy collection. Cars, cell phones and wireless paraphernalia, audio equipment, music CDs, books, Palm devices, and any so-called "memberships" should just be eliminated. These things just end up enslaving the individual.
Pops could not undergo surgery this week. He was advised against it. First, he must put on more weight. However, he does not have much time. Without the operation, he is not expected to live beyond a year. Moms is worried because she still receives alimony, and there would be financial chaos if pops were to pass on. Moms has no incentive to save beyond what is essential. Any increase in income would only increase the taxes. That's why moms spend so much on food to cook for the Ninja Turds. The other reason is that Mrs. Turd only knows how to cook that lousy casserole dish with the canned onions rings shredded over the top.
The various files that I had stored on so-called "Web drives" are no longer around. I should say that the sites are no longer free. And, at least one of the free Web hosting communities is shutting down. It will be a matter of time before the others either shut down or convert to a subscriber base. The model is somewhat nefarious. First, offer a free service for an extended period of time. That is, enough time such that it would be either impractical or impossible to part with the service. Then, pull the switch! I'm not sure whether LoserNet will survive the ordeal. There is no money in the budget to subscribe to a Web hosting service. It could be a blessing in disguise. Without LoserNet, I may not even need a computer. A portable DVD player and hurdy-gurdy DVDs are all I'll need!
Sunday April 22
My tooth is now extremely sensitive. I'm beginning to wonder if I was subjected to more quackery and whether I will be looking at another root canal very soon. The whole thing is somewhat suspicious. The dentist was actually starting to work on the wrong tooth when I called it to his attention. He shifted the blame to his receptionist, claiming that she had filled in the report erroneously. Why would the receptionist be writing the summary of my last visit in the first place?
I have been thinking about the concept of collectibles and collections, and how that concept plays into the hands of the moneychangers. A true collection requires a substantial investment. A collection must be large. The large, the better. The affluent collect expensive object d'art. The remaining peons collect music CDs and videos amongst other mundane items. Very few people, rich or poor, maintain a collection of less than ten items. Such a modest collection is pathetic and laughable. So, enormous amounts of dough are invested in padding the collection, only for the sake of the collection itself. I have less than ten music CDs. I often feel the urge to add to that collection, even it means augmenting it with mediocre crap. My collection is hidden in the closet because there is nothing to showcase. Quite a contrast to those who have bookshelves of collections on display. Some may wonder why, as a monk, I have promoted the hurdy-gurdy collection as ideal. Simple. The hurdy-gurdy collection will satisfy an important component of Maslow's Hierarchy of Needs. Ever since the breakdown of society many centuries ago, this need cannot be met in any other way without significant duress. Da wild thing is a matter of economics these days. Mullah (read: money) or wealth must be exchanged for it. Given that, one is better off with the hurdy-gurdies.
A true monk's quest certainly does not end with a hurdy-gurdy collection. In fact, there is no need for it when one realizes that the "flesh is weak." In our finite days, we desire to pamper ourselves and cater to any kind of pleasure. However, most of us are misled. We believe that a pleasurable feeling must be concurrent with our consciousness at all times. Artificial means (e.g., drugs, etc.) are then used to maintain the feeling. Ideally, the feelings which accompany da wild thing would seem perfect if it were 24/7 in duration. That is not possible unless total human functioning is forsaken. That's what we see today with drug and alcohol abuse. It is not normal to experience continuous sensorial stimuli. To expect as much is a precursor to psychopathology.
Life makes no sense. The newspaper is filled with stories that either have to do with pure hatred (read: evil) or something related to money and economics. I would not be surprised if the latter has much influence on the former. An argument between a father and son breaks the silence early this morning. The yelling and profanity was clearly audible even though the event was transpiring over a block away. About two hours later, a similar event unfolded at the House of Lolo. The young ho' was at it again. The teacher's strike continues. Family members are forced to deal with each other as the institutional "day care" is on hiatus. The rhetoric of the union and the State assume that most of us are stupid. Claims that the strike is justified in order to increase the quality of education is totally ludicrous. Did the bus service improve after the union got its way? The whole situation is about money. Quality can never be linked to a paycheck. Why? The prevailing belief will always be that one is never paid enough and, therefore, quality can never improve. Greed once again hides behind the banner of altruism. This time, the banner reads "Think about the children." What a crock of [dung]. The cost of living will always reflect the outcome of greed. Those of us who are in pay stasis will just end up becoming poorer by default. Pay stasis? I never did get that pay increase. My paychecks are still the same. Will this act of deceit by the Asylum affect the quality of my work? Probably not. However, I have grown more cynical and I am less sympathetic to the thinly-veiled causes of the greedy.
I spent the day doing absolutely nothing. I lapsed in and out of a coma. I'm not exactly sure why I am motivated to do nothing. I suppose that the proper answer is disillusionment. The world has truly gone mad with greed, lust, and hatred. A toilet bowl of decadent turds. Why doesn't someone pull the damned plunger already? Sheesh! I have vowed to square away my life this year. I will establish my priorities and jettison any excess baggage. If I fail to do, then I may just give in and join the masses of idiots. Conformity may be the only answer, but it will take artificial means to sustain it.
Monday April 23
It was bad enough that I was rudely awakened by the young ho' and her friends 1:30am, but nothing can compare to the amount of whining that I had listen to this afternoon at the university. I had the in-class portion of my comprehensive exams. Apparently, it wasn't easy enough for the doorknobs. This pretty much put me in a bad way.
Professor Lisa is resigning from the university and will be moving to Atlanta this Summer. She will be continuing her doctorate studies there. She has put in a word for me with her Academic Coordinator. I am trying to get one math class to facilitate this Summer, as I have no computer classes scheduled. After my experience today, I'm not sure if I can handle it. Moms lost her senior bus pass. My new IRA is in a bond fund. I've disabled the script for the latest chapters of Old Man Stories and Other Strange Tales as it seems to have caused problems with the Netscape browsers. Another day in the life of a fool.
Tuesday April 24
More of the same. The State has settled with the teacher's union, so the little punks will be returning to "day care" as early as Thursday. I've been listening to a lot more faculty complaining about the apathy of the students. Without a doubt, academics is on a steady decline. Not surprising. Higher education is now just a pathetic diploma mill. It's just a means to an end. What is really scary is that these young people lack any cohesive values. They have no commitment to anything and they only think of themselves. The majority think nothing of lying and cheating. Selfishness and greed do not spontaneously appear as character traits. What I see in these young people is really a reflection of their parents and the tube. The marginal existence that most people refer to as "family" is laughable. Just take a look at the House of Lolo.
I've been very fortunate. My paltry existence is not so bad. Sure, I'm broke and I'll be a monk for the rest of my life. Does it really matter? I'm on the road to freedom, or that's what I'd like to believe. Freeing myself from the chains of materialism was a big step. There are many more changes ahead and many more sacrifices to be made. Everything in its own time. I'll be honest. Sometimes I get these foolish thoughts about finding a babe. What a laugh! Biology is really just a bad joke. Many of the local babes are drop-dead gorgeous. Yet, I know that babes are a guy's demise. I just have to recall what happened to my buddy Bud. I also have to look at the crap that I went through in my own time. A faithful computer is all that a true monk needs.
Wednesday April 25
Another day of the same old torture. I'm not even certain that want another class for the Summer. Is it worth the agony for just a couple more dollars? I doubt it. I suppose that the grade school teachers do deserve a pay raise. They have to put up with a lot more [dung] than I do. I can't blame the teachers or the institutions for the problems in education. Schools are powerless to provide discipline or to instill values. Yet, parents shirk their own responsibilities and pass them on to the institution. It's a no-win scenario. The scapegoats are always the teachers.
I am monitoring my finances daily. My goals are still clear despite all of the recent setbacks. The economy has made things slightly more difficult, but I am determined to meet my goals. I look forward to the day that I can get off this pathetic merry-go-round. As for tonight, I'm going to relax with my beloved notebook computer. Sheesh!
Thursday April 26
I am not certain whether I want to facilitate a math class or not. On the one hand, I need the dough. On the other hand, I need my sanity. I inquired about the classes this morning. I have a tentative schedule of available classes in my hands. I must first get approval from my department's Academic Coordinator. Then I will make a final decision.
Yesterday, moms mentioned that she saw the handmaiden walking to the bus stop at around noon the day before. So, it's pretty certain that the handmaiden is now living in the lap of luxury. Not a care in the world. Endless money to go shopping. That's good for the handmaiden. As for me, I must continue in wage slavery for a long time. I will not find a rich babe to take care of me.
Dealing every single day with shifty people makes me want to go into permanent seclusion. The monk's life is the only road to salvation. Inner peace. Silence. Isolation. The deafening noises of civilization only serve to squelch spirituality. One's spirit can only be discovered through silent introspection. Distractions must be cast aside. Idle chatter from the foolish ones must be silenced. In the purest of natural surroundings, the spirit will reveal itself. We can purge the pent-up evil to experience true happiness and freedom. Many deceitful ones have posed as shepherds in an attempt to mislead the flock. We are our own shepherds. Only we can unshackle ourselves from the prison of ignorance and despair.
Friday April 27
I'm not sure what I've become — bitter, cynical eunuch or Renaissance monk. There's a fine line between the two. I've collected all of the exams from my students at the university. They are essentially done with my class, even though there is about one week left in the term. I sat in class and talked with Sierra and Alexis. They could be "dangerous," but are, in fact, rather down-to-earth. That probably was the nicest part of my day. I'm glad that the term is nearly over. Earlier, I sat in Professor Lisa's calculus class just to get an idea of how such a class is facilitated. If I elect to facilitate a math class this Summer, there will be a lot of work. And, frankly, I'm not sure if I'm up to it. I really could use the dough.
I chatted with Pseudo-professor Jim at the bus stop and also during the ride on the express bus. He's an interesting guy to talk with. I discovered that he, too, is planning to move on. The low pay and high cost of living in Hawai'i eventually gets to everyone. Nothing can be more transient than the life of an impoverished pseudo-professor. I am quite certain that I won't be doing this in four years. I believe that I perform my functions well. However, my heart really is not in this. There are too many conflicts of values and I often feel like a hypocrite.
I was invited to go to Happy Hour at the Indigo Restaurant with a few faculty. Once again, I declined. I'm not sure why I am invited to go along since they are true professors and I am one of the non-entities in the world of pseudo-professors. For the most part, there is an extreme rift between the latter and the former. Those of us in the lower caste are often snubbed by the sanctimonious [rectums]. Frankly, I could care less. All of this crap is just a means to an end.
Saturday April 28
Mark and I went to see Along Came A Spider at Koko Marina after a delicious Loco Moco lunch. The movie was damned good. It turned out that the "dangerous" babe proved to be just that. Certainly an important lesson in life, and one that my buddy Bud had warned me about. Later on, Mark and I sat out on his balcony and discussed the important issues in life over a bottle of the "Hammer." In hearing myself talk, I've come to realize that I truly am a monk. It's no longer just a belief system. It's a way of life.
I woke up with a splitting headache as I do almost every morning. I have quite a few substandard exams to grade. Something that I am not looking forward to doing. I actually did not want to do anything at all today, but I forced myself get out of the house. Partaking of the "Hammer" was also worthwhile, even though I felt a little ill. Later, I could barely keep my eyes open, so I retired early. As a side note, Mark had said, "I'm almost fifty now ..." during our discussion earlier. That really hit home, if you know what I mean. I'm just an old guy who writes a pathetic Web journal on a dilapidated notebook computer.
Sunday April 29
The finite space of the tangible world is beginning to put unrealistic constraints on my mind. Possibilities are vastly shrinking. Opportunities are rapidly disappearing. Why? I believe that the reduction of our existence to strictly monetary terms is the cause. I can find no way out of the quandary of determining individual worth by assessing one's possessions or buying power. After all, the only real apparent use for money is to spend it. Necessities are an expenditure that we take for granted. No pleasure is applied to spending money on food, utilities, or other mundane expenditures. Pleasure can only derived from the purchase of luxury items. This, we're told, is why we work.
The jobs in the classified section were pitiful. The key word is "jobs" as opposed to "careers." Mindless, minimum wage jobs proliferate in this economy. I have no choice but to hold onto what I have until I reach my financial objectives. Then, I'll be finding a "job." I'm really not in a career either. As Pseudo-professor Jim put it, "We are in the McDonald's of education." He's right. I'm only scraping by and I can actually have a false sense of security because I live at home. For some people, even a false sense of security is out of the question. Sheesh!
I'm surprised at how quickly I have lost interest in acquiring a new computer. If I had actually bought a new computer, I would have probably lost interest in it within the same amount of time. The novelty cycle seems to last about a month. The concept is probably axiomatic across the spectrum of the consumer population. The rationale is simple — consumables are disposable. That's why they are called "consumables." There is no sense of permanence with consumption (e.g., when a meal is consumed, it is gone). For all intents and purposes, we develop consumption patterns based upon an arbitrary standard of obsolescence. Many of the things we discard are in perfect working order. They are just "out of date," we rationalize. The majority of what we call "innovation" is just an excuse for consumption. We have bought into the idea of judging others on the basis of their material worth, so there is tremendous external pressure to conform through increased consumption. As an example, can you imagine what most people think when I tell them that I'm still using a 133Mhz Pentium computer with only 32MB of memory and a 1.3GB hard drive? They either feel sorry for me for being economically disenfranchised or they wonder how I could be so behind the times.
I did buy into the techno-gadgetry craze, as you well know. That's why I have a cell phone, a digital camera, a Palm IIIe, and a Bose Acoustic Wave. I will probably have a portable DVD player and a hurdy-gurdy collection very soon. Just kidding! The more that I ponder the situation, the more ludicrous everything seems. I'm beginning to wonder why I need a computer at all. If I ended the journal, then I would need neither a computer or Net access. I've gone through endless possessions. I bought and subsequently sold countless numbers of audio and video equipment and other toys. I once owned the Bose Roommate speakers which, in retrospect, would have done me fine even now. I've also owned four vehicles with my beloved six-four being the fourth in line. I wrote off about $10,000 when I sold the two vehicles prior and that doesn't include the cost of maintenance, insurance, registration and so forth. I am poor because, when I could barely afford anything, I spent money like a madman. Rather than keep the useful, albeit "obsolete," possessions, I sold them off at pennies on a dollar. If I had been a little more frugal, I could be sitting pretty today.
I suppose that is why I am always at odds with myself concerning the junk I tend to collect. Although I have very little now, I cannot help but notice that I still do the same thing only on a smaller scale. I am seriously evaluating this situation. Sacrifices are going to be necessary. Everything is vanity. Then, there is the matter of pleasure. Many people mistake euphoria for pleasure as if they are synonymous. Euphoria is an intoxicated state. It's probably similar to doin' da wild thing all day long (although I can only speculate since I am a monk). Euphoria has debilitating effects. It can make one totally lethargic and a mood swing into depression is likely once the effects wear off. To prolong the effects of euphoria require artificial means, most of which are toxic. The compulsion to buy things is similar to a chemical addiction. The heightened sense of anticipation through the purchase of something of arbitrary value creates a temporary euphoric state. That state can only be sustained by repeating the activity ad infinitum.
We are all part of a lost society. Our direction comes only from the miscreants and "spin doctors" who create a world of confusion and insecurity. They offer the magic elixir of which we must pay a price. The real problem is that an essential ingredient is missing. Happiness. Happiness gives pleasure but it is not often euphoric. Yet, in and of itself, it does not require a euphoric by-product. Only within the need to please ourselves in the most selfish of ways do we require (read: demand) pleasure. It must be instantaneous and it must be overkill. Self-indulgence and hedonism reign supreme in a world that caters to and promotes selfishness. We seek happiness but it is elusive. The sad part is that it's always here. Within us. We have just never looked.
Monday April 30
I've started to read Covey's book 7 Habits of Highly Effective People again. I am planning to use some of the concepts in revamping the methodology of my classes. Perhaps it's all moot. I have begun the process of shutting down portions of the LoserNet site. All incoming communication conduits have been permanently disabled or abandoned. Communication with the outside world was once important. At this point in time, it only serves as a point of contention. I've never forced any of the current [rectums] to read this diatribe. Certainly, it was easy enough to remove it from one's bookmarks. However, once a dickhead, always a dickhead.
I will continue to write the journal for as long as it is necessary. Then, it will join the rest of the archives as forgotten history of an unknown soul. It just doesn't matter to me. The journal has served out its purpose. It has brought me through tough times. I have made many friends through it and lost just as many. I won't purposely eradicate the LoserNet site. If it disappears from one place, then it will appear somewhere else. It will always be just a search engine away.
I received my retroactive pay raise from the Asylum. It only amounts to another $61 (after taxes) per month. I can at least afford to buy a few Whoppers (my way, of course!) every now and then. Perhaps I should go on a materialistic binge. Heck, not much really matters anymore. Just live a good life, I say.
To be continued ... Go to V.07

| | |
| --- | --- |
| LoserNet | © Copyright 2001. All rights reserved. |